My adventure start here > day 0 et 1
---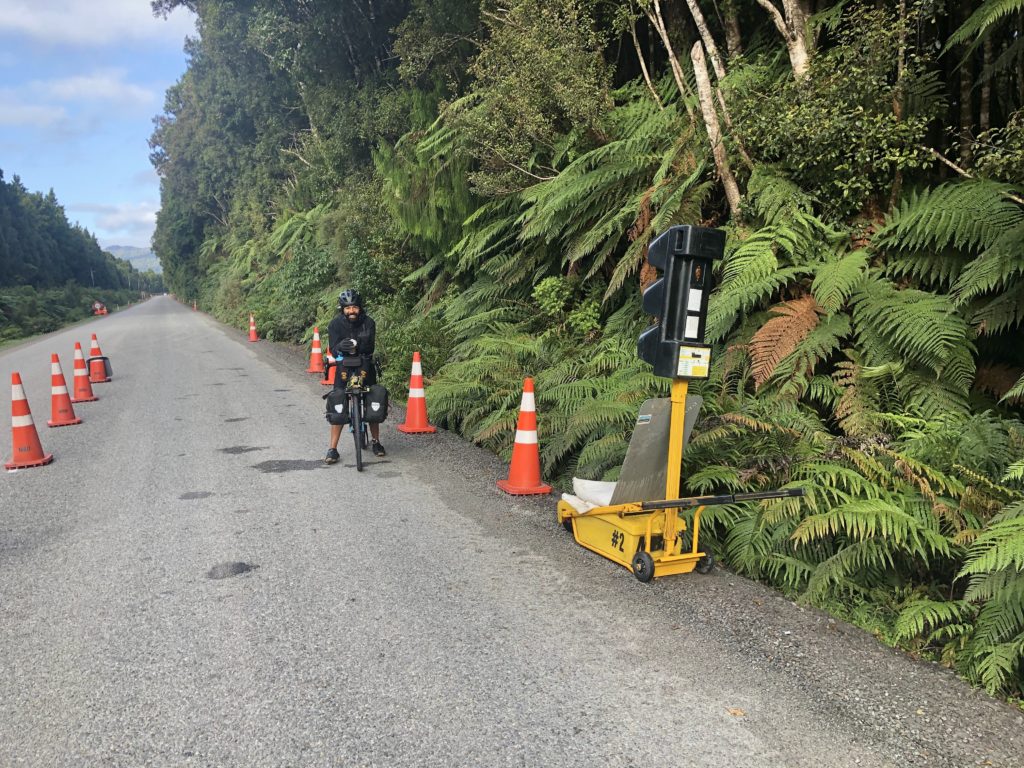 DAY 4.1 : BODY'S BROKEN, MIND'S BROKEN (68km in 3h10)

Wake up at 6:30 am, 30 minutes of meditation before departure. 7:00 am towards the campsite lobby to consume calories. On the program: 300 grams of oat flakes and 4 slices of Nutella.
We take the road at 8:00 am sharp towards the Fox glacier for a first stop (68km). It is still cool outside. But with the rise of the body temperature under the jacket, make it nice.
The danger on the road: the campervans

Kilometer 40, Raphael is on the verge of being knocked down by a campervan. They are the most dangerous on the road. They are mainly driven by people with no experience so they have no idea of ​​distances. Bad luck for the campervan, he must stop at the bridge to let the car pass in front, Raphael takes the opportunity to blow his rear view mirror with a hand and yell at him: "Are you going to apologize or not? Say you're sorry! The campervan takes off.
I remember my learnings of my vipassana experience (coincidence, he also did it!) to help him calm down: "Raf, accept as is it or change it. The guy is gone, you can't change it. So accept as it is. "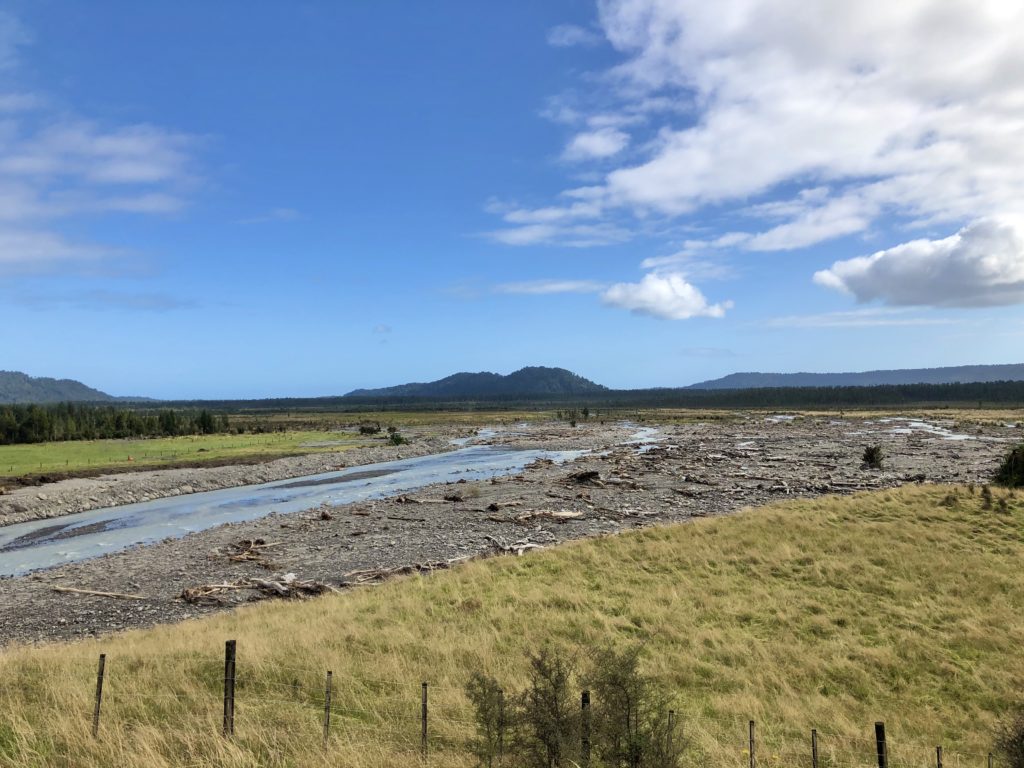 My body consumes 5500 calories per day

Kilometer 50, Raphael agrees to take a break by the roadside, at the end of a bridge. Anyway, I can't continue. I eat a banana, a muesli-bar and about twenty almonds. Mentally fine, but physically, I'm really burnt.
My body still can't get used to this rate (80km on average per day). No matter how hard I give it all the calories I can (+5,000 a day), something must be missing …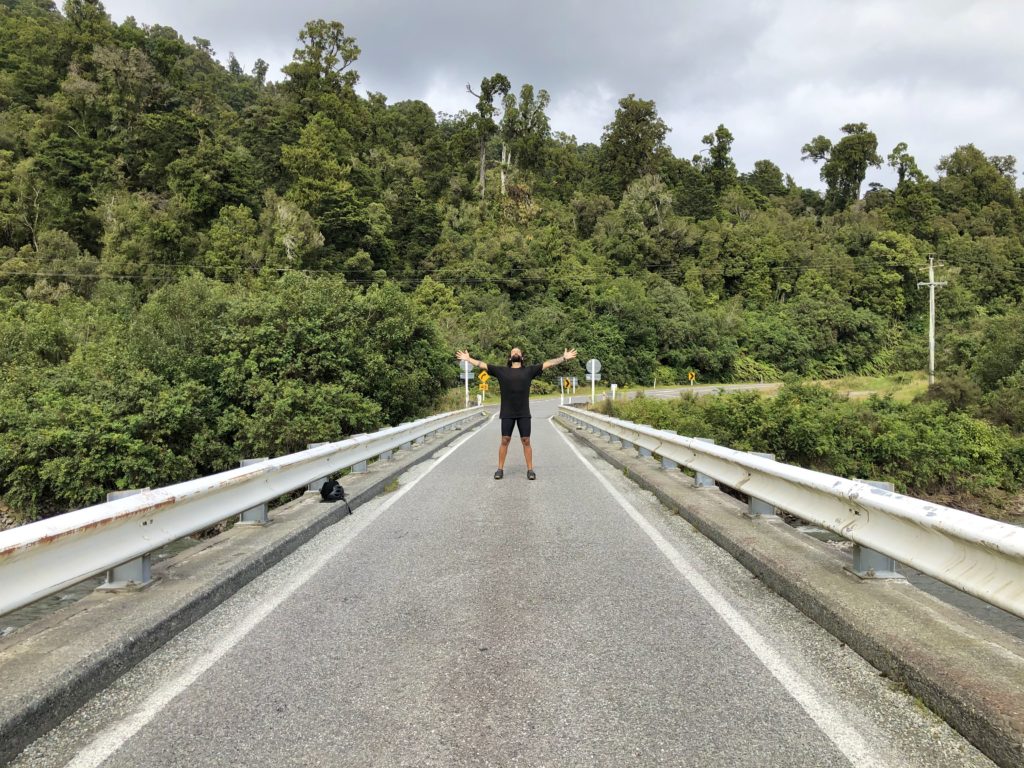 Fortunately we took a break because it is starting to climb sharply! Courage Maxime, there are still 18 kilometers before the lunch break at Fox Glacier.
---
End of the first stop : my activity on Strava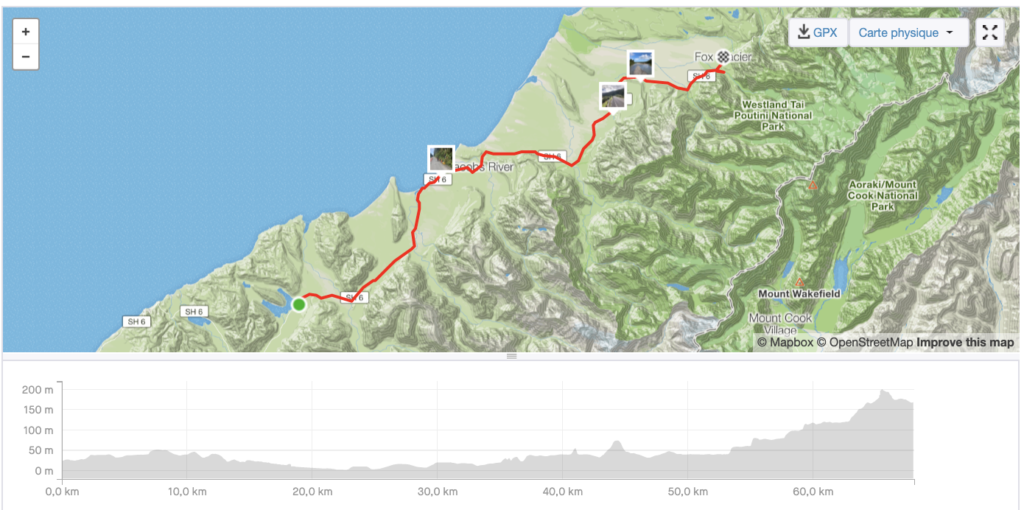 ---
DAY 4.2: THE ASCENSION OF THE GLACIERS (24km in 1h30)

After a good vegetarian pizza, a huge cookie each and 2 red-cokes, we are reloaded ready to the rise of the glaciers.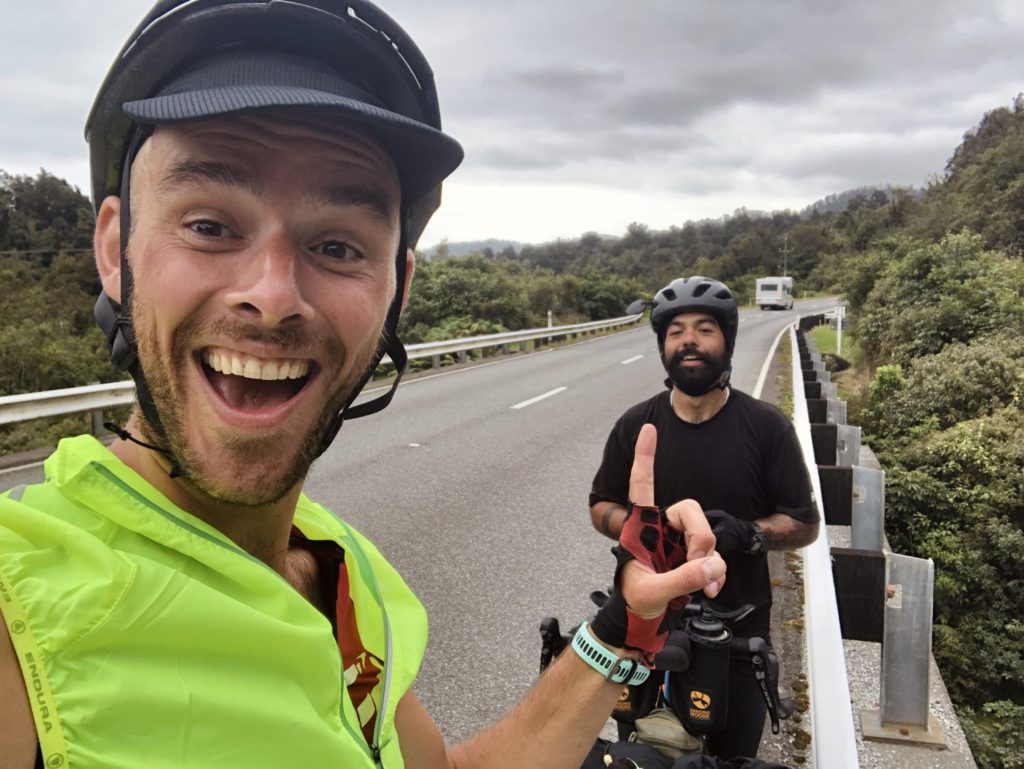 On the program: 24km with + 560m of elevation gain

We stop just before the ascent for a "tourist point of view". Google Map shows 8km round trip. We hesitate, but I tell myself that I will not be back in the area for a long time. We slowly slalom between the tourists (on foot).
5 min later, we meet the French couple from the campsite (last night). We asked how the view is and if it is worth it. They show us the photos they took. Ok, turn around! We just won 30 minutes.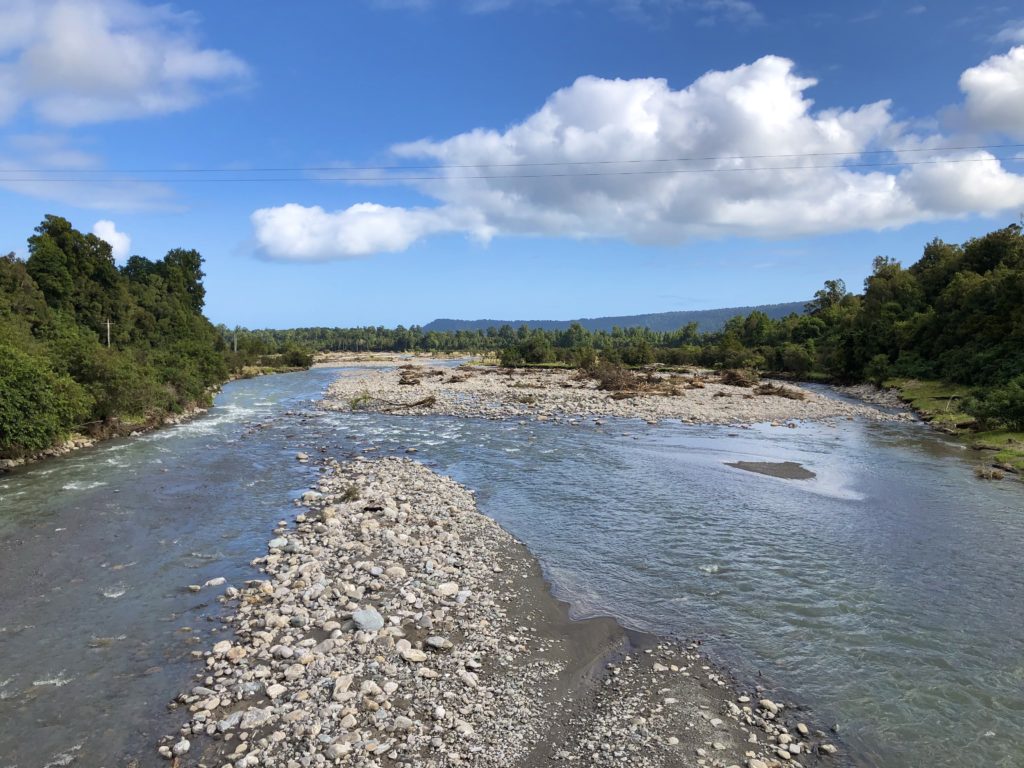 The first peak is strong but the descent too. I'm trying to film Raphael on the way down, I'm almost fell of my bike !
We are seeing more and more bikers traveling the "Tour Aotearoa", a race across the country. We are taking the same route but not in the same direction. We greet each other every time, it's a nice little ritual. In the end, time flies, 90 minutes later, we arrive at Franz Josef.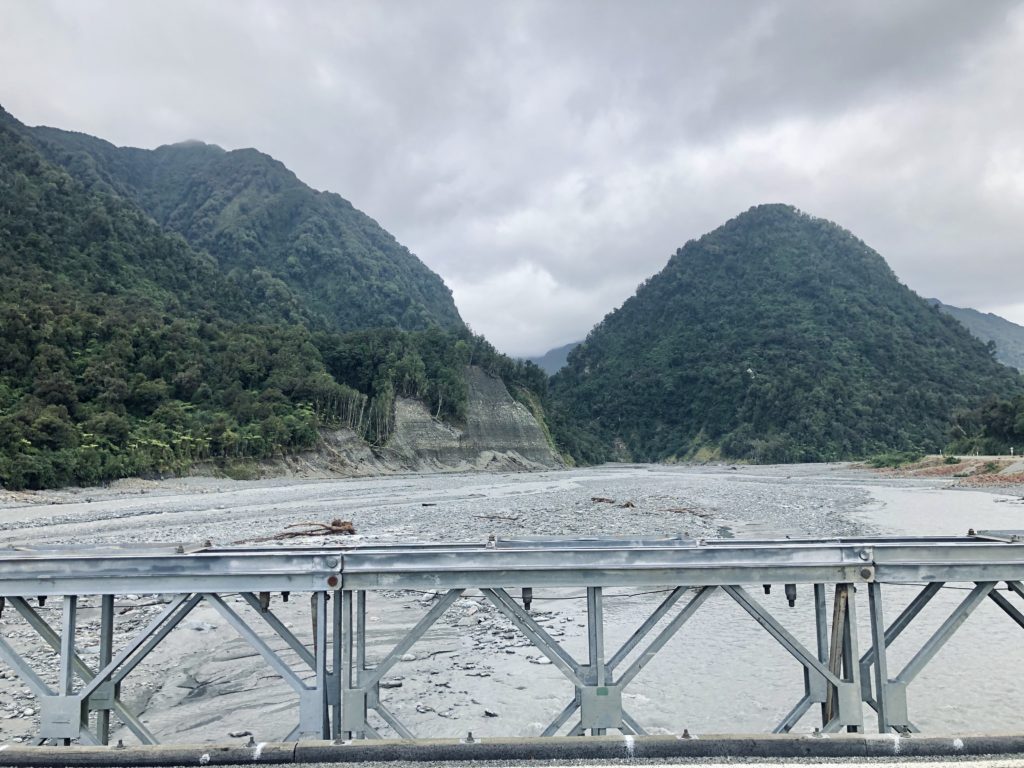 First night in a hostel

Head to the YHA hostel, where I booked a room for the two of us. It's my first time in a Hostel! The place is really welcoming, with lots of young people everywhere. I stay in the canteen and observe all these back-packers. I notice lots of little things.
I buy 1 kg of pasta and two large preserves of tomato sauce. I realize that many of us here eat pasta! I had a good bottle of wine for the occasion. Raphael does not drink alcohol, I drink 2 glasses during the meal, but I go down 3/4 during the writing of these lines. It feels good at the time, but I'll pay it the next day on the bike!
I was going to say that everything was perfect for this first in a hostel, but I spent a horrible night scratching myself because of bedbugs. Upon awakening, hot shower and I washed all my things.
---
End of the second stop : my activity on Strava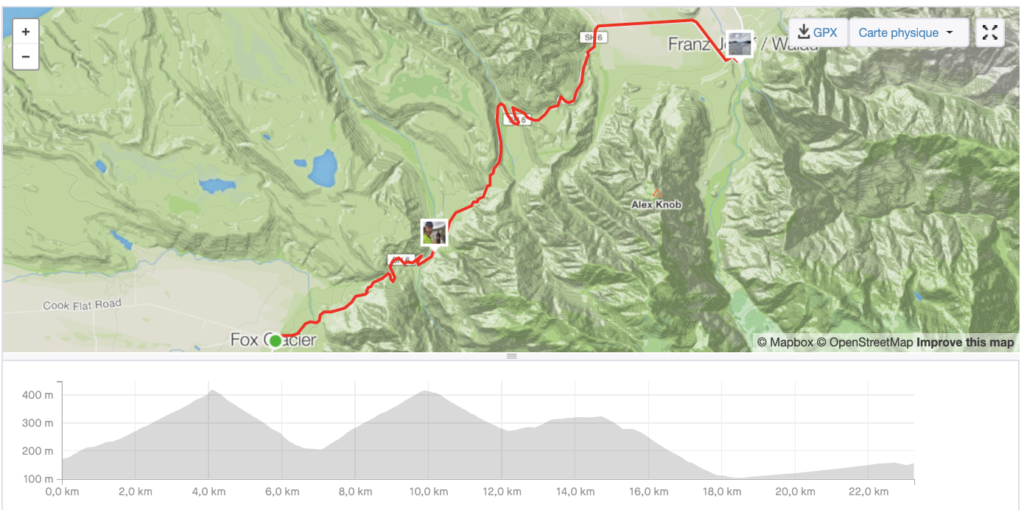 ---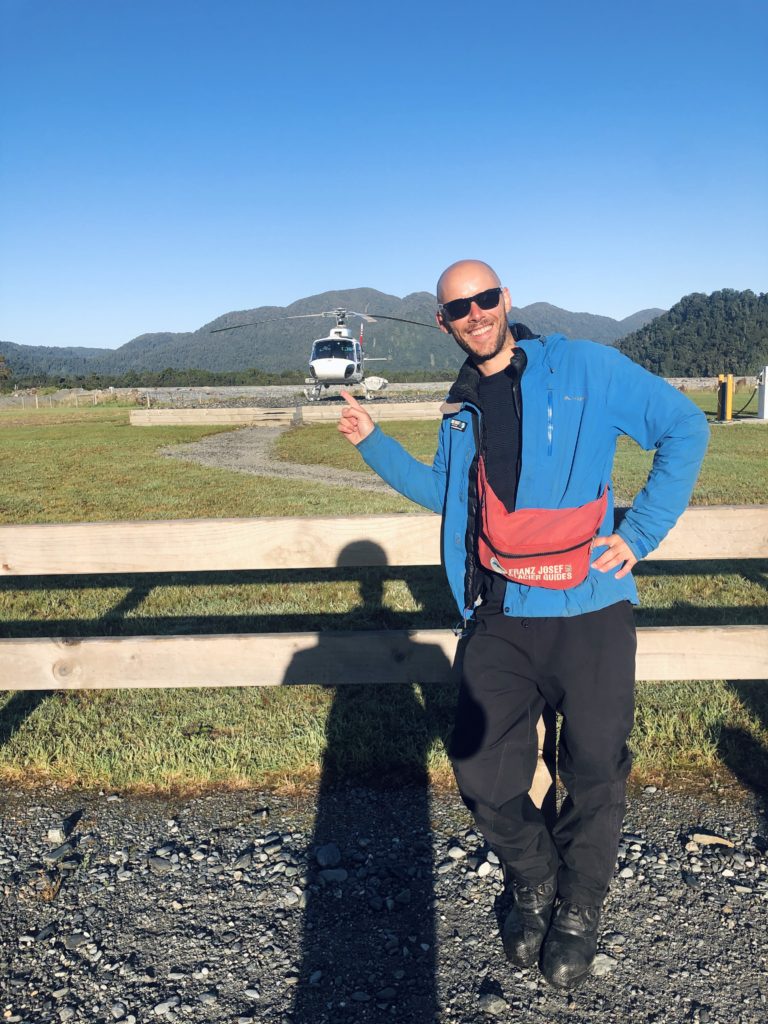 DAY 5 : IT'S NOT HOW FAST, BUT HOW FAR YOU CAN GO (62km in 2h40)

Special day today: helicopter flight over the Franz Josef glacier. It's an experience I've wanted to do for a long time. I'm very lucky because the sun is there.
---
It's not about how fast, but how far you can go

After eating another big portion of pasta, we're back on the road at noon. I'm starting to understand slowly (but surely) that this is not a race or a triathlon.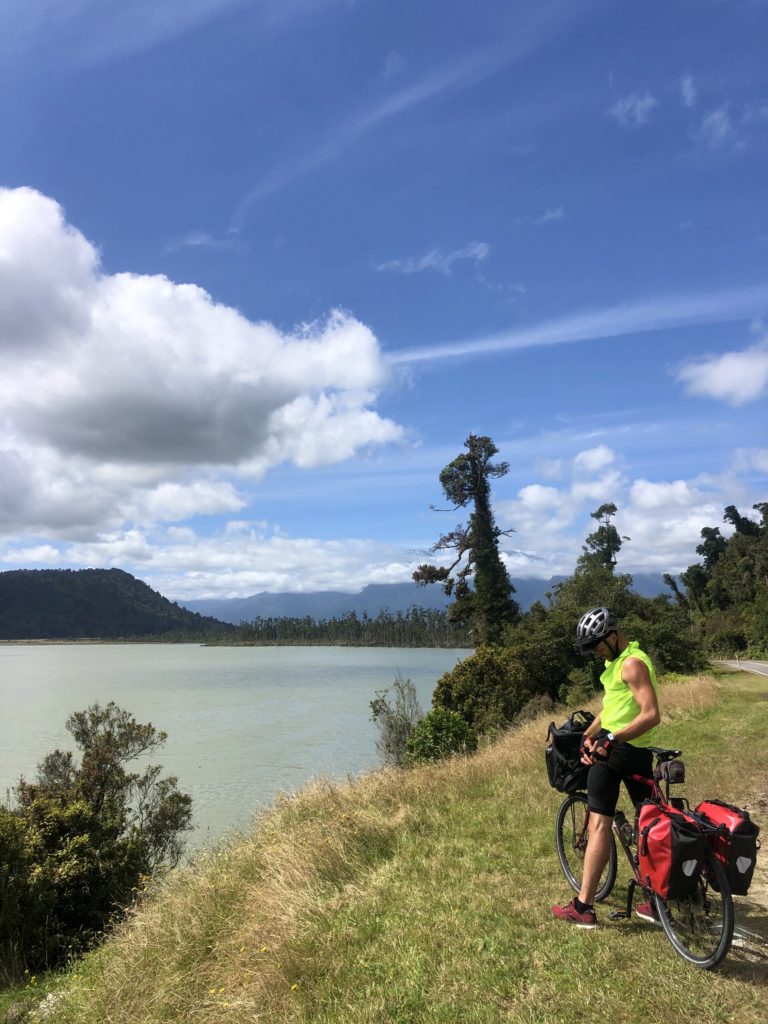 The most painful: the ass

The whole trip is going well. I just have an extremely sore ass from the saddle. No matter how often I change position or put on my two bike shorts at the same time, nothing helps. It's so painful!
Up to the 50th kilometer, it is flat with many small bumps to pass. Nothing too bad compared to what I have already experienced. We even found Raphael's bridge! (private joke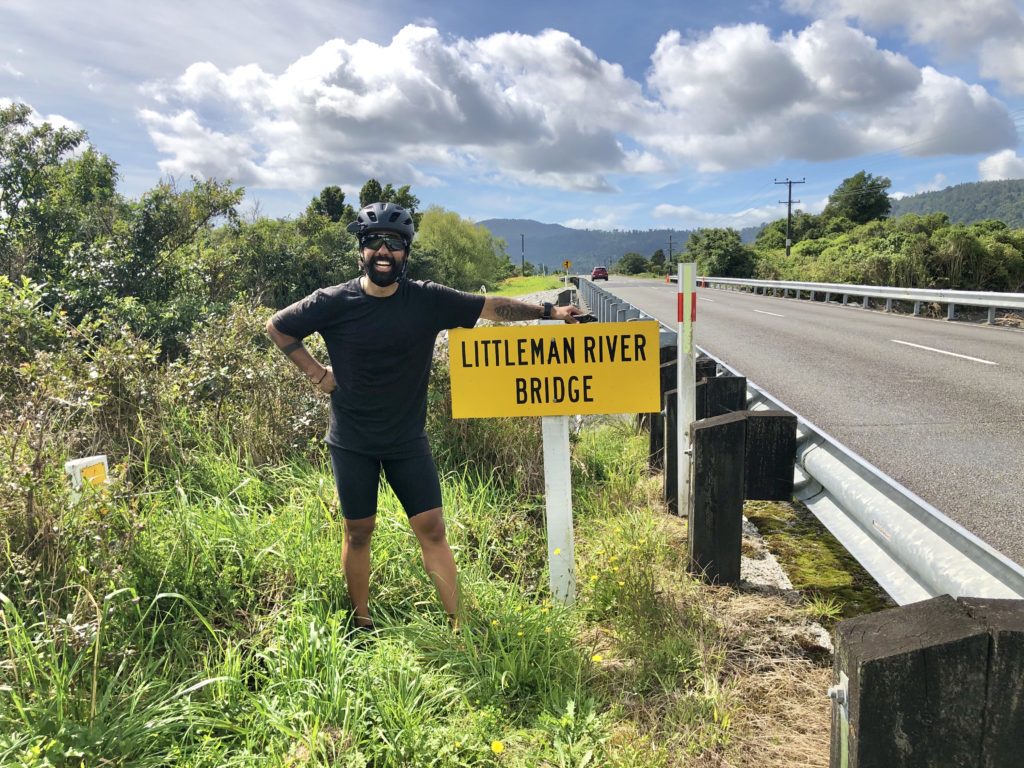 Mont Hercules: 2km ascent at 10%

Kilometer 50, we are about to climb Mount Hercules. The name can be scary, but it's not that bad. 2km of 10% ascent for a good half hour. For the anecdote, we will realize once arrived at the motel, that we had just passed the famous "Hercules" today, that is to say if we were in a good mood!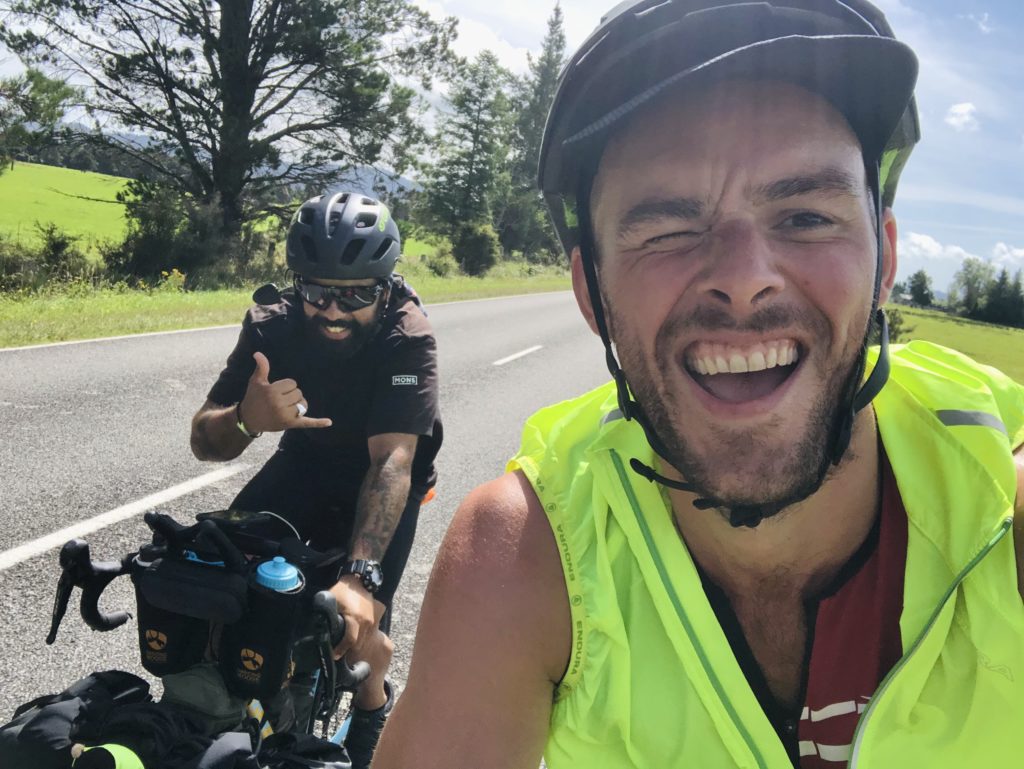 We knew there wouldn't be much in Hari-Hari but it was worse than expected. The city is really deserted with only one establishment, the one where we live. The motel is a grocery store, hotel, bar, restaurant and village hall. The place smells old and it is frankly not clean.
It doesn't matter, the important thing is to have a bed (without bedbugs) and a hot shower!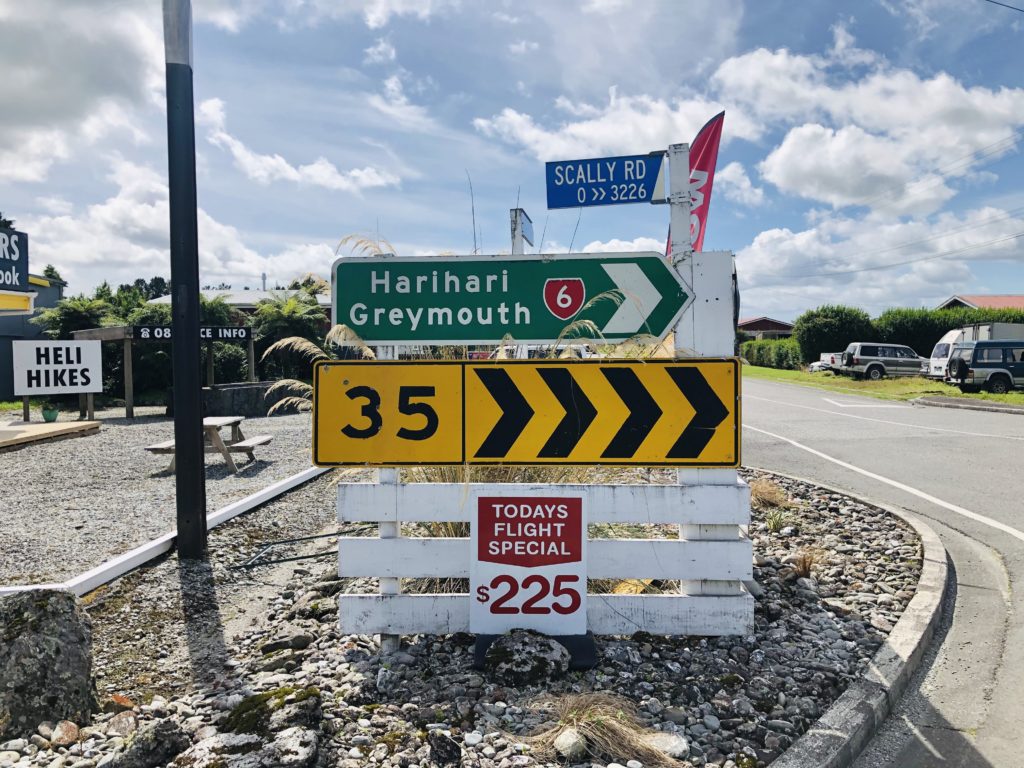 I lose weight !

When I get to the room, I put my bike down and I get undressed. When I see my body in the mirror, I realize how impressive my weight loss is in 5 days. I don't have a scale, but the loss is visible. I tell myself that I have to be careful, because it can become addictive to eat as much while remaining as "lean".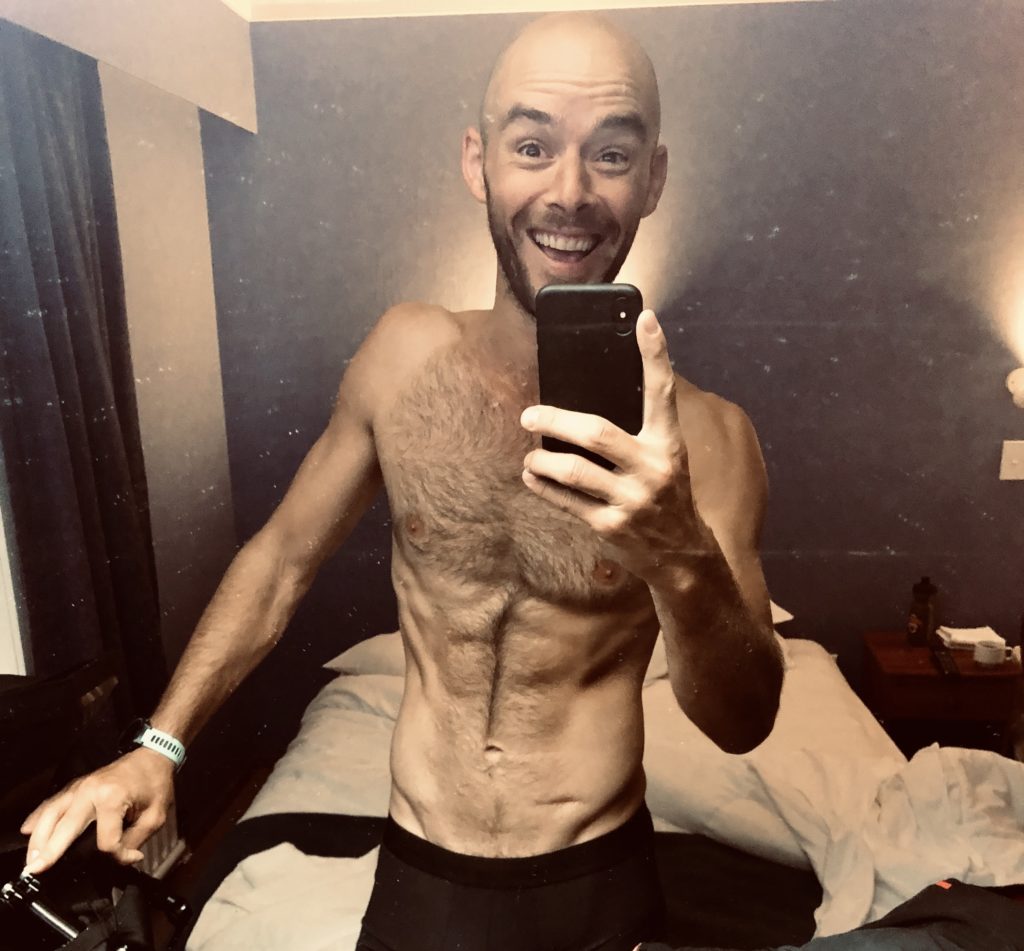 Except that I am in an "not normal period of calorie-burn" (+5000 per day), and if I return to a "normal" activity while keeping this nutrition, it can be really bad. Nevertheless, I have an ironman in 3 months so that shouldn't change too much!
First interview in English on my podcast

During dinner, Raphael tells me a little more about him. I am impressed by his character's strength. Left everything to make 7000km of biking alone without money, it's crazy. I suggest interviewing him in my podcast, the first in English for me and the first interview for him. We both sit in bed next to each other. He is a little stressed, but the result is not bad at all! I'll let you judge for yourself.
---
---
9:30 p.m., we both fall asleep. Good news because tomorrow we have 105km on the program.
---
End of the day : my activity on Strava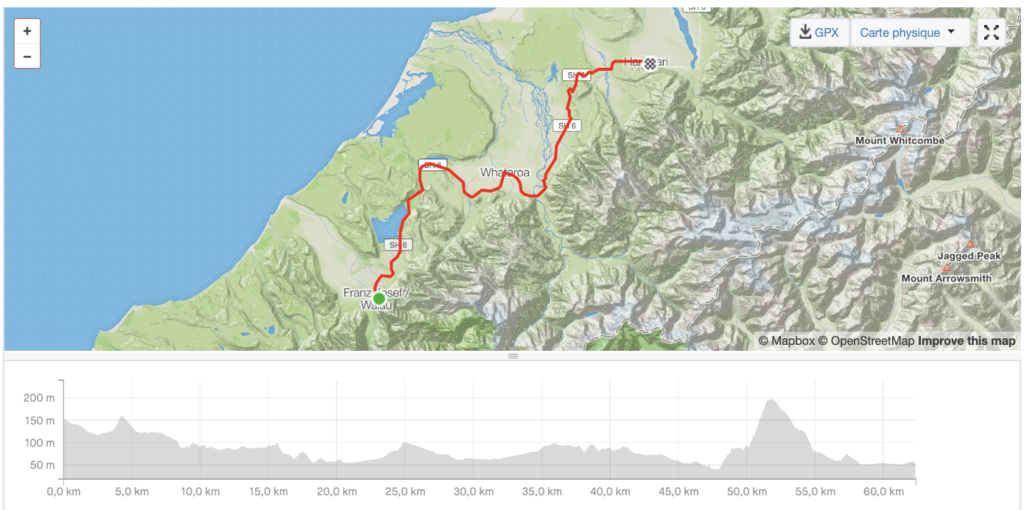 ---
My adventure continues here > day 6 & 7

> Why not start from the beginning? <