Who am I?
The origin of the challenge ?
30 days in San Francisco & Los Angeles
How does it work?
Why play the game?
The list of 100 coffees
Timeleft : Meet people who share your dreams
---
Who am I?

My name is Maxime Barbier, I'm 36 years old and I've been an entrepreneur for half my life. After 7 years in the world of nightlife, I spent 10 years in digital, or more precisely, in "social media" as founder and CEO of the media group Vertical Station, which became in 2019, the largest media group on French social platforms (85 employees, 18 million subscribers, +2 billion video views and 5000 video productions per year). A company sold in 2017 to the french national TV that I officially left at the end of October 2019.
The day after I left, I found myself with a big void in my days. I asked myself what I wanted to do with my life now. Such a short life when you think about it: if I live to be 90, I have (at the time I am writing this) 637 months to live.
To open my horitzons, I challenged myself to have 100 coffees with 100 strangers. I realized that many of us have buried our personal dreams and goals. This gave me the push I needed to create a bucket list of 100 things to do and try to accomplish them all in two years.
This bucket list has been an incredible tool for personal development, taking me on extraordinary adventures and situations, such as climbing the Mont Blanc or participating in a "Bufo Alvarius" ceremony. I have stepped out of my comfort zone, increased my energetic vibration and conquered many fears.
When the pandemic hit, bringing with it a professional and personal questioning for millions of people, I wanted to help by creating a platform to reconnect with what we really want. On April 23, 2020, against all odds, I jumped back into entrepreneurship with a new project called Timeleft.
18 months later, you are reading these lines and Timeleft is now a startup backed by international VCs (Paris / New York / Lisbon) with the same vision: to create a world where everyone wakes up inspired to live their dreams.
---
The challenge's origin ?
From October 31, 2019 to February 08, 2021, I had 100 coffees with 100 strangers (list available here). This experience completely transformed my life. Do you think I'm exaggerating? Let me explain in 5 points.
After being fired from my own company (which I had been running for 10 years) overnight by my own shareholder, I was close to depression. As an entrepreneur for half of my life, I felt like I was "no longer being". Opening my horizons and meeting strangers allowed me to realize that there was another life possible and especially to put my situation into perspective.

Given all the content available online about me, it's obvious that each person had more information than I did before the meet up. It was not a coffee between "two complete strangers". On the other hand, on my side, there were surprises and discoveries every time. I discovered the joy of going to a meeting without expecting anything, just being myself and enjoying the moment.

After the first 50 coffees, I realized that my relationships were extremely homogeneous. I thought I had a very diverse "circle of friends", but that was far from the case. I met so many different people during those 100 coffees. People of all ages (20 to 65) and all different situations. Since then, I have been more open to the opportunities to meet people and it's been great!

Go with flow in life. Following these coffees, a lot of unexpected things happened in my life. I found myself doing the wine route in Bordeaux (what an incredible experience!), hiking in the "Blue Mountains" (New Zealand), cycling from Paris to Deauville (220km in 8 hours) or being selected for the TDEX EMLyon 2020 (cancelled by covid)

The craziest thing about it all? Timeleft was born out of this coffees. I realized that people had forgotten to dream and me first. It was a real revelation that made me think about what I wanted to accomplish in my life. I created my bucket list of 100 dreams, and then I set out to conquer my dreams. During the first lockdown, I decided that I needed to help people do the same.

Timeleft was born on April 22, 2020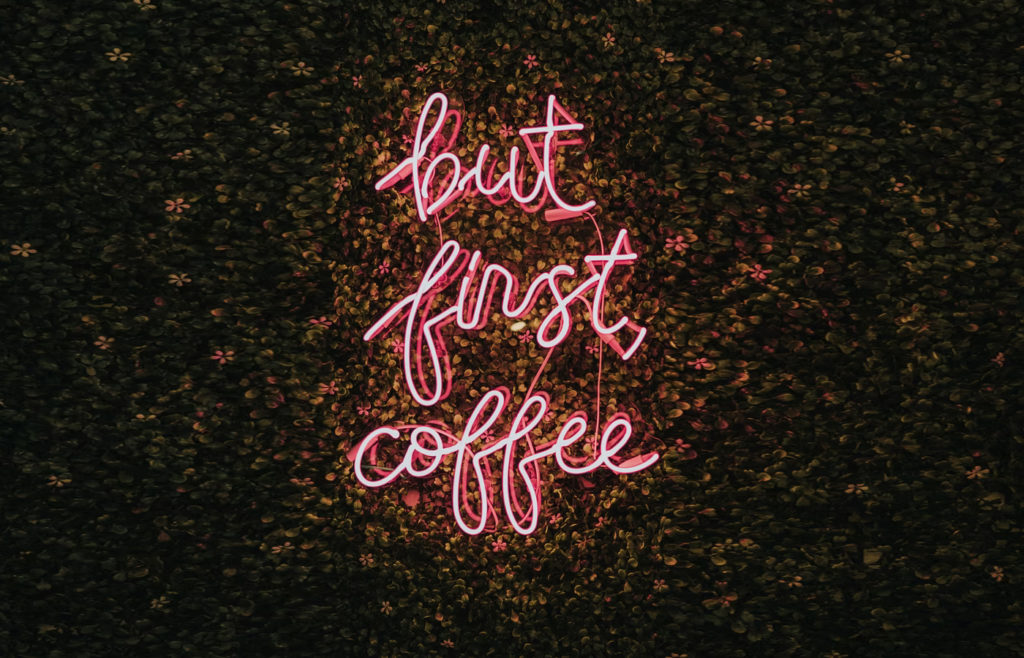 ---
30 days in San Francisco & Los Angeles

1 year later, I'm trying again… with a twist! After raising $2M from international investment funds (New York, Paris & Lisbon), we decided to launch the new Timeleft directly on the US market.
A completely new platform, with a new UX/UI, new features and especially a use of the bucket list tool never seen before.
My partner and I will be in California from November 22nd to December 22nd with the mission to meet as many people as possible (entrepreneurs, investors, influencers,…). The idea is to better understand the US market, get feedback "on the ground" and start building the network Timeleft will need to grow in the coming months.
---
How does it work?

Oh, it's pretty simple! Like in the movie "YES MAN" with Jim Carrey, I will say YES to all the appointment requests (from someone I know). For the occasion, I have created two calendars with availability from Monday to Sunday, from 7am to 10pm.
As the universe does things well, if you are reading these lines, it means that you potentially have someone in your entourage who would be delighted to meet us over a coffee! So don't hesitate to send them this article.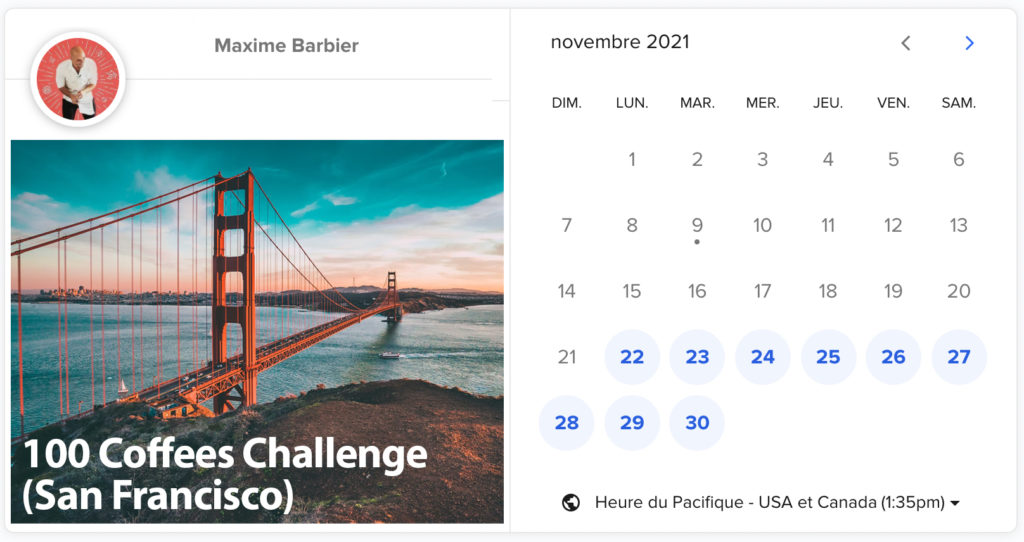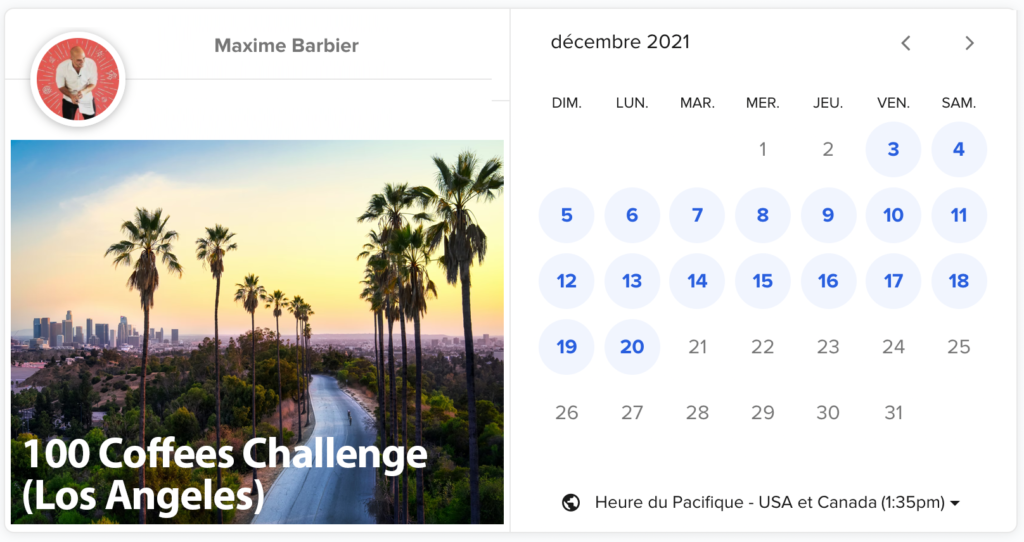 ---
Why play the game?

It's a legitimate question I grant you! I can answer simply by explaining that life is made up of surprises, and as Forrest Gump says so well, you never know what you're going to get, which makes the concept particularly fun!
At best, the meeting is a great moment with many possible outcomes such as the beginning of a business relationship, the memory of a nice discussion or (why not!) the advent of an international friendship.
At worst, the person will leave with a coffee and a shot of inspiration to conquer their dreams. All pretension aside, I assure you that this is really the "worst" that can happen!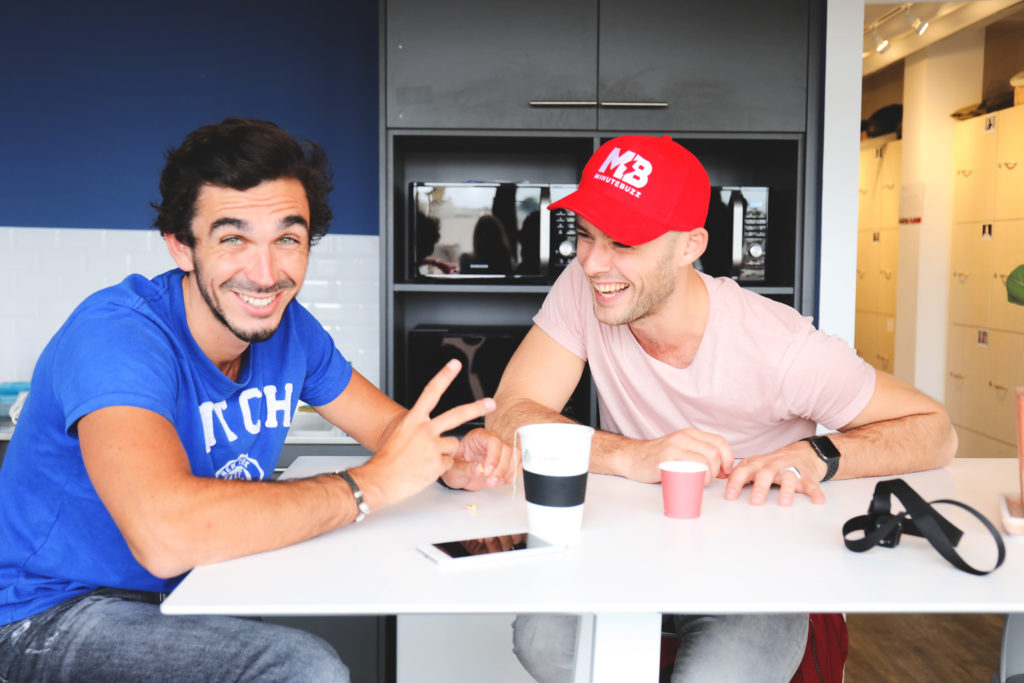 ---
The list of 100 coffees
| | | | |
| --- | --- | --- | --- |
| # | WHO | WHEN | WHERE |
| 1 | | | |
| 2 | | | |
| 3 | | | |
| 4 | | | |
| 5 | | | |
| 6 | | | |
| 7 | | | |
| 8 | | | |
| 9 | | | |
| 10 | | | |
| … | | | |
---
Timeleft : Meet people who share your dreams

After 18 months of test&lean, we have found our mission to help as many people as possible live their dreams. We use the bucket list, not as a simple "todo list" tool, but as a way to connect you with the right person, the one who will give you the push you need to make your dreams come true.
On Timeleft, you receive a daily match to exchange with a person with the highest compatibility score, among all the members of the platform. Every day, our members add dreams they want to fulfill or have already done, allowing our algorithm to calculate the best possible match for you.
In our post-pandemic society, we have realized that it is time to make our dreams come true, to look for a meaningful job or to change our habits. More than ever, we have the desire to meet people who share our dreams. Timeleft is the new alternative to dating apps, which have become too superficial, meaningless and overrated. With Timeleft, every match can be the birth of a new friendship, the discovery of a mentor or a door to a new community.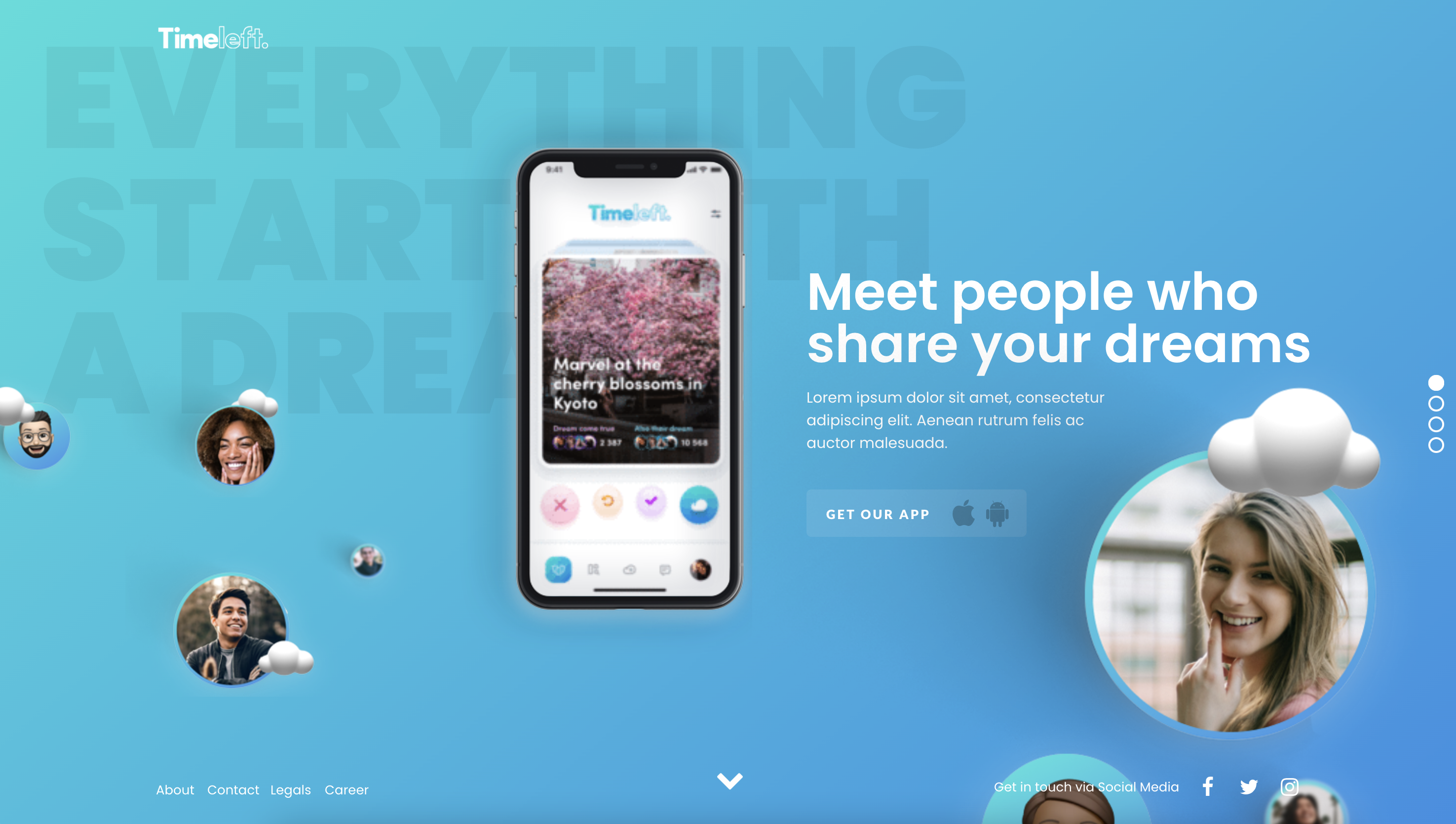 ---