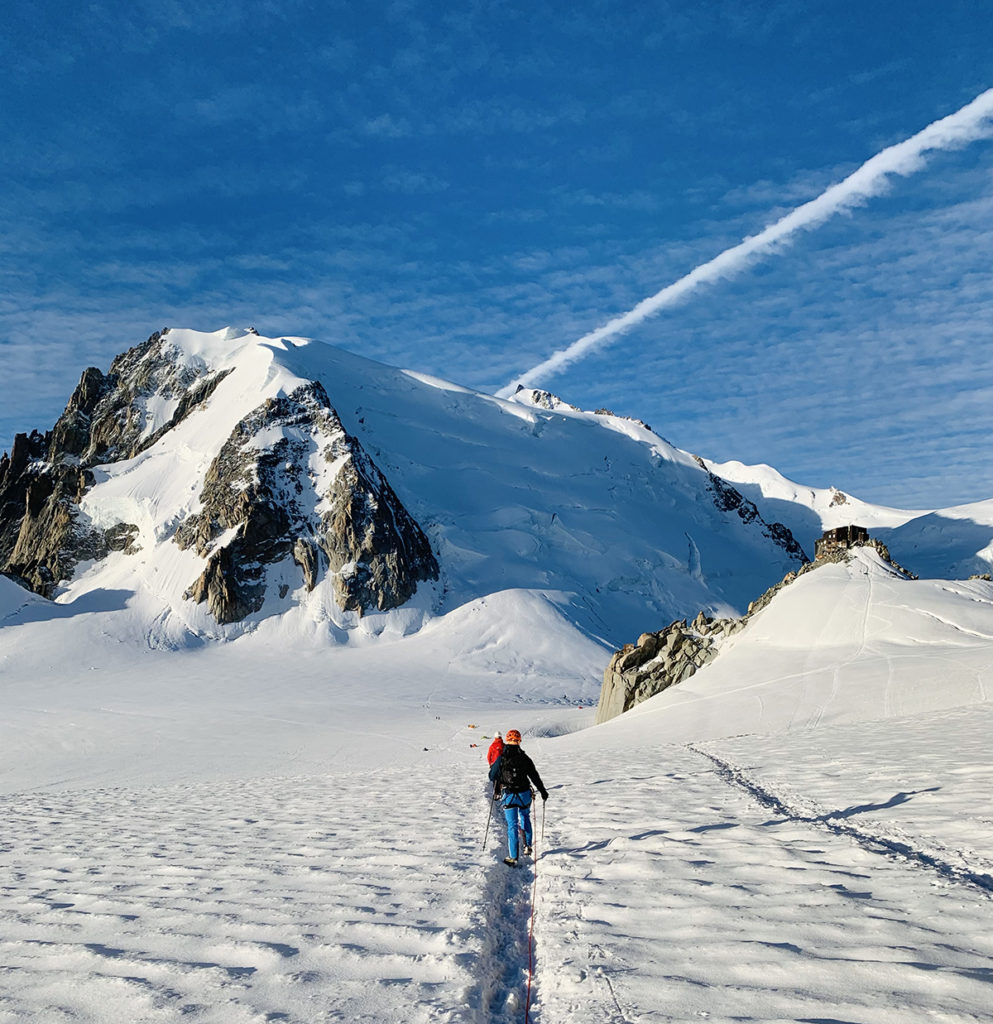 WHY ?

I like to start my bucket list articles by remembering "why". I have to admit that for this high mountain challenge, I have a hard time remembering how I got here… Especially since my image of high mountain alpinism before this ascent looked like this :
When I decided to create a bucket list with 100 dreams on it last November, seeing the difficulties of finding ideas (the proof is in this picture), I quickly turned to "sports" and "out of ordinary" challenges. "Climbing a mountain" seemed obvious at the time. By learning more about the subject, I understood that a "+4000m mountain" was already a good first step for a first time.
As you know, if you don't talk about it, no one will help you. And the opposite is even more true! I am lucky to have an incredible friend, Nicolas Bigot, who is the best personal trainer in the world. You may think my judgment is biased, but it's not at all. His promise is "Building the better you" and Nicolas can coach in (literally) any field. He coached me on my "Human Flag" challenge or "Top 100 Spartan Paris" challenge and he is currently coaching me on the following 2020 challenges:
5h30 at 70.3 d'Aix-en-Provance (if maintained)
1 mile in 5 min
1 marathon in less than 4 hours
20 strict pull-ups
Run around Paris (33km) in 3 hours
Reach 12% bodyfat
I spoke to him about my desire to climb, and he answered: "but when you want, buddy! Let's climb Mont Blanc if you're up to it this summer". Don't say any more, let's go for the Mont Blanc!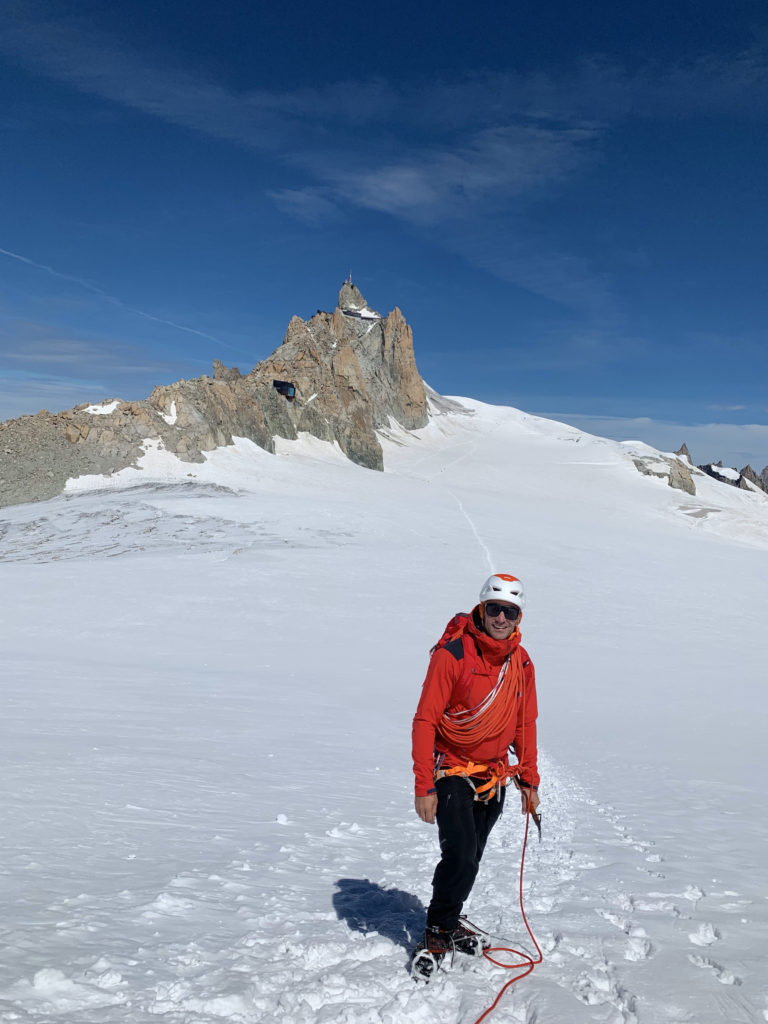 ---
---
WHY 4248M AND NOT 4810M?

I will take 5 minutes to explain this point. For each of my challenges, I receive negative comments, often without any added value to the discussion, in order to lower myself. Like the example below.
"So you didn't climb Mont Blanc. But the ascent of the Mont-Blanc du Tacul. It's not the same summit. It's as if you were telling us I climbed Everest at 7800m lol ".
I have learned over the years to change my reaction to this, moving from anger to empathy. After all, if they take the time to follow me (they don't have to), to write to me freely with animosity, it's because they surely need help.
So why 4249m and not 4810m? As we approached the planned date, the situation became worse at the summit, on the "voie normale", with huge rock falls (bus size according to the guides). Even the prefect recommended to postpone the ascent of Mont Blanc by the "voie normale" and the "couloir du Goûter".
My initial target being +4000m, Nicolas proposes me to go on the ascent of the Mont Blanc du Tacul, located between the Aiguille du Midi and the Mont Maudit, in Haute-Savoie, culminating at 4 248 meters. Sounds good to me bro!
Pro tips: did you know that you can climb Mont Blanc in 3 different ways? Each one with a different level of difficulty (see diagram below)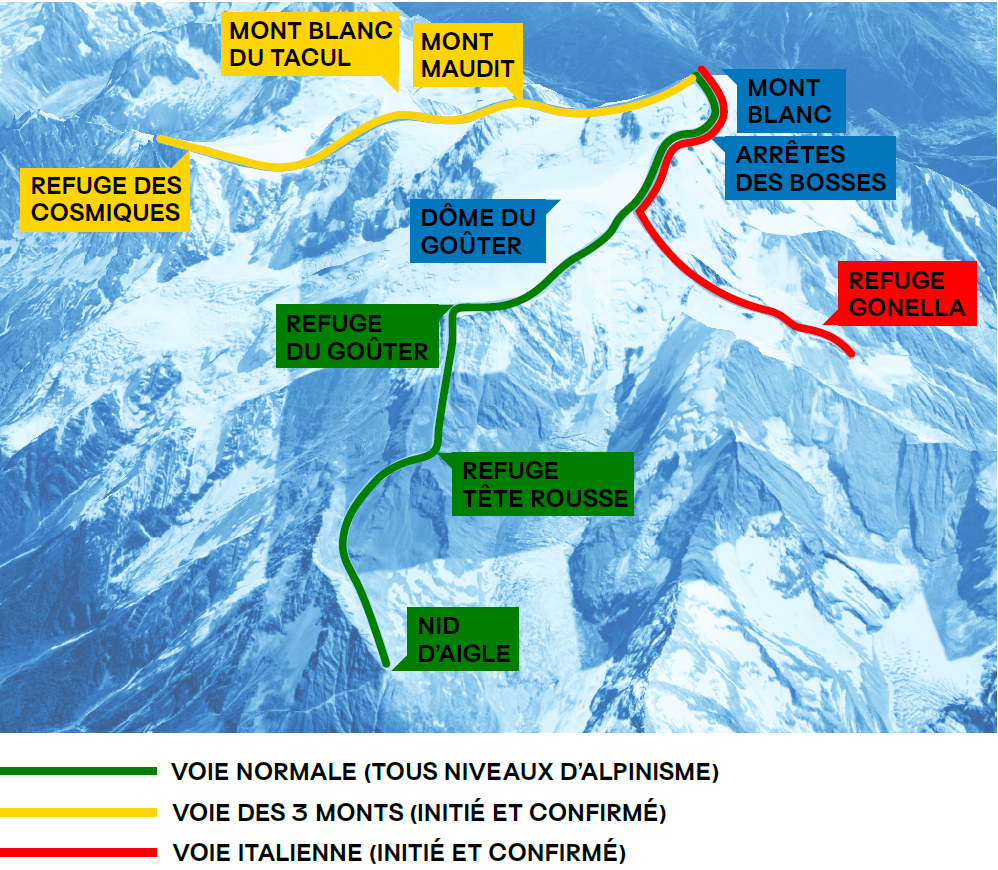 ---
HOW ?

To my surprise, when I arrived at the exit of the Aiguille du Midi cable car (65 euros round trip and 20 minutes to reach 3842 m), I discovered that there was no "control" and that everyone could freely take the ridge to go down to the Cosmiques. Scary…
It is obvious that the mountain (just like the sea) does not forgive and every year people die up there. Taking a guide is non-negotiable. You absolutely need a guide who knows the mountain well, has been practicing for several years and (even better) knows you a little bit. We do not improvise overnight an ascent to +4000m.
You need equipment, which is not the same as what you need to go skiing: crampons, ice axe, harness, helmets,… For my part, I got half of it on loan from Nicolas, and the other half I rented from Snell Sports directly in Chamonix (for 100 euros for 3 days). Your ski pants can do the job as well as your fleeces, hats and gloves.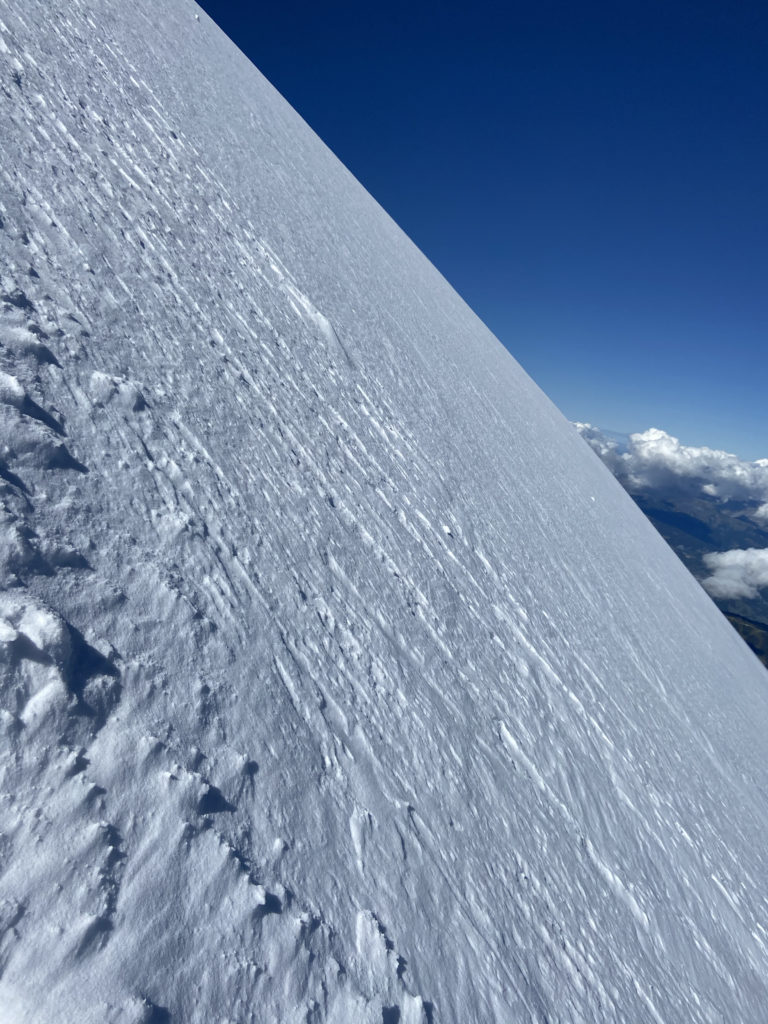 Then, the weather dimension is SUPER important. You don't want to find yourself at 4300m in the middle of a snowstorm. Even in the sun of August, you can freeze when you get to the top. You need some luck or several days to reach the right window of opportunity.
Finally, you have to acclimatize to the altitude. You don't go directly from Chamonix (1035m) to Mont Blanc du Tacul (4248m). I explain this in detail in my adventure below!
We took 4 days in Chamonix to achieve this challenge. The first day for a 20km trail in the mountain to go up to 2000m of altitude. The second day to go up to 4000m (finally 3900m…). The 3rd day to do the ascent. And the 4th day for a small trail of 10km to decompress.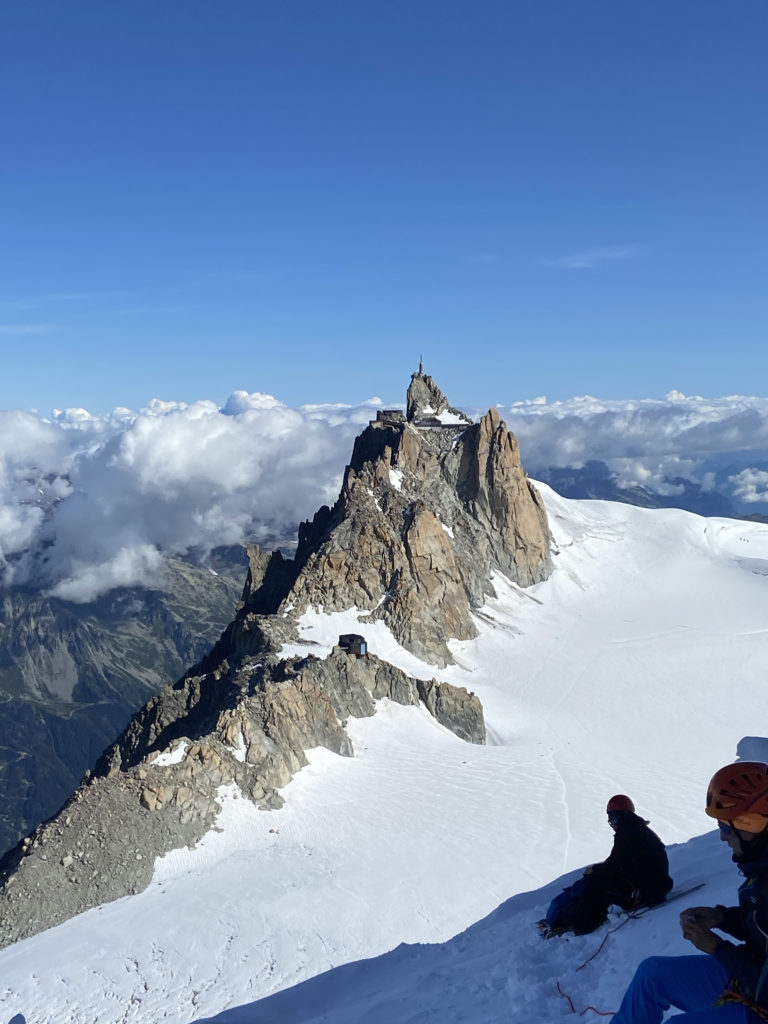 THE CLIMB – DAY 1

Arrival on Sunday evening after 9 hours of door to door travel! Going to Chamonix, when you leave from the suburbs, is a real pilgrimage. We meet in the gîte "Le Chalet Chamonix" to sleep all in the same room.I meet Carole, a top level crossfit athlete (she's not kidding with a weight bar), who is moving towards triathlon (we all come here!), trail running and climbing.
Small commercial: I recommend you this chalet, ultra clean and well located, whose hospitality is operated by a couple of a kindness out of the ordinary. They prepare breakfast at the time you want (until 6am!), they are always smiling and tell you interesting local stories.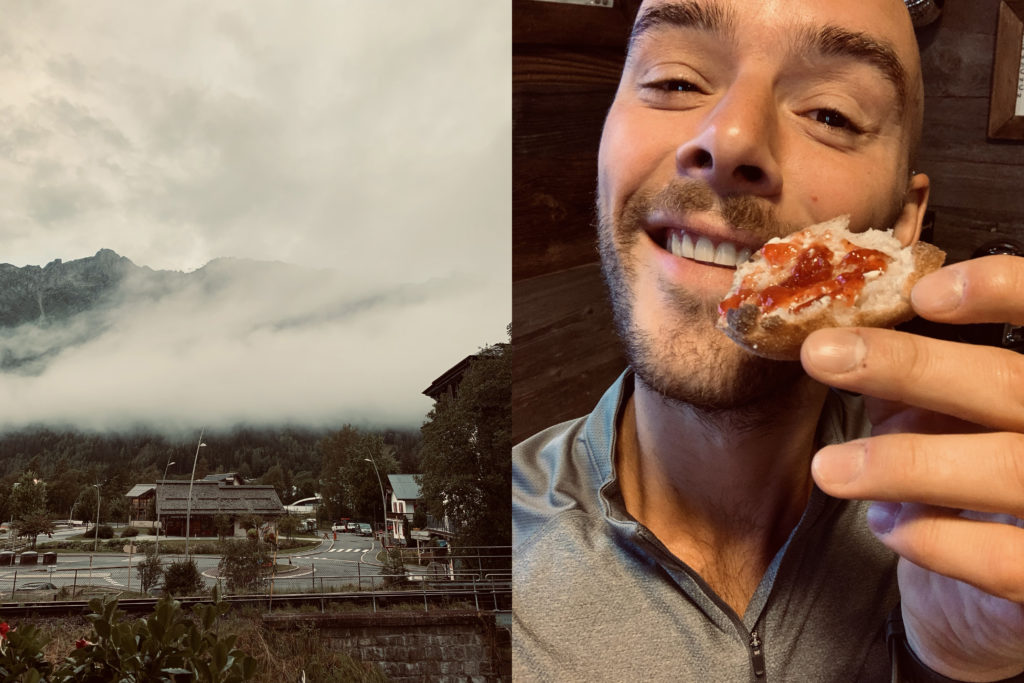 Wake up at 07am for a "cool" departure at 08am. Nicolas decides to take us on a trail in the mountains to cross the "north balcony". On the program 19km of trail with 1 437m of difference in altitude in 3h29min (2020 calories burned). You can find our trail on Strava.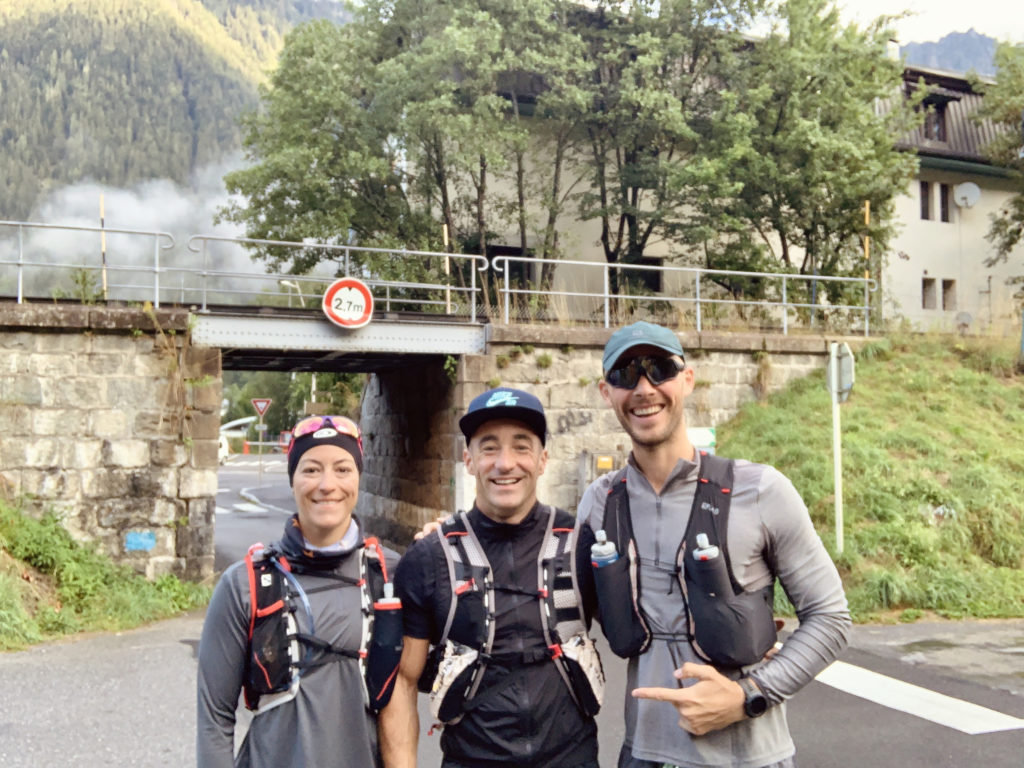 The goal of the exercise is twofold: to discover the sensations of a real trail in the mountains and to begin to acclimatize to the altitude. I loved running on the beaten track, concentrating on each stride to find a place to put my feet. Clearly, the trail attracts me a lot and I'm going to start taking an interest in it. If you have any competitions or trails to recommend me, I'm interested!

We end the day exhausted. I wanted to finish at 20km on the counter, when a violent cramp above the right knee killed any hope of finishing on a round number. I had to walk limping to the restaurant where Nico and Caro had stopped. I came to wonder if it was really a good idea to send so much the day before to get down to business?
RECAP OF THE DAY!
---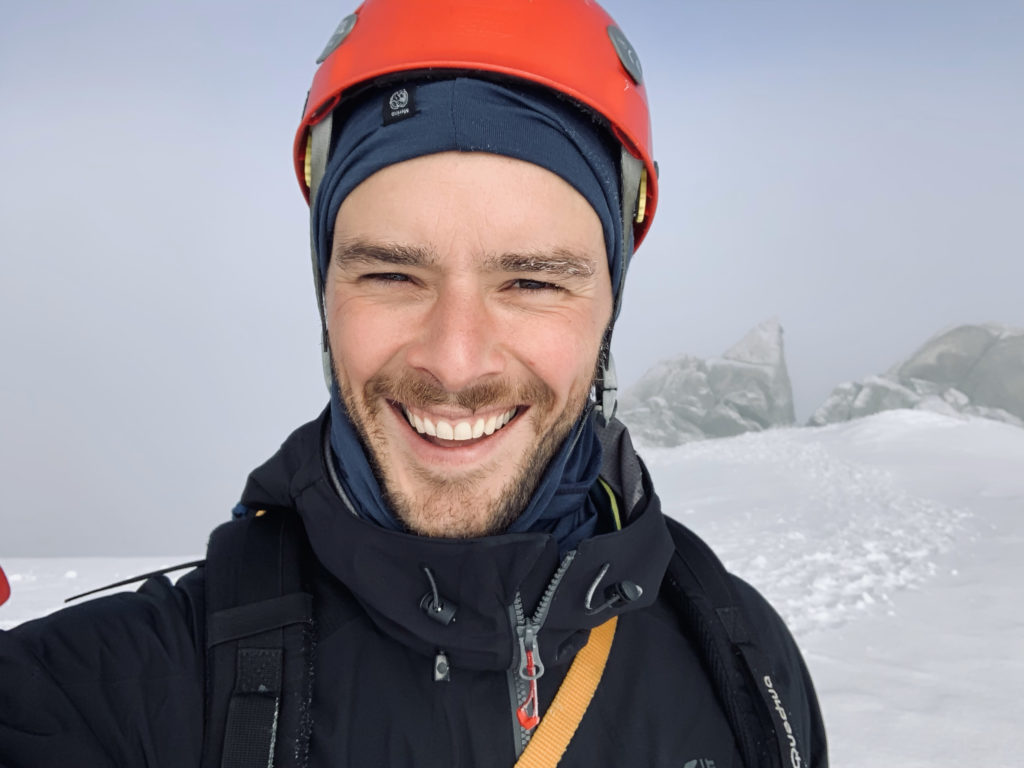 THE CLIMB – DAY 2

It was when I was going down the stairs for breakfast, when I had to hold on to the railing to get one foot in front of the other, that a strong feeling filled my mind: "but you're never going to make it all the way to the top in that condition". I didn't know it yet, but in a few hours, I was about to experience one of the most physical trials of my life…
Wake up at 6:00 a.m. Quick but calorie-rich breakfast. We equip ourselves with our equipment in the basement of the chalet. It is necessary to count a good kilometer to arrive at the cable car. The legs are heavy and the pressure starts slowly to go up. We take the coach of 07h30, direction l'aiguille du midi.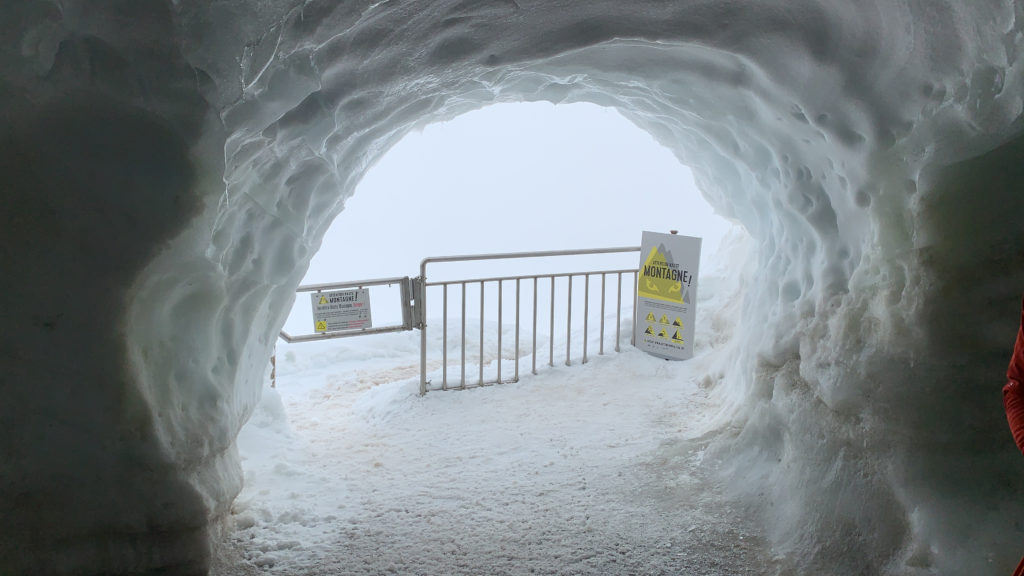 The goal of the day is to go up in altitude, from 2000m yesterday to 4000m today. For that, we have to start from the aiguille du midi at 3800m, take the ridge, go down to 3500m in direction of the refuge and then attack the ascent to 4000m. That makes us +1600m of elevation gain.
Once the crampons put at the feet, we cross the small grid which separates us from "the door of the paradise" (photo above). I discover the ridge of midday for the first time, what a sensation! You walk on a path, whose width does not exceed one meter, surrounded on each side by a vertiginous cliff. You begin to realize that your life doesn't hold much in high mountain.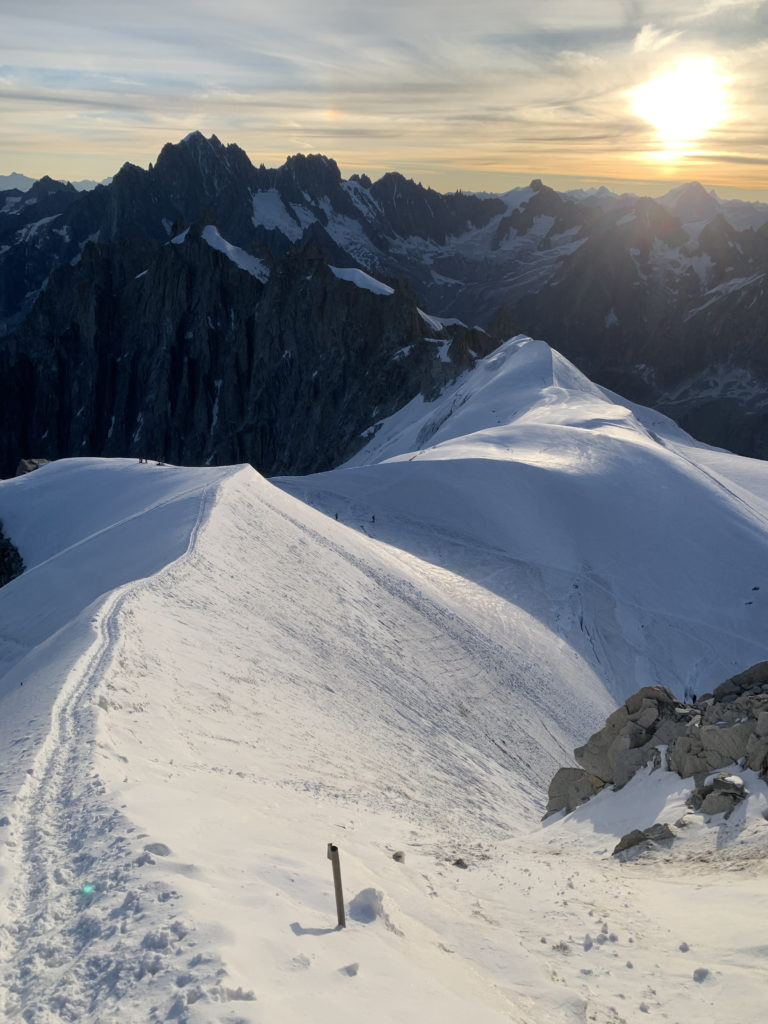 It will take us a good hour to arrive in the valley at 3500m. I feel that my energy level is going down faster than normal. I look at the top of the mountain and I start to stress. I'm starting to doubt my ability to complete the day's objective. I keep my doubts to myself, but if Nicolas sees them very clearly.
We keep climbing, but I feel like I have a leak of energy in my body (and mind). Every 100m of climbing empties me completely. Nicolas is steady and sharp in his decisions. He pushes to keep the pace. At the time, I perceive this as real pressure. He then explains to me, with a clear head, that the weather can play against us in the mountains, like today, where a storm is expected in the middle of the afternoon. To put it simply, we don't want to find ourselves up there, without energy, in the middle of a fog.
We make a break at 3700m (photo below). I switch between moments of joy in front of this magical show that takes place in front of my eyes and moments of anger where I wonder what I'm doing here!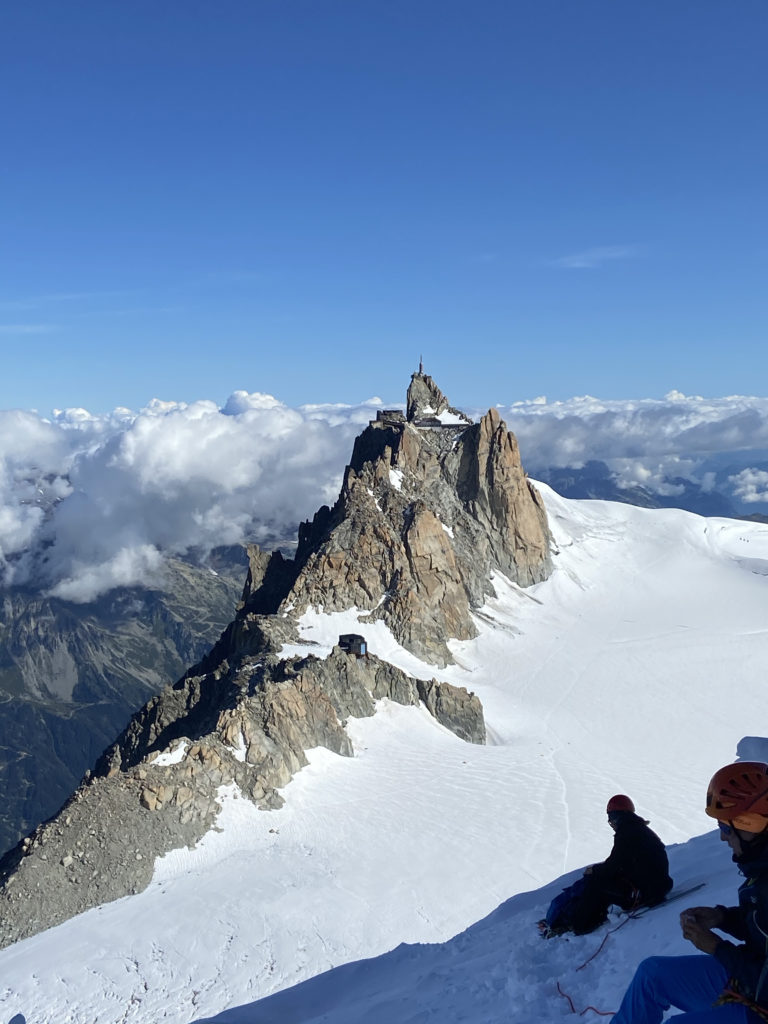 Arrived at 3900m, Nicolas makes the decision that we will stop there, that it's enough for today. I tell him that I am ready to continue until 4000m, but he explains that these 100m will finish me off, and that I forget the way back. I turn around to observe our starting point, it seems so far away…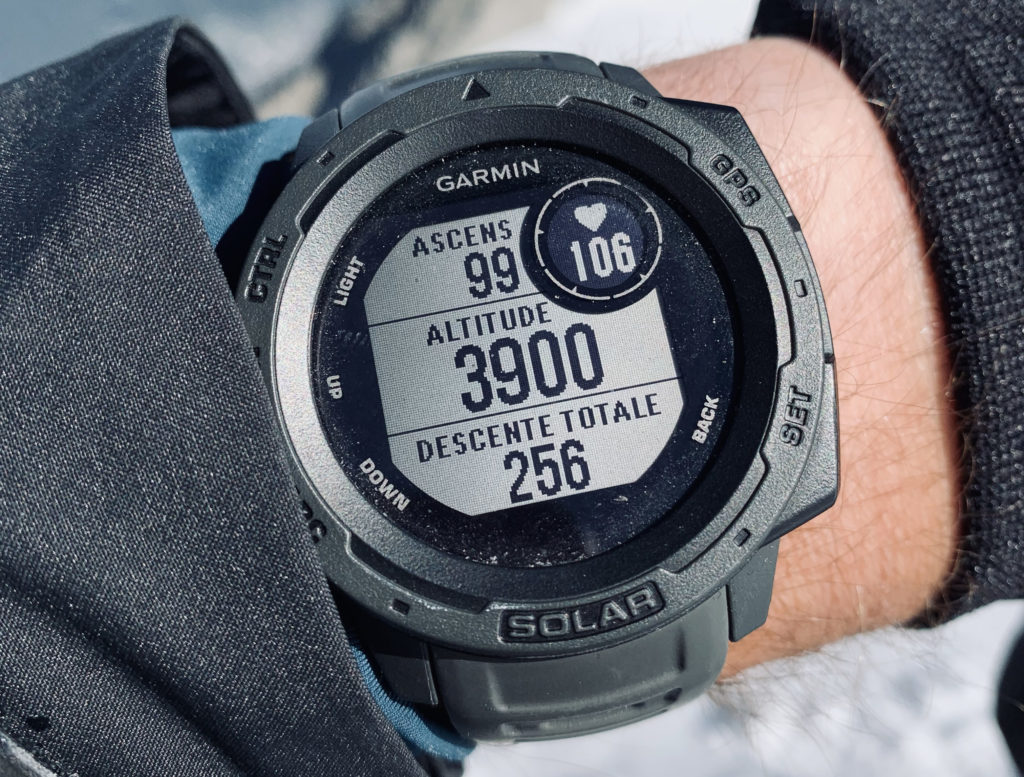 The descent is going well, thanks to gravity. We arrive at the end of a good hour on the valley. I ask Nicolas if we leave immediately to the cable car located at 3800m, he explains to me that, seen of my head, I do not have enough energy to arrive there. So we opt for a break at the midday refuge located 200m higher on the left. I am going to live 30min of a rare violence, physically and morally. Washed out, at the end of the road, each step is a hell. I stop every 5 seconds to find the motivation to continue, I crawl, I hang on…
Basically, my 200m ascent to reach the refuge looks like this:
2 mushroom omelettes, 2 cereal bars, 1 large coffee and 60min later, I start to find colors and smile again. Nevertheless, we have to be active because a big cloud is expected at 3pm. We have "more" than 300m of ascent left to return to the cable car at midday.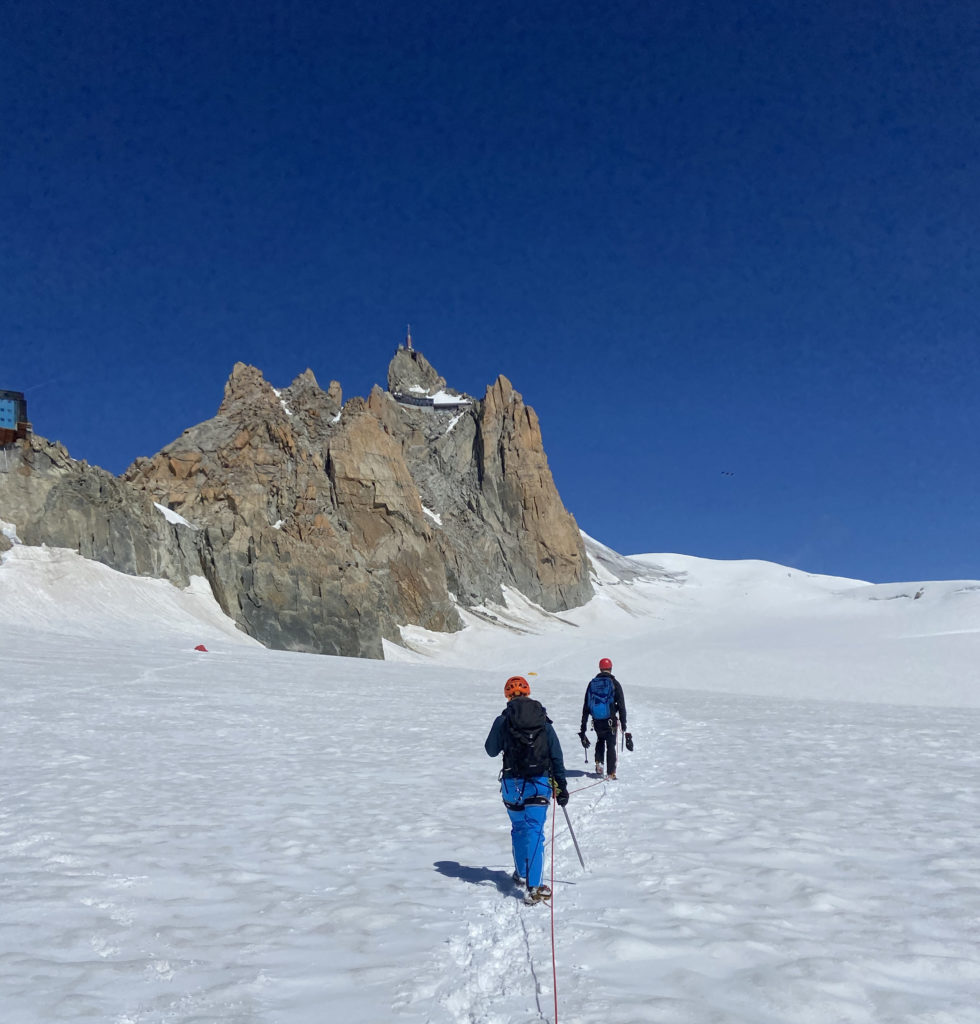 4,82km and 6h40 later, we are back to the gates of paradise. I have tears coming up in my eyes, I'm completely hooked on endorphins, fatigue and joy. What a day! And to think that we have to start again tomorrow…
RECAP OF THE DAY !
---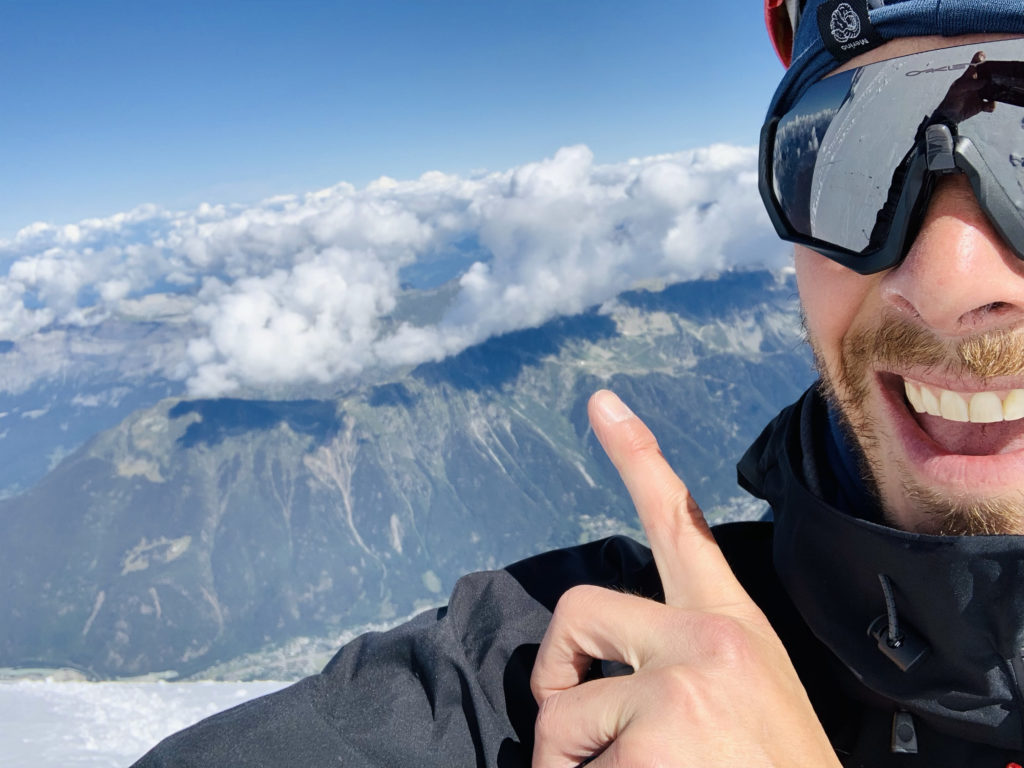 ---
THE CLIMB – DAY 3

Wake up at 05:00 am.We are going to try to have the "first coach", the one of 6:30 am to begin the ascent with the rising sun. This first coach is, in normal time, reserved for the guides and their clients. But in this complicated period (covid), there is place for us!
During the kilometer to get to the cable car, I wonder how I'm going to manage to put one foot in front of the other once up there. I am stiff all over. But paradoxically, my morale is high. Nicolas does a real job to motivate us and reassure us about our ability to get there: "You'll see, the hardest part was yesterday. You did a great job with the altitude. Now we're going to go all the way up. I have faith in you. »
The door to paradise is more beautiful than ever! I record strong images in my memory for many years. The sun is pointing its nose above the mountains, the weather is clear. Luck seems to be on our side.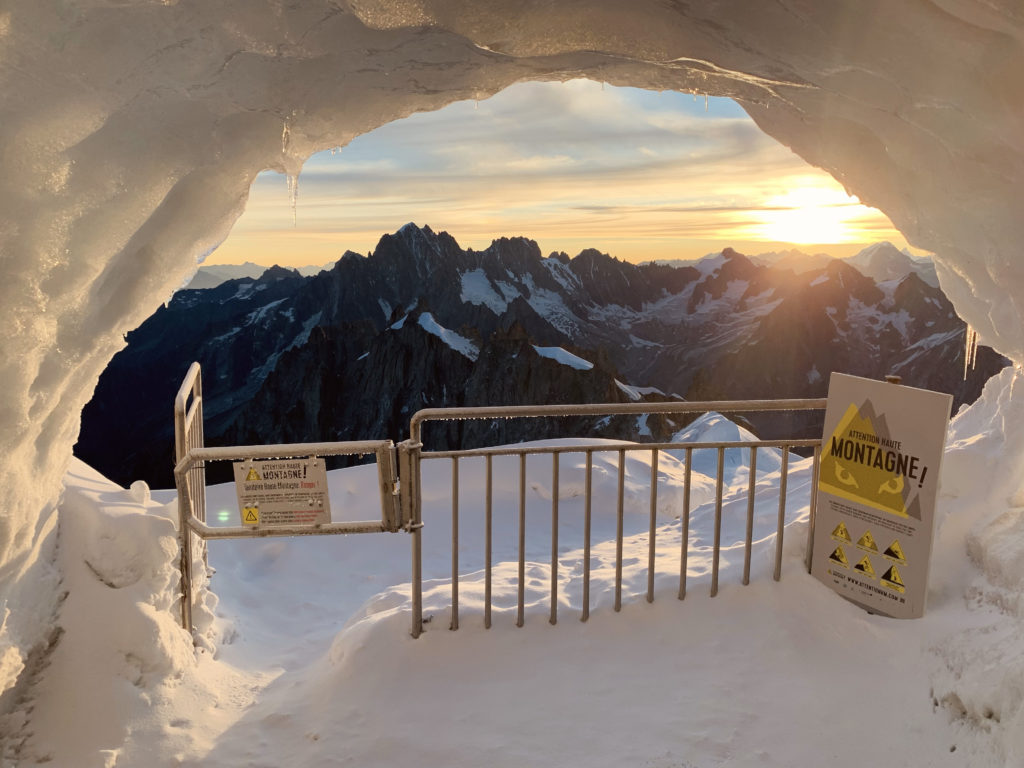 We begin the ascent. I feel good, in much better shape than yesterday. My body seems acclimatized to the altitude. I am eating twice as much as yesterday, one bar every 45min. Nicolas explains to us the interest to leave very early and to keep a good rhythm. We arrive at 3900m with almost 3 hours ahead of yesterday. That changes everything! We can take our time and mark the good breaks when it is necessary. Result: we are in better shape and we have faith to get there.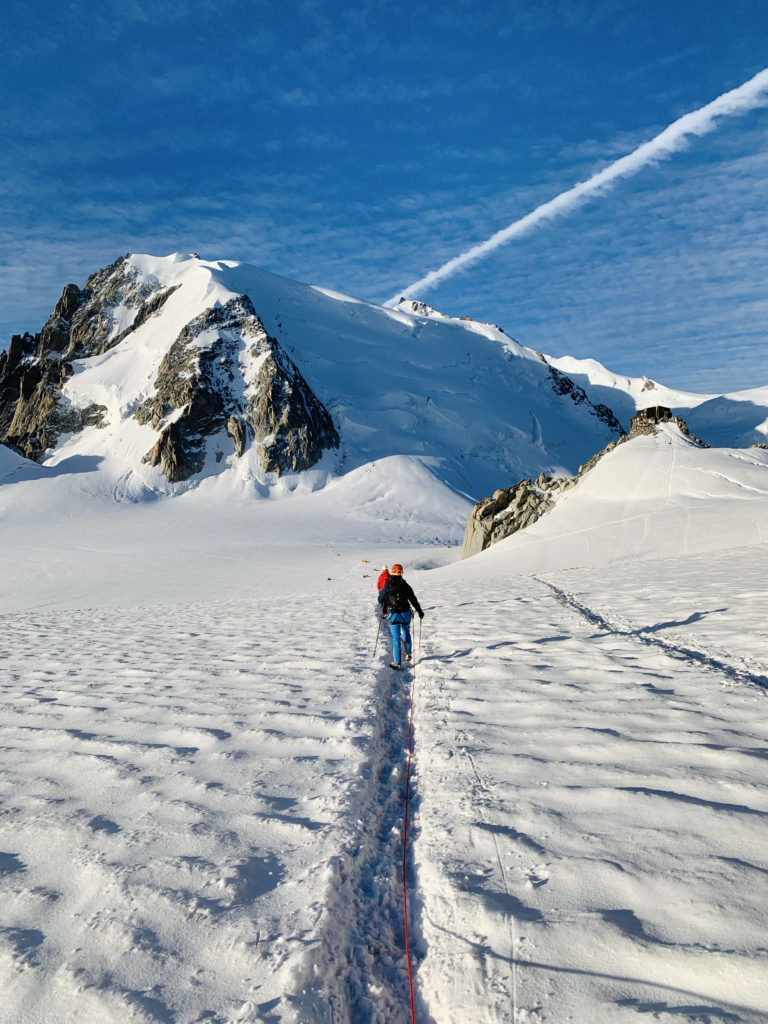 4000m. I look at my watch, I am at more than 4000m of altitude! I can't believe it. I look at the landscape behind me, we are above the clouds. What a feeling. Nicolas remains vigilant and explains to us that there are still 300m left including the climbing of the final rock. Rock climbing?
4100m, my left leg sinks into a crevasse all the way. Small panic. More fear than harm, I go back up on the path and we continue…
4200m, here we are at the bottom of the final rock. The wind blows very strong, we are very cold. A team of 3 persons is already engaged in the rock climbing. I share my fear with Nicolas who simply answers me: "No Max, the summit is up there. You didn't come here to be here! ». Ok boss.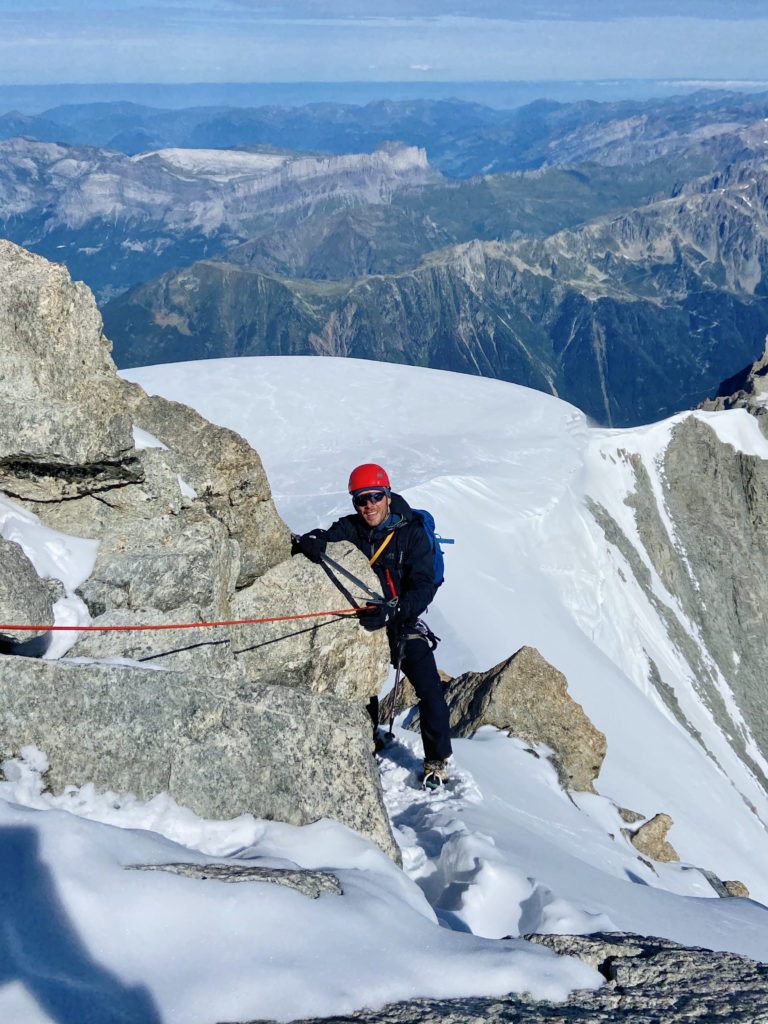 4248m. After 30min of climbing, as best we can, we are on the roof of the Mont Blanc du Tacul. We overhang the clouds, the wind is less strong and the sun warms us slightly. A feeling of enormous achievement fills my body. I did it! Yes, I did it! I am so proud of myself.
The celebrations are going to be short-lived, because there is the return to do and we are still freezing to death. The climb seemed complicated to me, the way back seems dangerous. Nicolas asks me to rappel down the rock, I can't do it. I prefer to let myself slide like a slug along the rocks. 10 points for the efficiency but 0 for the style.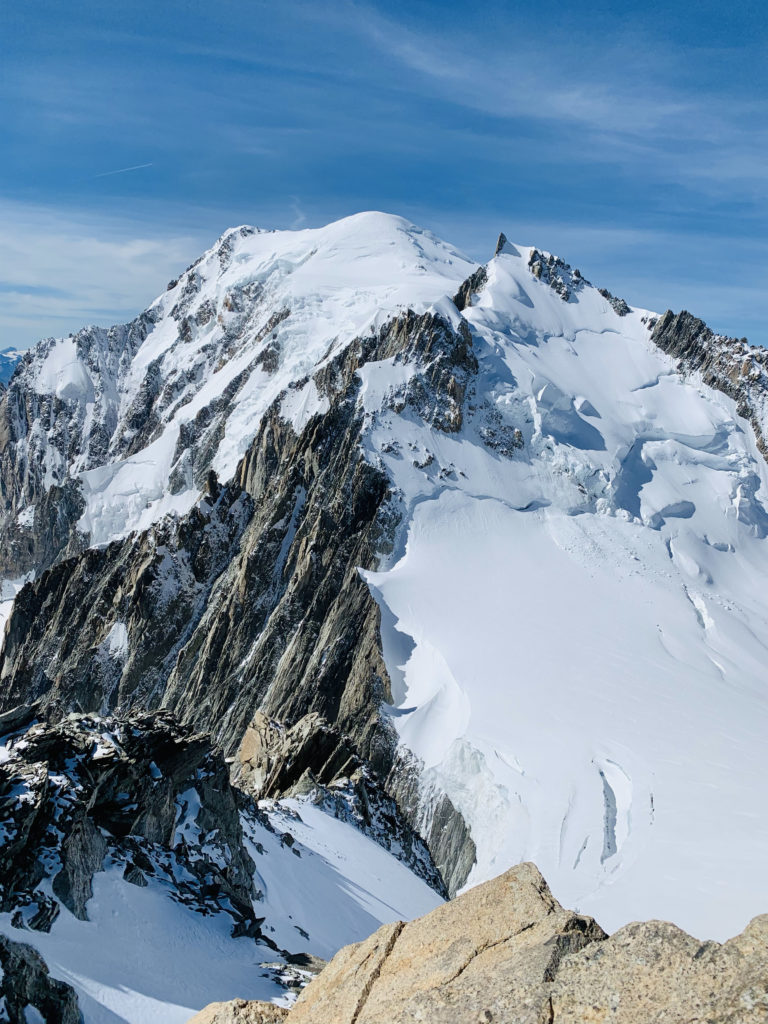 The descent will be done in less than two hours smiling. We remain vigilant but we do not have the pressure of time anymore. Even the weather forecast announces a good weather until the end of the day. We decide to go up directly to the aiguille du midi without passing by the refuge. Slowly but surely, we go up every centimeter.
7h45 and 2000m of elevation gain later (my strava route), we are back to the cable car. It is just after 3:00 pm. I look one last time at my little door of paradise to print it in my memory. I am happy, proud, exhausted and lucky to have been able to live this experience with my 2 friends. As the saying goes: "Make friends with pain, and you will never be alone".

RECAP OF THE DAY !
---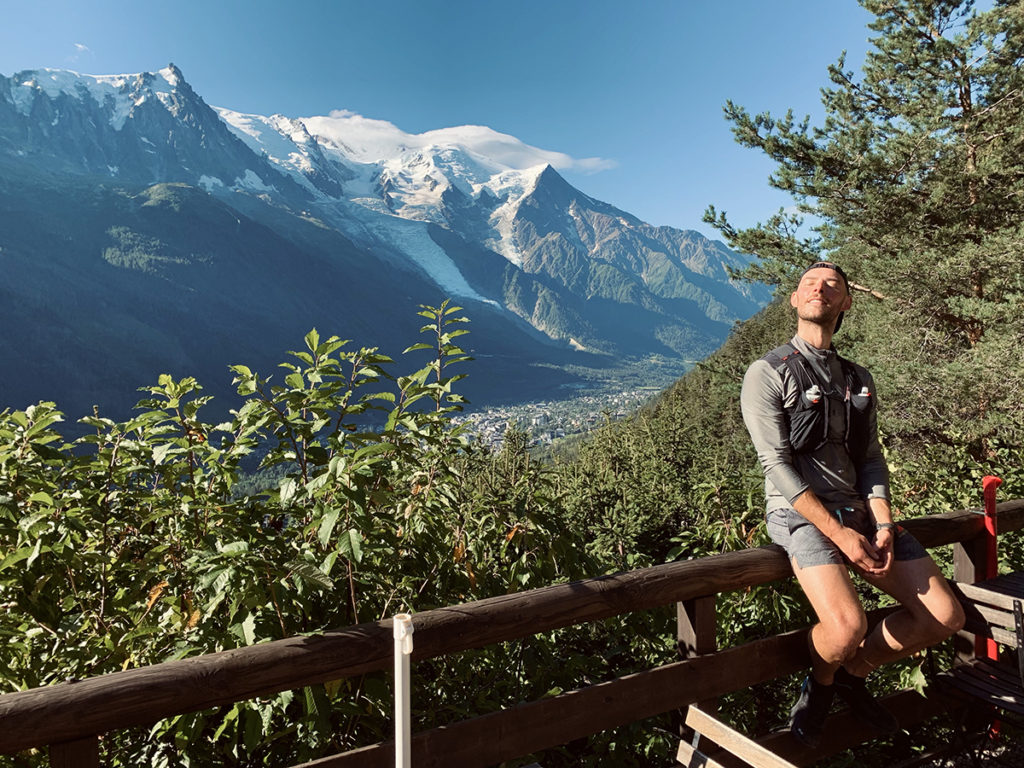 ---
THE CLIMB – DAY 4

To "finish" the trip well and to enjoy a little more of this magnificent mountain, we decide together to leave on a last trail "just to stretch our legs".
Direction the chalet of La Floria (1350m). Easier than the first day, we take the time to appreciate the landscape. The trail is very pleasant with a gentle descent to Chamonix. On the program: 60min of effort for 8,5km and +650 of elevation gain.
My trail is available on Strava : HERE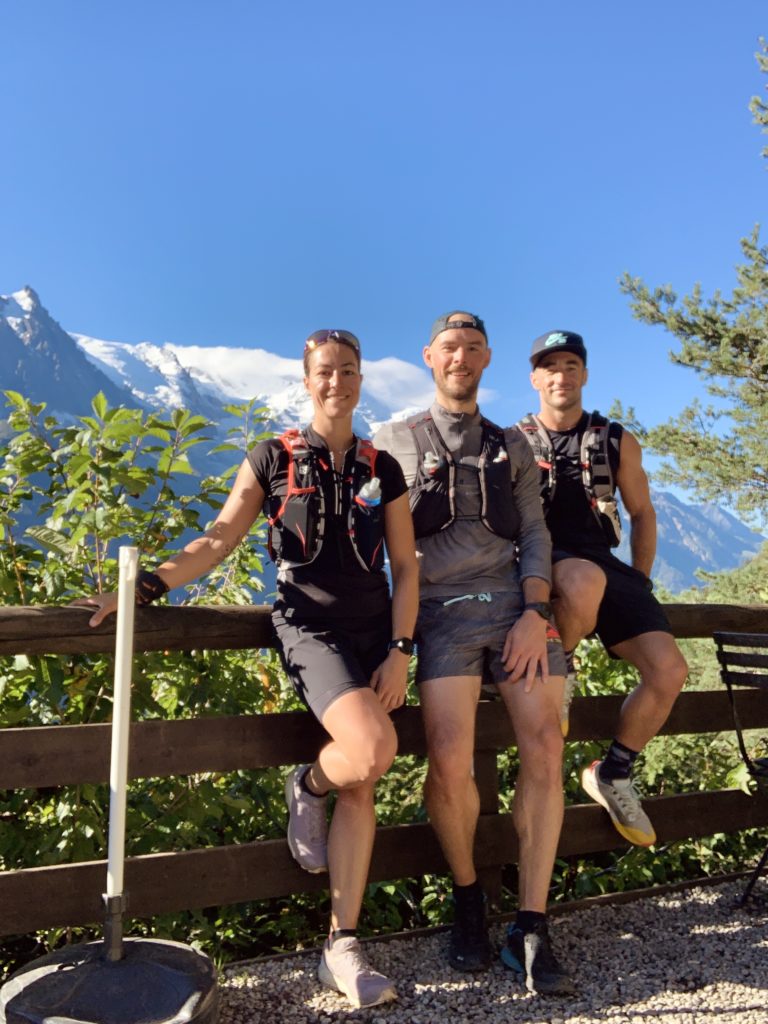 ---
CONCLUSION

What more can I say? Memories engraved forever in my memory and a feeling of surpassing oneself as never felt before. It is a unique experience that you can do and live in many different ways. It's up to you to find the one that suits you.
I learned a lot of things about the mountain and alpinism, such as how to tie a knot of 8 or a half-cabestan. It's also a moment of sharing between ropemates. You live together for 4 days, hanging on to each other.
I would like to take this opportunity to thank Carole once again, who has shown unfailing motivation, an unfailing smile and above all… has supported my many jolts when I was at the head of the rope! And of course, THANK YOU NICO PUTAIN! Thank you a thousand times mate for making my dream come true, one of the craziest of my bucket list. Can't wait for our next challenge together.