My adventure start here > day 0 et 1
---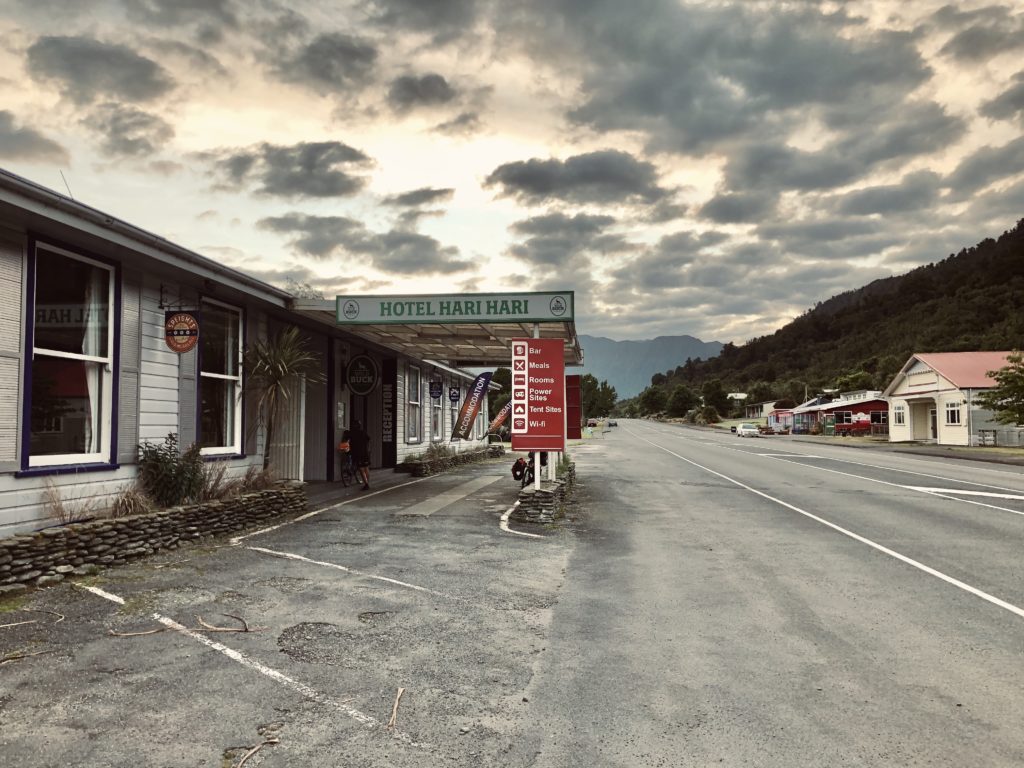 DAY 6 : MAKE FRIENDS WITH PAIN AND YOU WILL NEVER BE ALONE AGAIN (104km in 04h32)

Good night's sleep. 3 cups of coffee, 4 peanut-butter-marmalade sandwichs and 2 bowls of oatmeal. We are ready for a "long day". 104km between Hari-Hari and Greymouth. We are going to take 7 hours and 39 minutes to make it.
I will do "only" 1000km in 13 days

I was still thinking about whether I took the train to Greymouth for Christchurch (244km) or if I did it by bike as initially planned (in 2 days). I opt for the "train" option for several reasons. I have 8 days left before my plane to return to Sydney and 500km between Christchurch and Queenstown. That makes a total of 744km to do in 8 days, an average of 98km per day. I think the challenge is achievable but I will come back with a "racing" logic. I prefer to take a day-off in Christchurch and take my time.
So I'm taking my train ticket for tomorrow. I have room for myself, but not for my bike. It's annoying. During the first kilometers, I will evaluate all the possible solutions to arrive safely at my bike.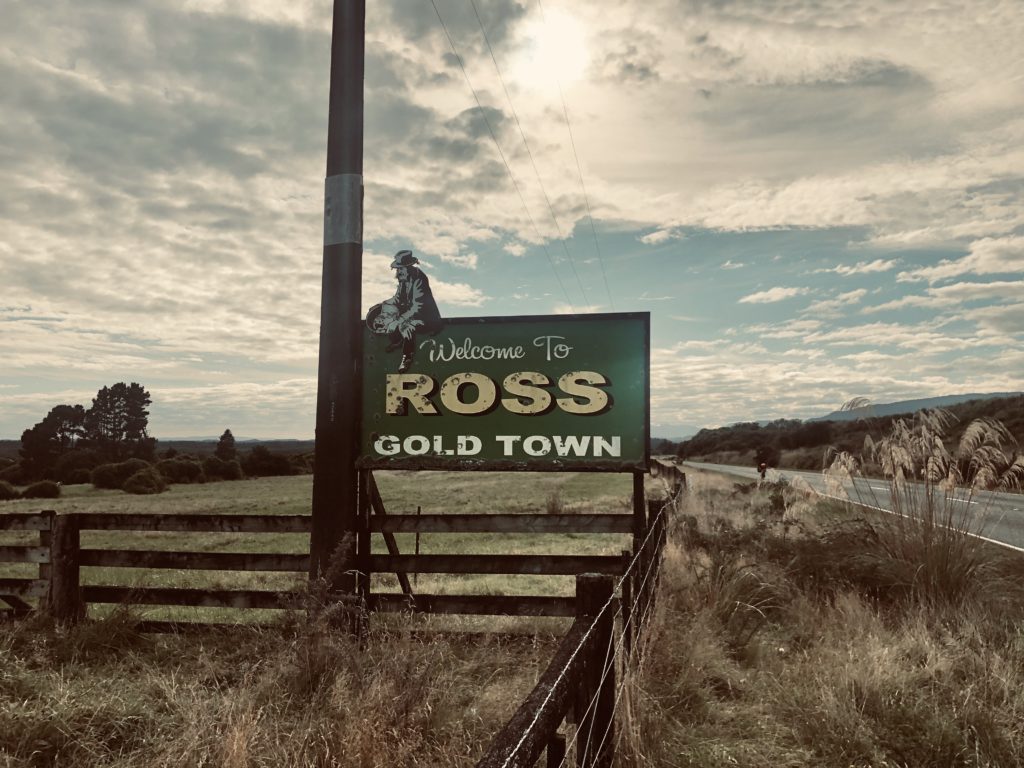 Kilometer 45, we arrive at Ross, a small deserted town like Hari-Hari. I call customer service for the train company and I run into an adorable woman. She said to me: "don't move, I will save your life young man". Ok, I'm not moving! 15min later, the problem is solved and I take the road very happy.
A bick-pakeuse less prepared than me!

When we stopped at the one and only cafe / supermarket in Ross City, we came across a bike-packer. She's from London. Coincidentally, she rented her bike from the same rental agency as I did. I realize that she is less prepared than me (yes, it is apparently possible!). She does not have cycling shorts (with reinforcement cushions) and above all she follows a route proposed by the agency. She planned to stop at Hari-Hari for the night. He was recommended to travel 60km more to reach Franz Joseph, a more dynamic city!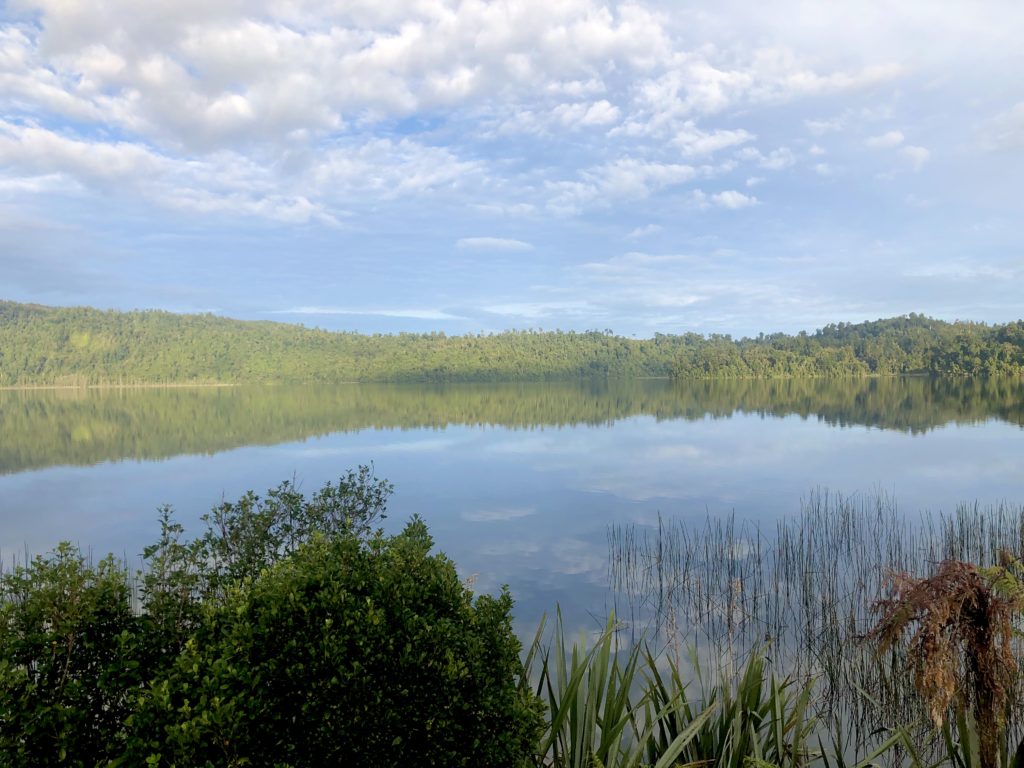 We decide to stop in Hokitika for lunch and segment the 105km into 3 parts (45/30/30). As Raphael often says: "there is no rush".
Quick lunch at Hokitika

We arrive in a charming city, much more lively than the previous one. There is even the beach! We ask ourselves a few minutes (see photo below). I'm really low on energy. Right in front of us is a pizzeria. Coincidentally, I don't think so!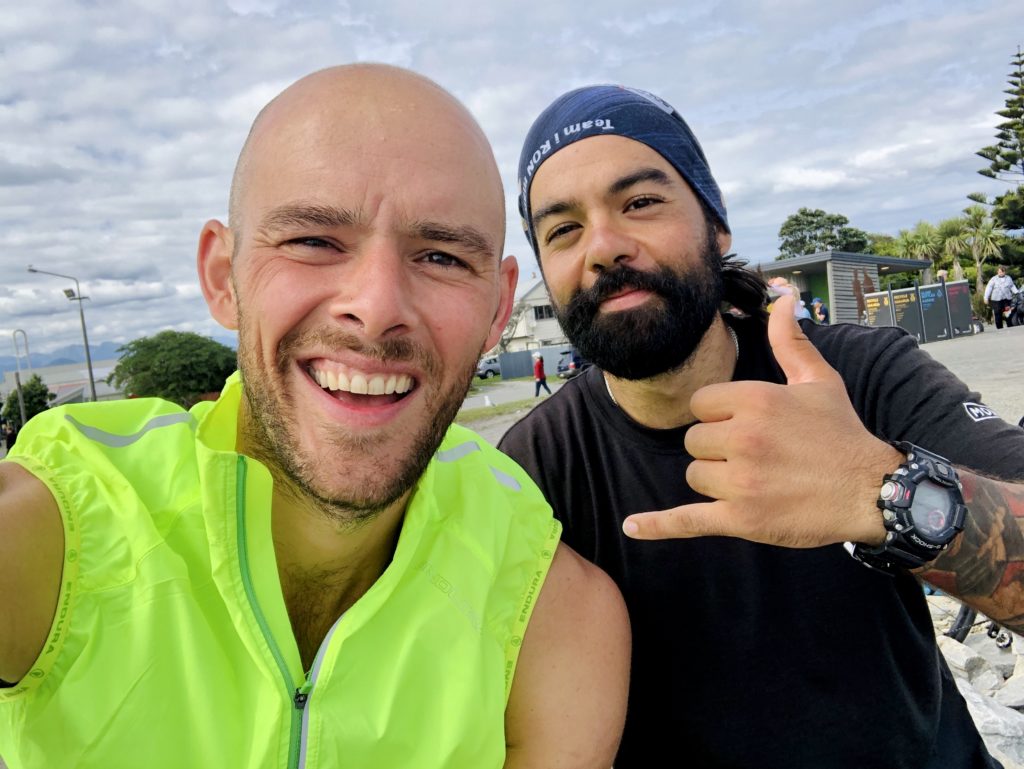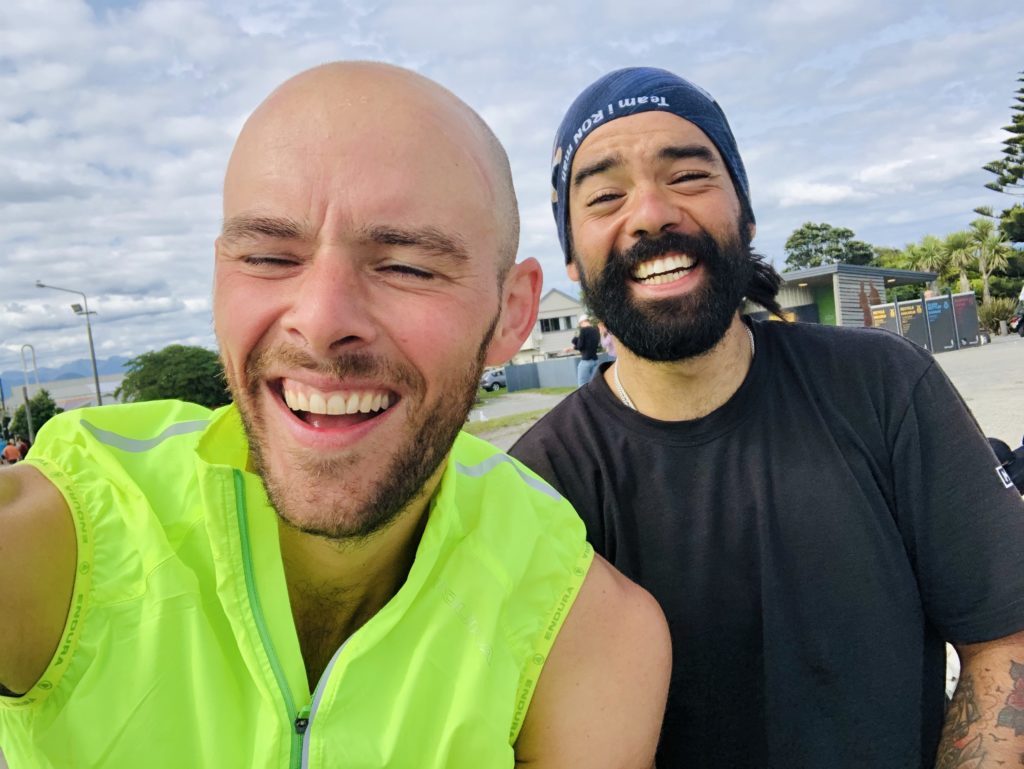 As we say: "I hit a wall"

1 hour later, here we are on the road. There are "only" 30 km left but they will be extremely complicated. Kilometer 90, I have to stop because of a hypocalorie crisis. I see blurry, my legs are cotton and I have cold chills. Raphael points out that I don't drink enough (3L today).
Come on, we're almost there, only 15km left !
We arrive at the motel completely full of endorphins. For our last evening together, I offer us a double bed for each and a motel with a swimming pool and a jacuzzi. The jacuzzi makes us crazy, as does the swimming pool.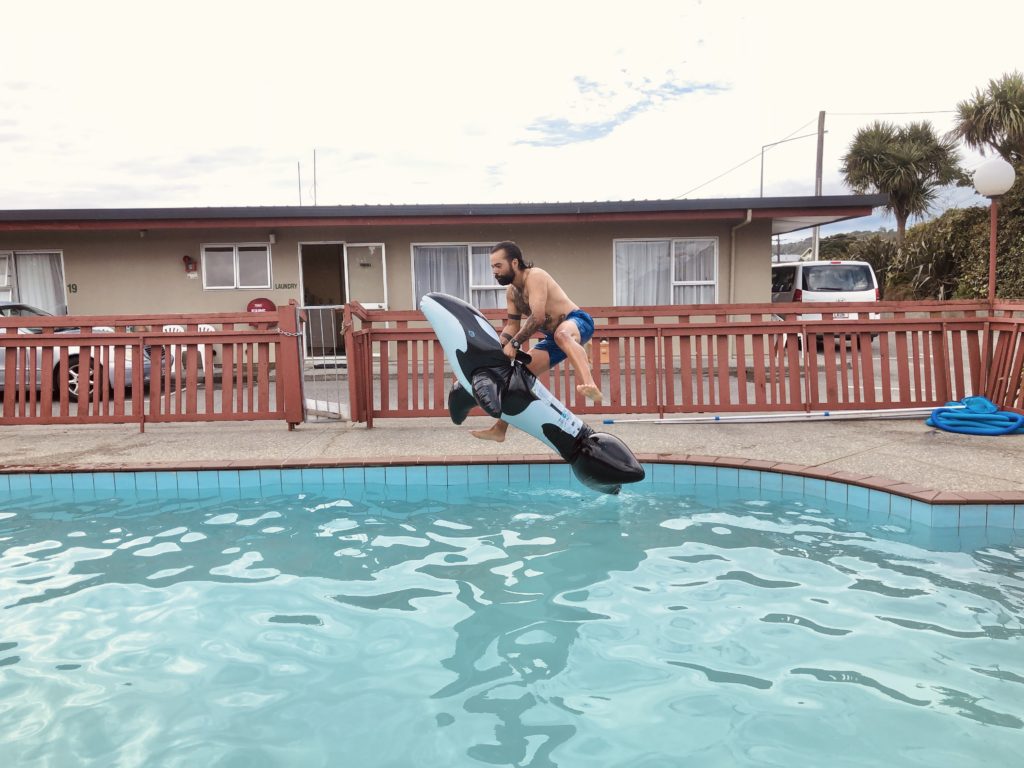 We decide to follow the advice of the receptionist for the restaurant. I suggest to Raphael that we have a good meal for our last evening together. We come across an all you can eat buffet, perfect! We're clearly the kind of customers we'd rather have a picture of than dinner.
We're having a great time together. I thank him for giving me the energy to continue, he thanks me for making his life easier over the past few days. It has been completely re-boosted for the past 12 days, I am confident for my next 8!
You don't travel outside but inside you

During our discussion, I achieved something important. When you take such a physically and mentally violent road trip, you are not traveling outside but inside you. I realize it little by little. When you're in a day 140km or 100km away, you start to travel inside, ask yourself the questions you didn't want to ask yourself and face your fears.
There are similarities with vipassana: 10 hours a day doing the same thing, in the same position and a "noble" silence (the road doesn't speak to you). Physical difficulty even brings a stimulus to your mediation, such as a "vipassana under steroid".
22:00, it is late and I am tipsy. But it's okay, tomorrow is an off day!
---
---
End of the day : my activity on Strava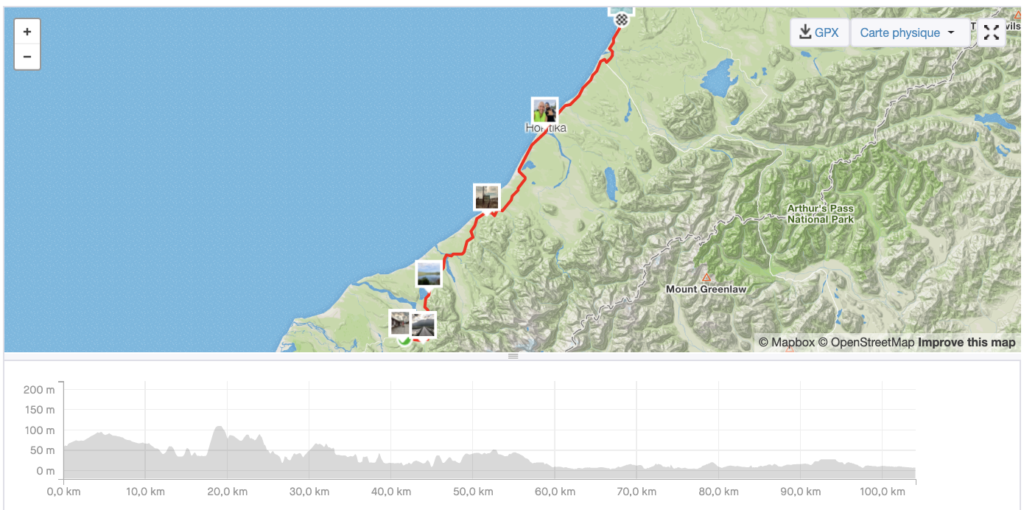 ---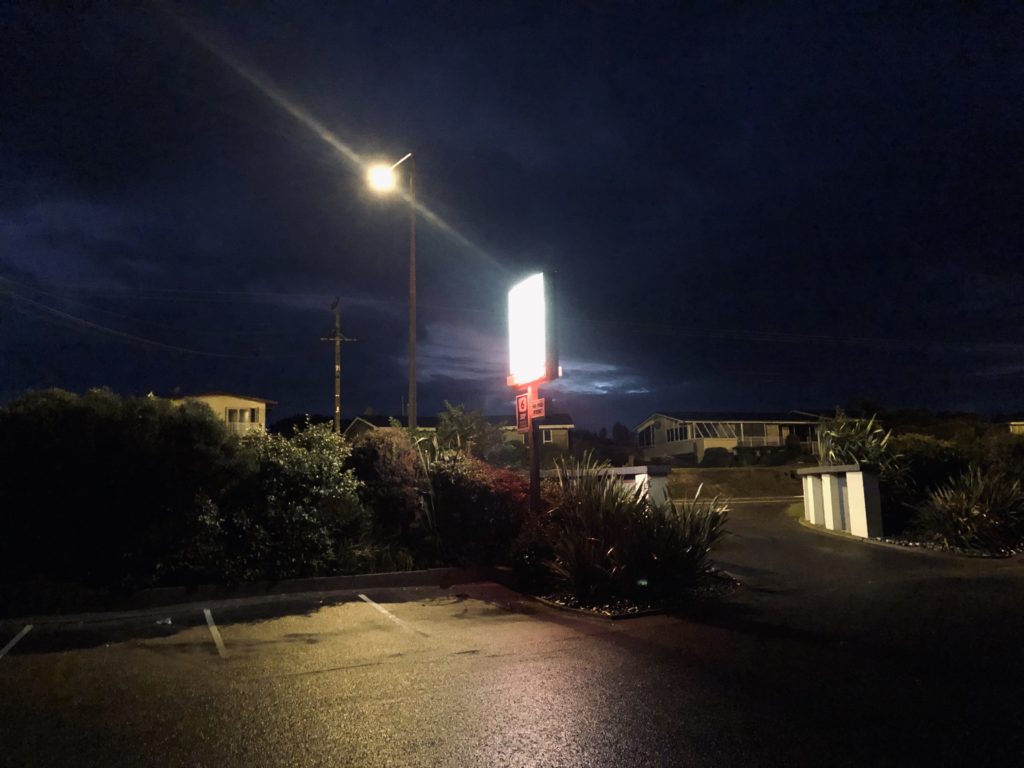 DAY 7 : « HE'S GONNA TAKE THE RAIN, I'M GONNA TAKE THE TRAIN » (11km in 30min)

Last ride together with Raphael this morning. It continues its journey north towards Auckland, I cross the island with the KiwiRail. I accompany him on the first 10 kilometers. We hug each other to say goodbye and good luck for the future. No sadness, neither for the other, because "nothing is permanent" (we both did vipassana).
It is 9:00 a.m. and my train is 2:00 p.m. It leaves me 5 good hours to advance on my blog. Direction the nicest cafe in the area. The deceitful, they condemned the electrical outlets to avoid that the "digital-nomads" do not stay too long without consuming. No problem, I'm loaded 100% on my MacBook.
After a good working session and a hearty lunch, I arrive at the station where I am explained the procedure for loading my bike. The first thing that jumps out at me is the average age of travelers!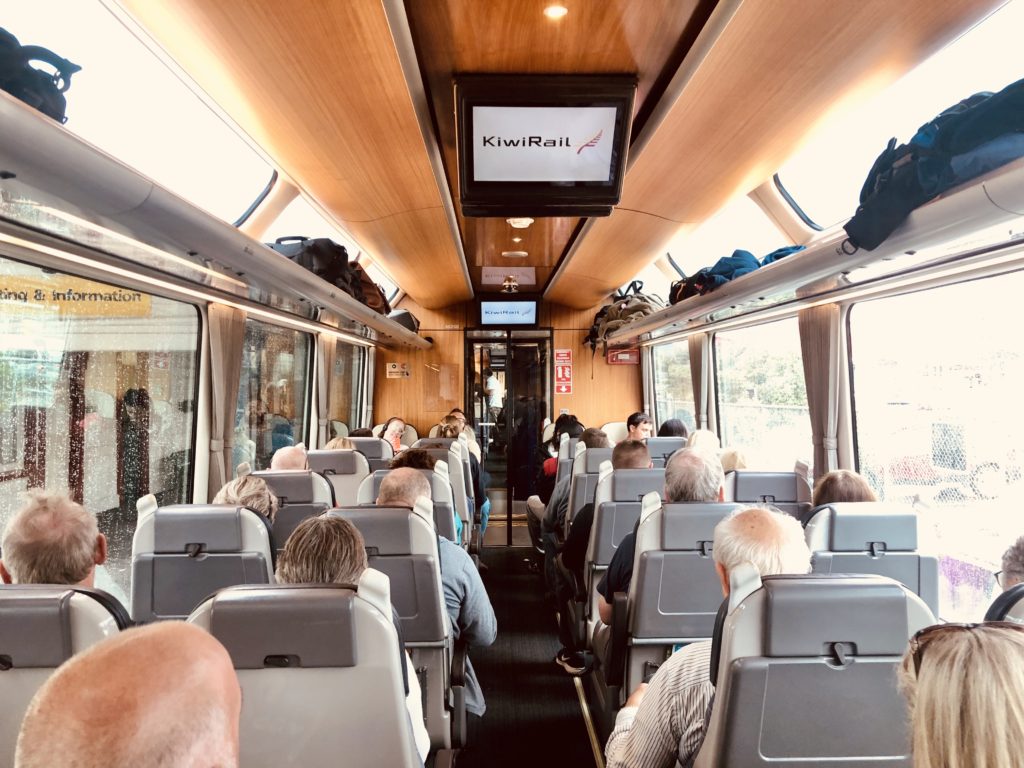 The journey takes 4 hours 30 minutes, from Greymouth (East coast) to Christchurch (West coast). The train is super comfortable and the view is magnificent. I'm finishing my 10th book of the year: "Blitzscaling"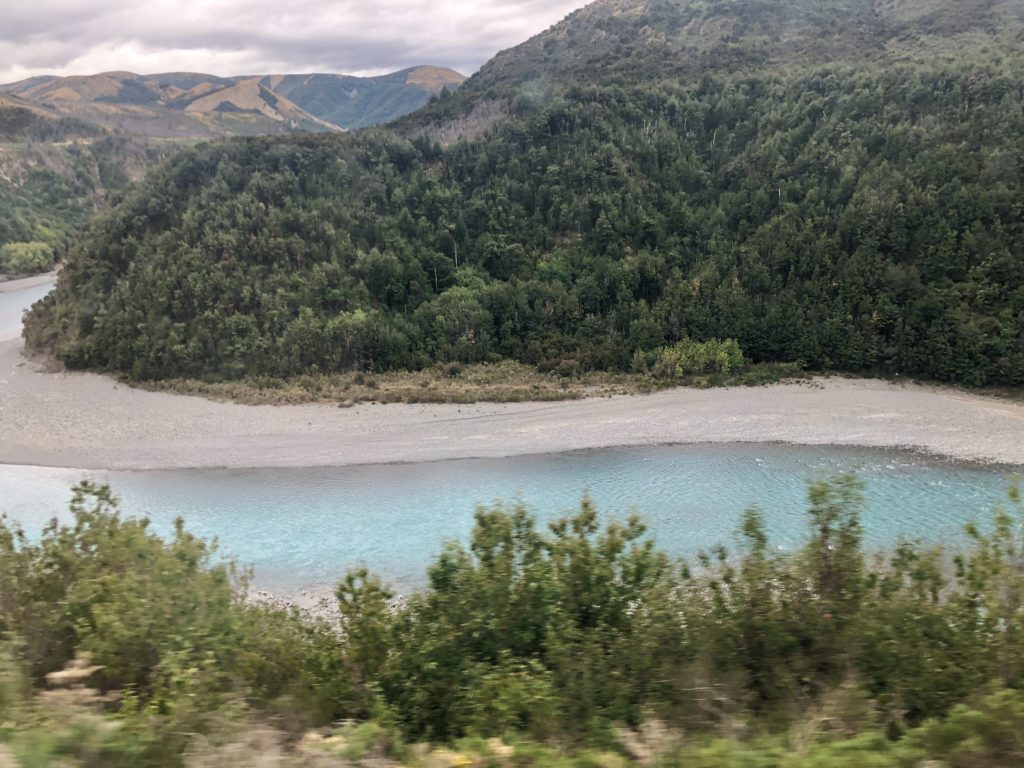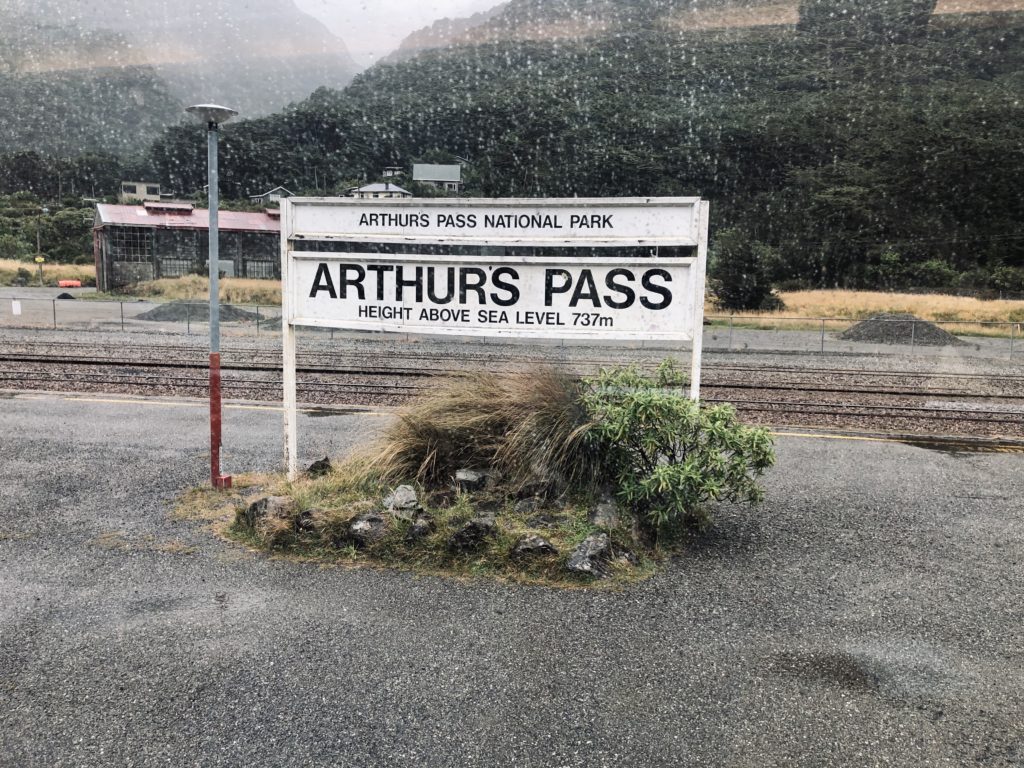 By taking this train, I gain 2 days on my schedule, I take 250km out of the 1500km planned and above all allows me to take a day OFF. Upon reflection, this is the best solution.
To successfully complete the 1500km, I would have had to pedal an average of 118km per day, without a day of rest. Not reasonable. I am motivated to redo a bike trip but being much better prepared this time!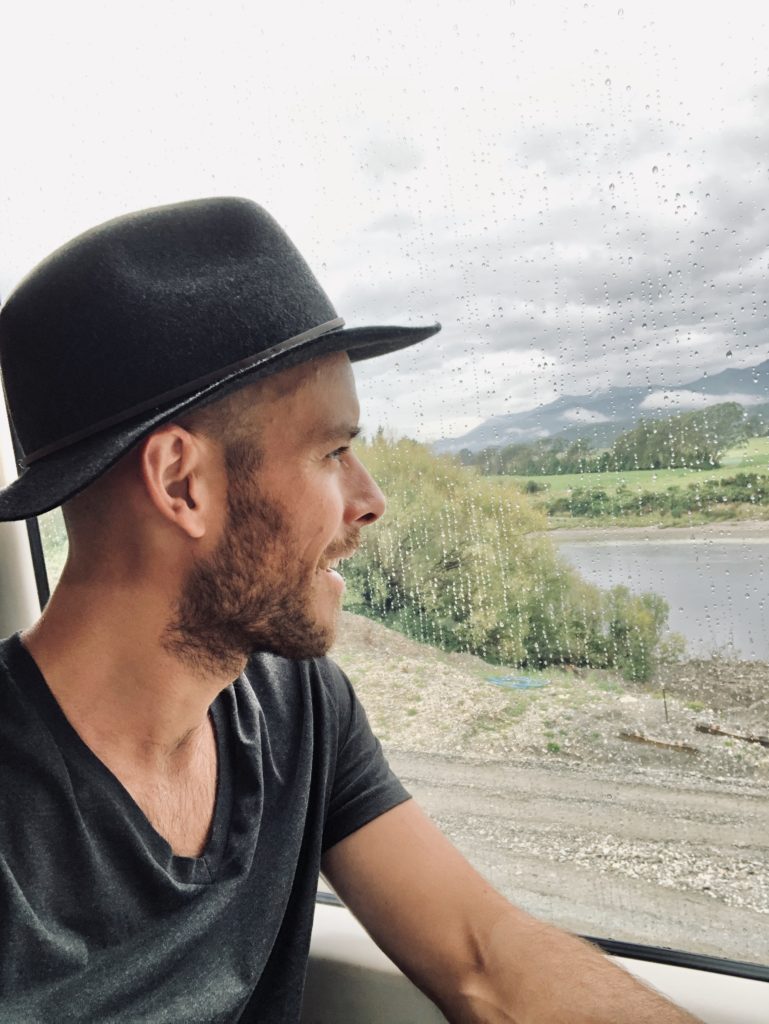 Christchurch is the third largest city in New Zealand, the first on the South Island. She is "unfortunately" known to have been the victim of a big earthquake on February 22, 2011. Many buildings were destroyed or damaged and 185 people died.
I took a ticket to visit the Quake City Museum which explains the day of the earthquake. It is very small, but ideal for understanding how the earthquake shaped Christchurch today. I took some pictures for you!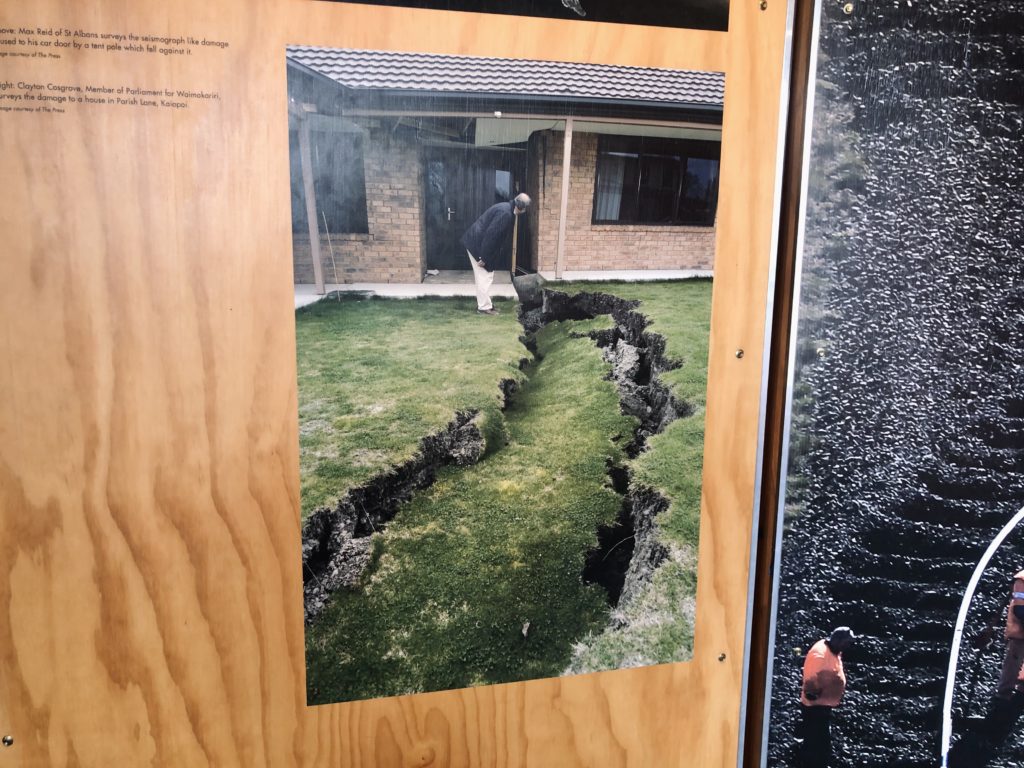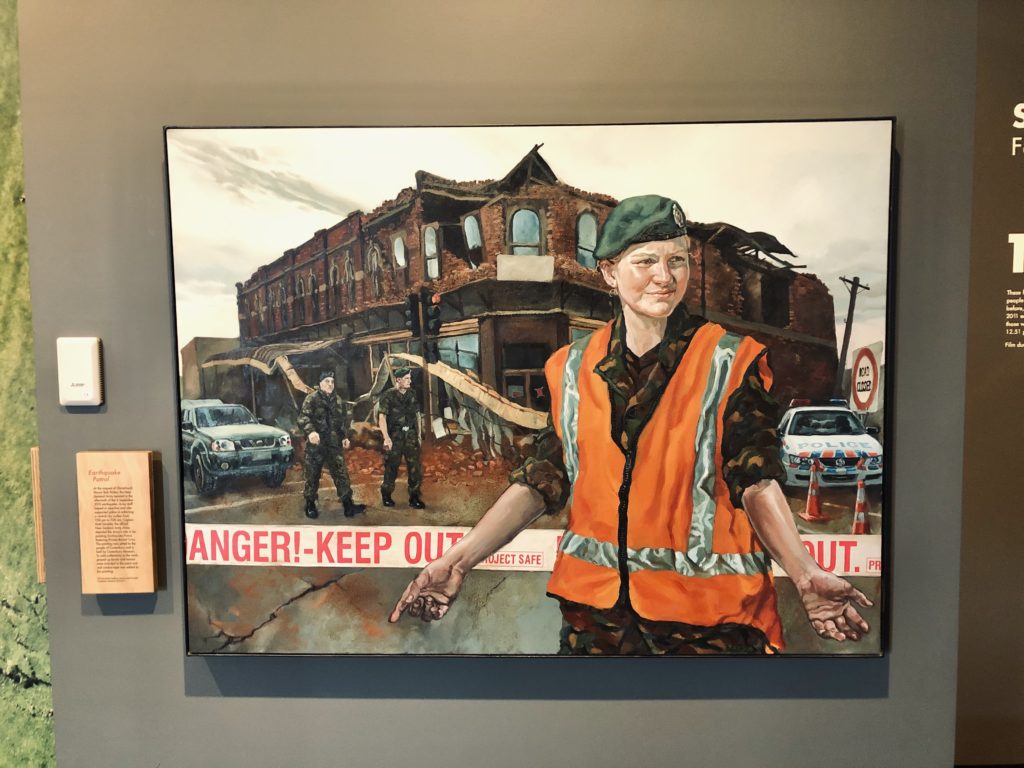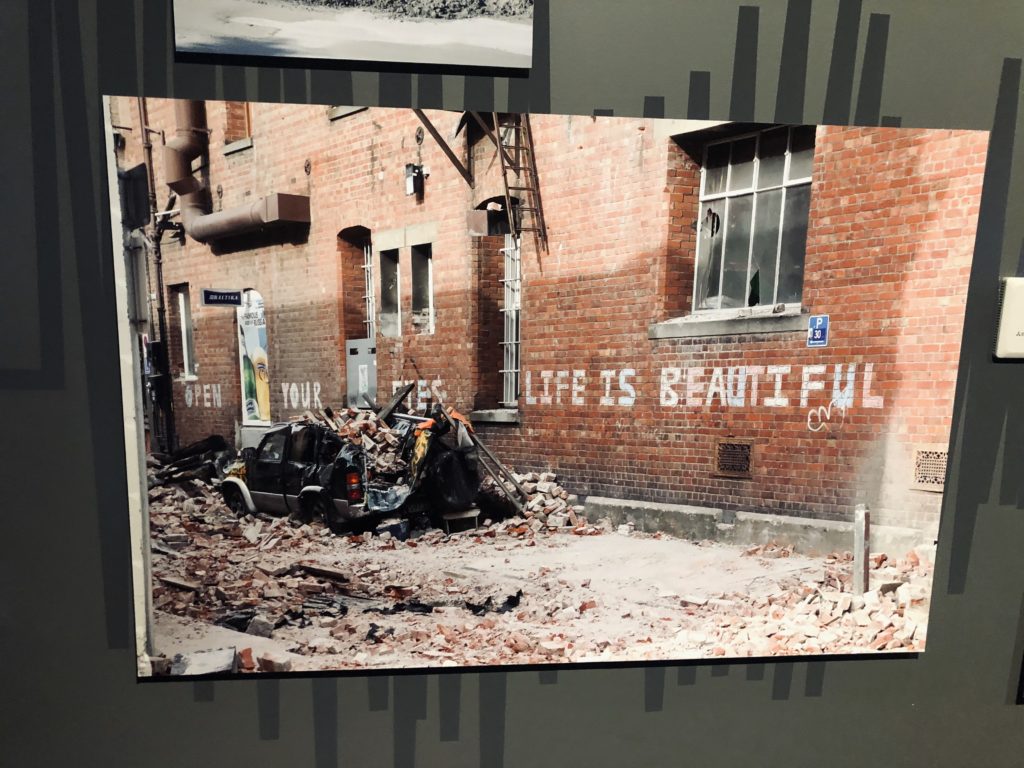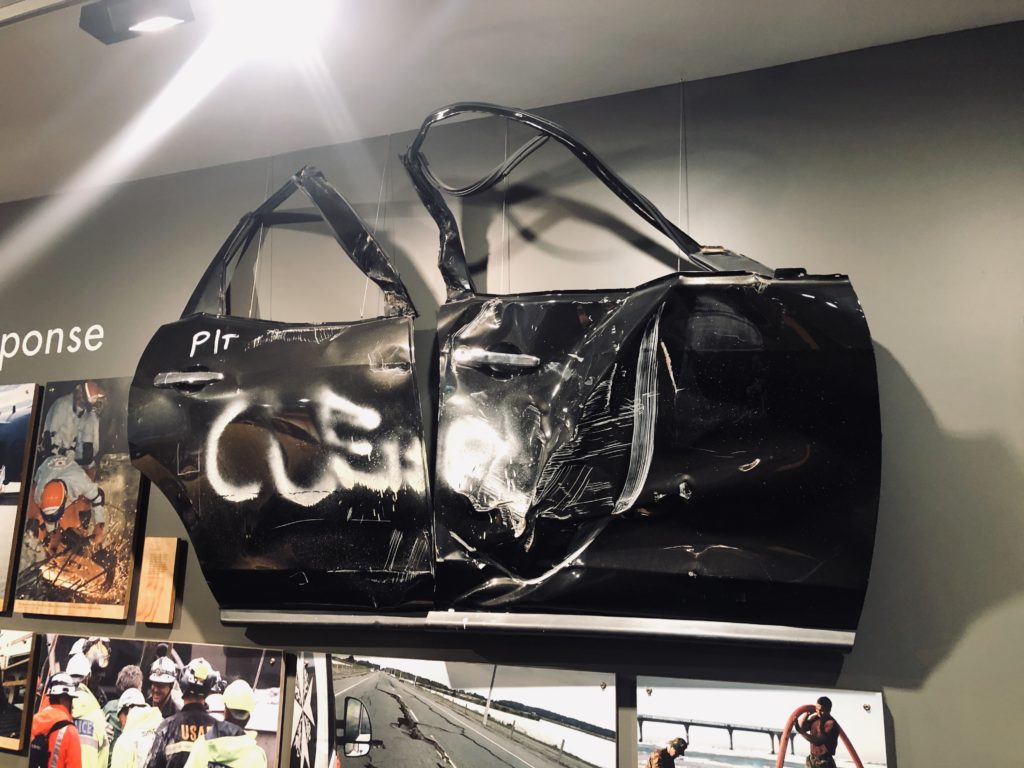 It's my one and only day off, so I take time to really please myself. Isn't that the goal? Head for ChildSister for two crazy dishes, especially the flambéed honey pancakes!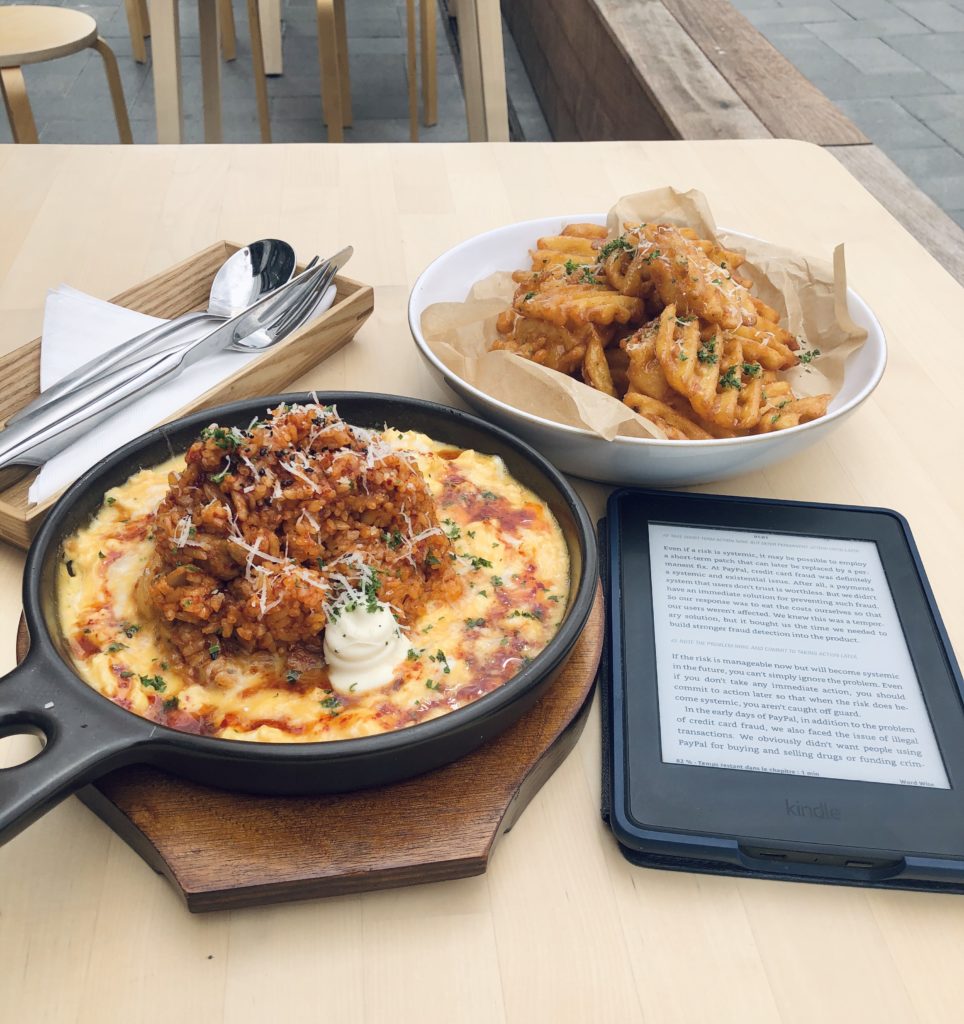 I end up with a little bike ride (what a difference without my 3 bags hanging on the bike) in search of the many graffiti that cover the city. There is an interactive map that lists them all!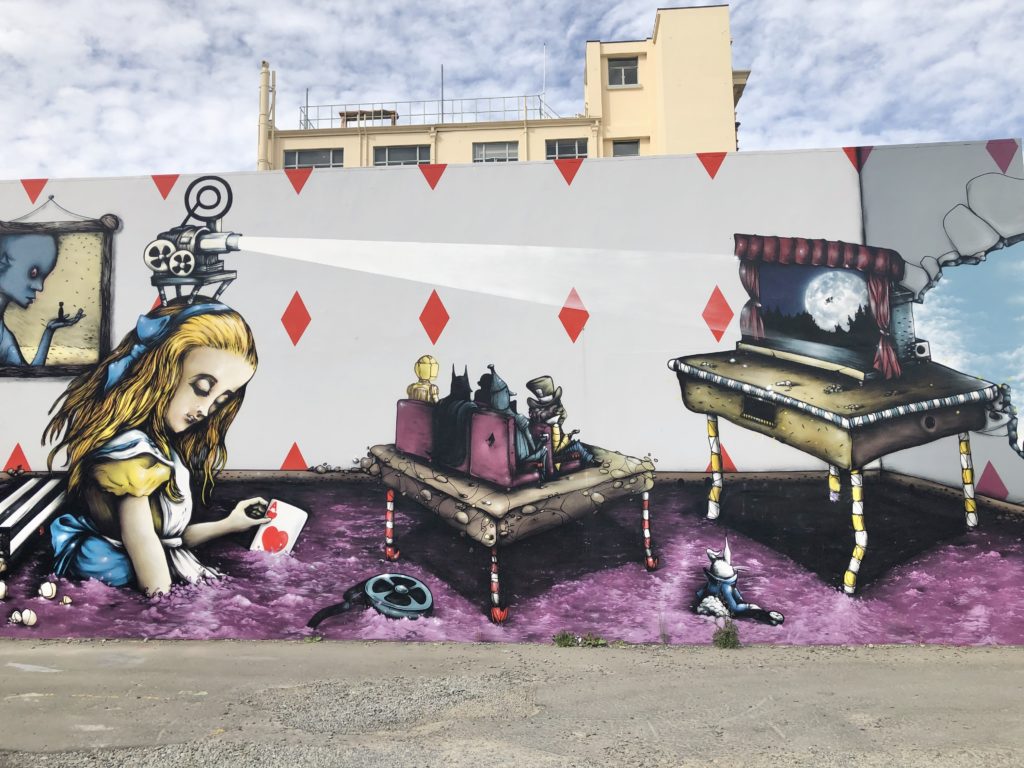 ---
---
My adventure continues here :
"Day 8 : One day in hell"

> Why not start from the beginning? <