My adventure start here > day 0 et 1
---
DAY 8 : A DAY IN HELL (143km in 6h27)

I knew that this day was going to be physically complicated because of the distance. But I didn't think she was going to mentally break me. Ps: you will find at the end of this article, what I learn from this experience.
Wake up at 6am, on the bike at 6:30am

My goal is to get to Ashburton as quickly as possible, about 95km / 5 hours by bike, so I can have a hot lunch. I know rain is waiting for me on the way. From the first pedal strokes, I feel a light light rain on my face….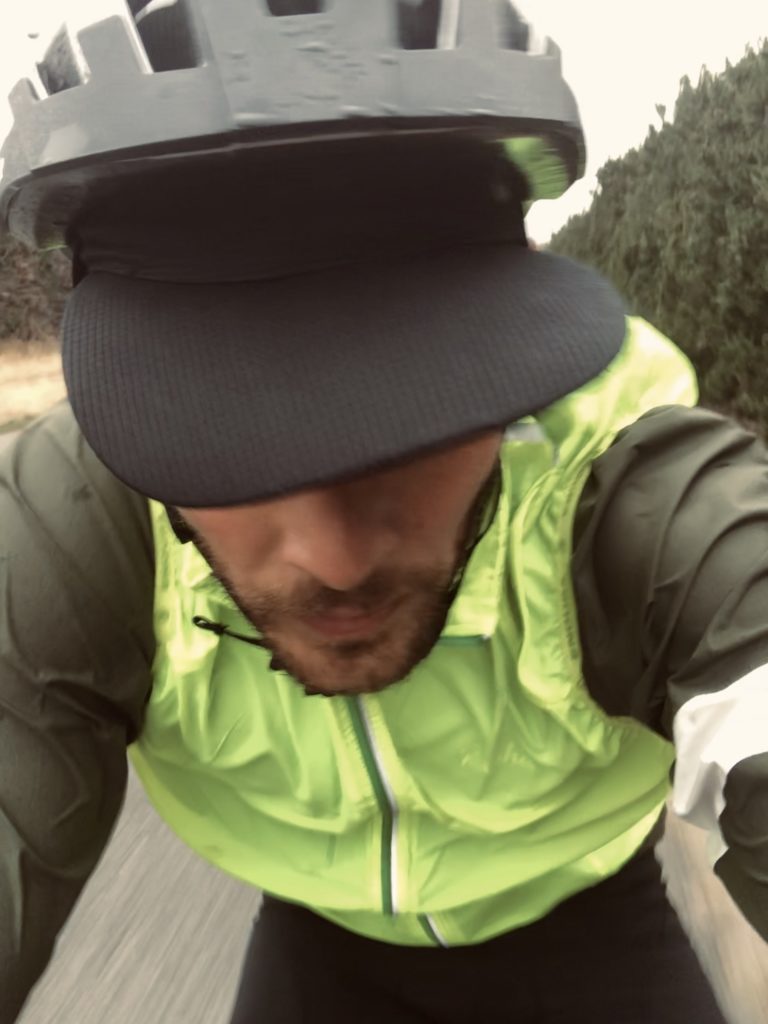 I completely struggle to find my way. I pass by dirt roads (photo below) where I find myself in the middle of the fields. The rain is still shy so nothing alarming for the moment.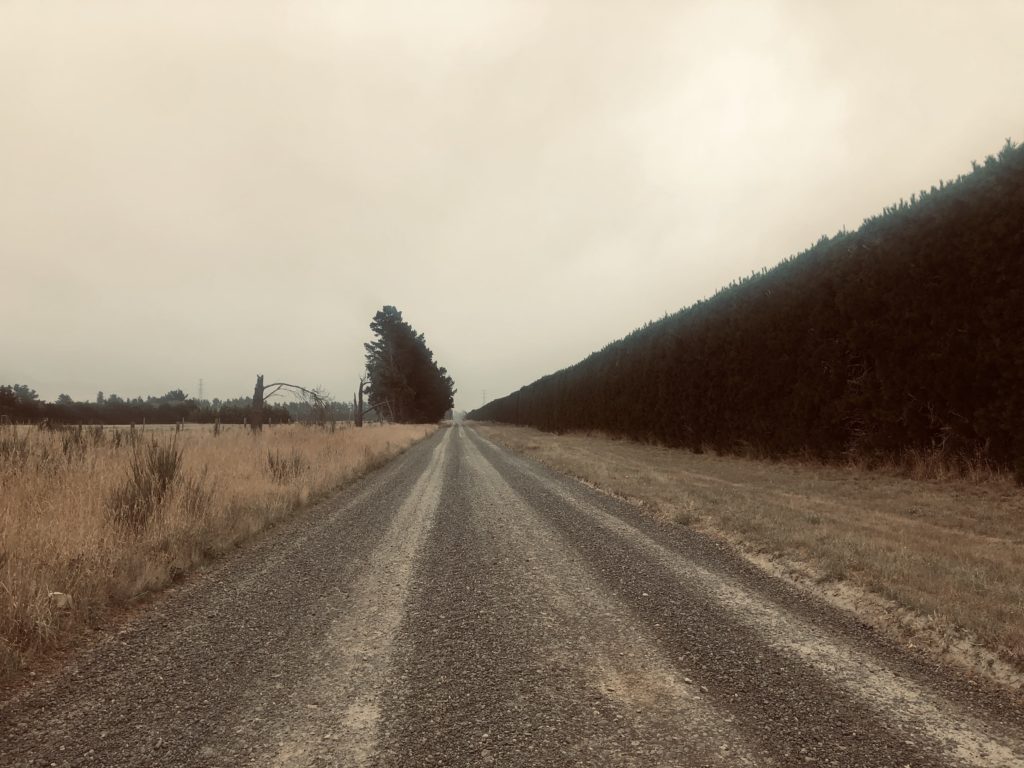 2 hours and 42km later

I'm on the highway between Christchurch and Ashburton. I'm going to have two bad news:

– It's straight on for 100km until I arrive. Nice…
– There's no bike path, so I'm going to be next to (and very close) cars and huge trucks.
Kilometer 64, the rain suddenly intensified. I stop at the first cafe in the first city on my trip. Once inside, I quickly take off my wet coat and try to warm up with a coffee and my towel. I can't stay long, I'll take a 30-minute break (and a chocolate muffin).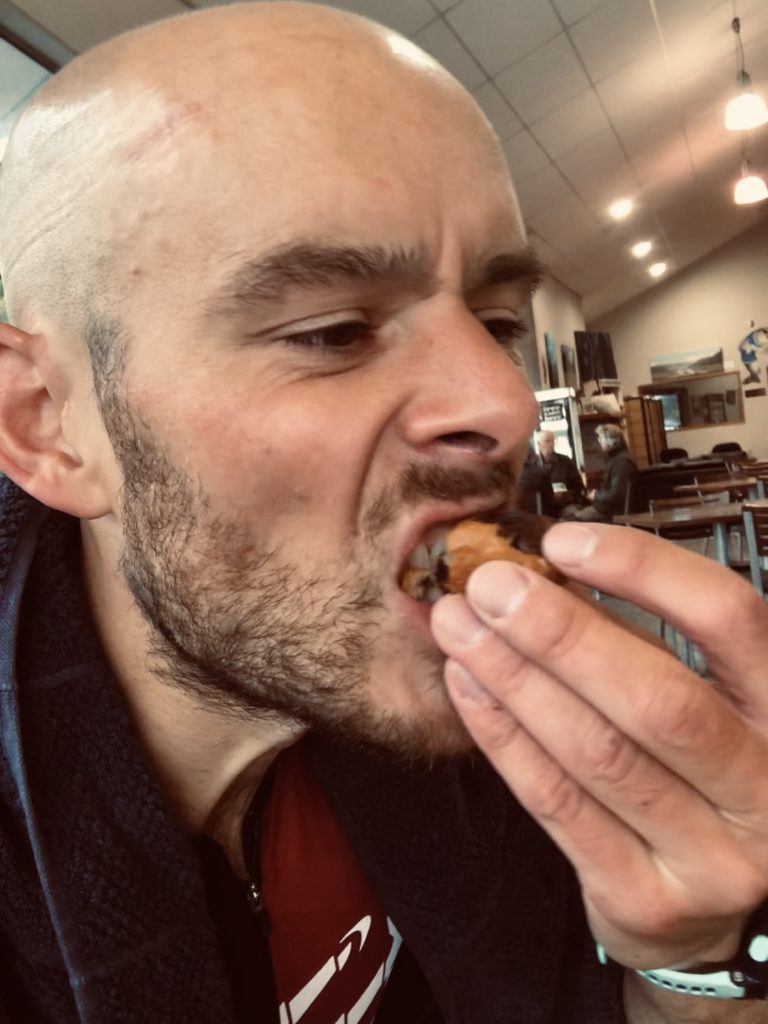 Back on the bike, I am frozen from head to toe (wet). I start pedaling quickly to generate heat inside my body. A few minutes later, the feeling of cold disappeared. Our human body is still a beautiful machine!
The human mind is more complicated, however. Mine begins to play tricks on me and imagine the worst things that could happen to me. It must have been heard …
10km later, it's raining as crazy

It's raining downpours, it's hard to see. Every truck that passes me sends me a slap of water. I don't know what to do so I keep pedaling hard and fast. Quick look on my watch, I still have 20km to Ashburton or 1 hour by bike.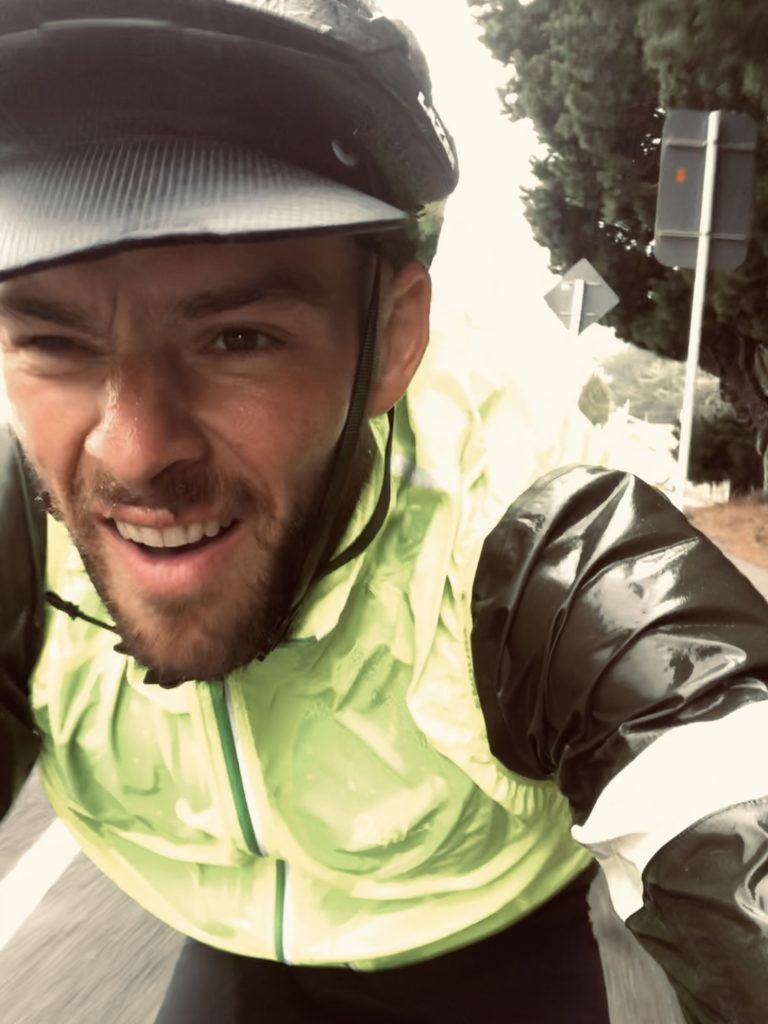 A fascinating and painful mental experience

From there, I will have a fascinating and painful mental experience. My body will go into survival mode, as if a security system has turned on by itself. I will no longer feel the pain in my legs or my ass and above all I will hardly think of anything. My mind is 100% focused on the road, the trucks and the kilometers displayed on my watch.
I'm far from being an extreme adventurer or a top athlete. However, I am impressed with what my body is able to endure. I've been driving on the side of the road for 5 hours now in pouring rain. But I know if I stop, I'm just going to freeze to death. There is absolutely nothing to shelter me.
To spice it up, each truck makes me vibrate dangerously with the draft created by speed. I feel like I am in a trance (ultra-anxiety-provoking), I am no longer really master of myself …
Arrival in Ashburton around 12h00 with 95km in the legs

Quick look on GoogleMap to find a nice restaurant. I still push for 2km. I take a sweat and a towel from my back-pack. I hang out my wet things in the restaurant and try to warm up as best I can. End of the first part. I'm almost crying…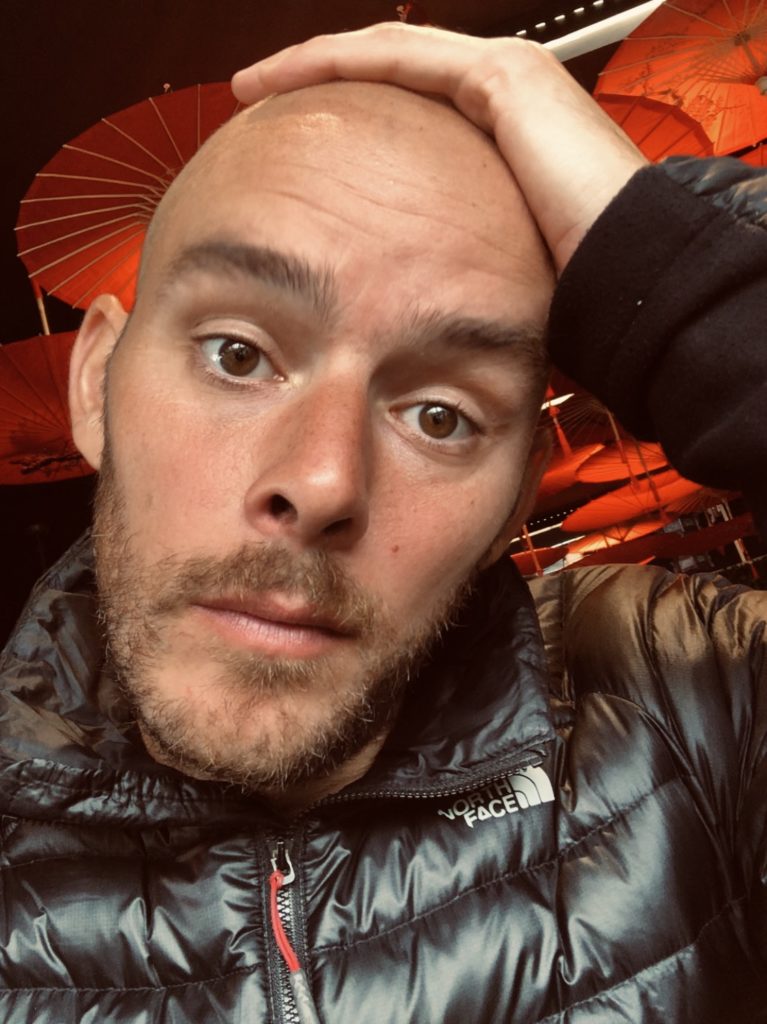 My body doesn't want to get back on the bike

45 minutes have passed. I don't want to get back on the bike. It is still raining and I still have 55km of cycling left, which is at least 3 and a half hours. I am fighting with myself to find the right arguments to continue. "You are not going to sleep here!" You can't be colder! You can't hurt more! Damn for damn! "
I turn this into positive thinking:
– How I am already suffering so do something useful with it!
– That this day will remain engraved in my memory!
– That I'm going to get out of it (if I don't die) grown up with lots of things to tell!
15min later, I get back on the bike. I don't know yet, but I'm going to forget my favorite hat and my portable battery in the restaurant. "Maxime, accept as it is".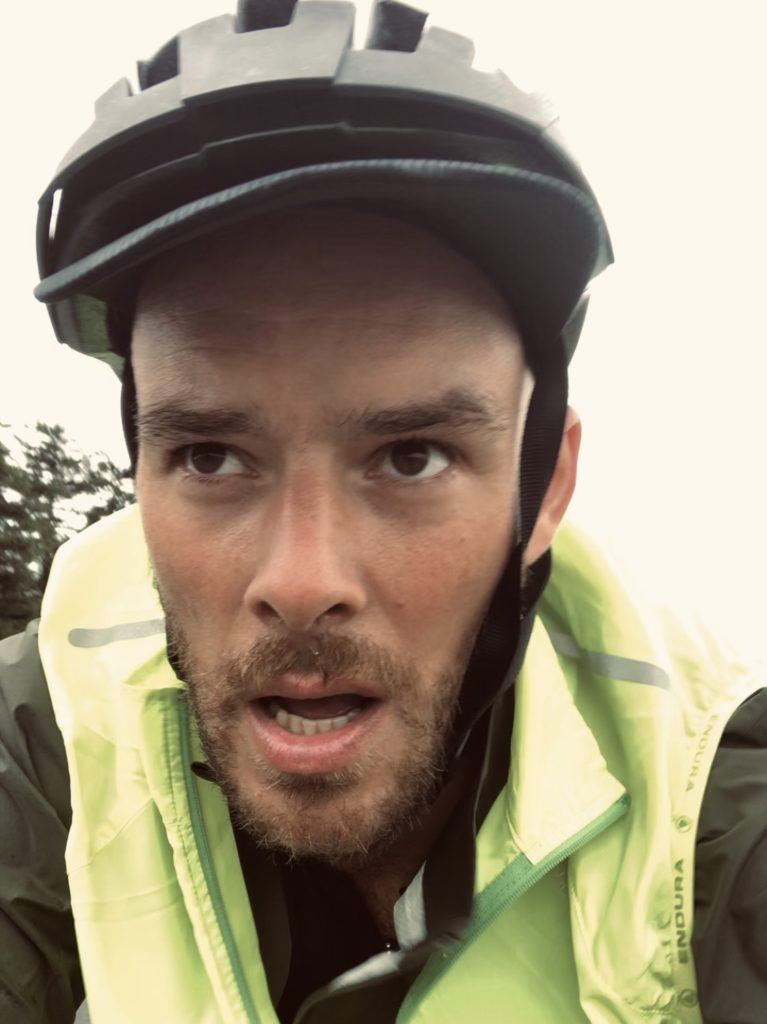 Start of the second half

After a few minutes, I feel the water penetrate me to the bones. I can't warm up, I pedal harder despite the pain just above the knees.
Towards the end, the rain starts to get thinner. At this point, I don't see this as good news. Kilometer 110, we leave the "all flat" to arrive at a slight elevation road. Maybe I shouldn't have insulted the rain because the wind joins the party. Each kilometer is hell.
My mind goes through very dark places

I come to doubt my abilities, to wonder if my life is not in danger (even if it seems ridiculous) or even to question everything. I feel like an incompetent ready to give up, surely the worst thing for me.
I hear all these voices, all these comments that I have received for many years on social media: "What do you need to prove yourself? "," But why are you doing all this? "," You will never be satisfied anyway "," you really have to have a big lack of self-confidence to do all of this "…
From "survival" mode to "panic" mode

Kilometer 128, I leave the highway. No more trucks to shake me. My mind gradually leaves the "survival" mode and returns to the "panic" mode. I start to think about tomorrow (95km on the program) and imagine that I risk experiencing the same thing as today. I focus on my breathing to clear my head…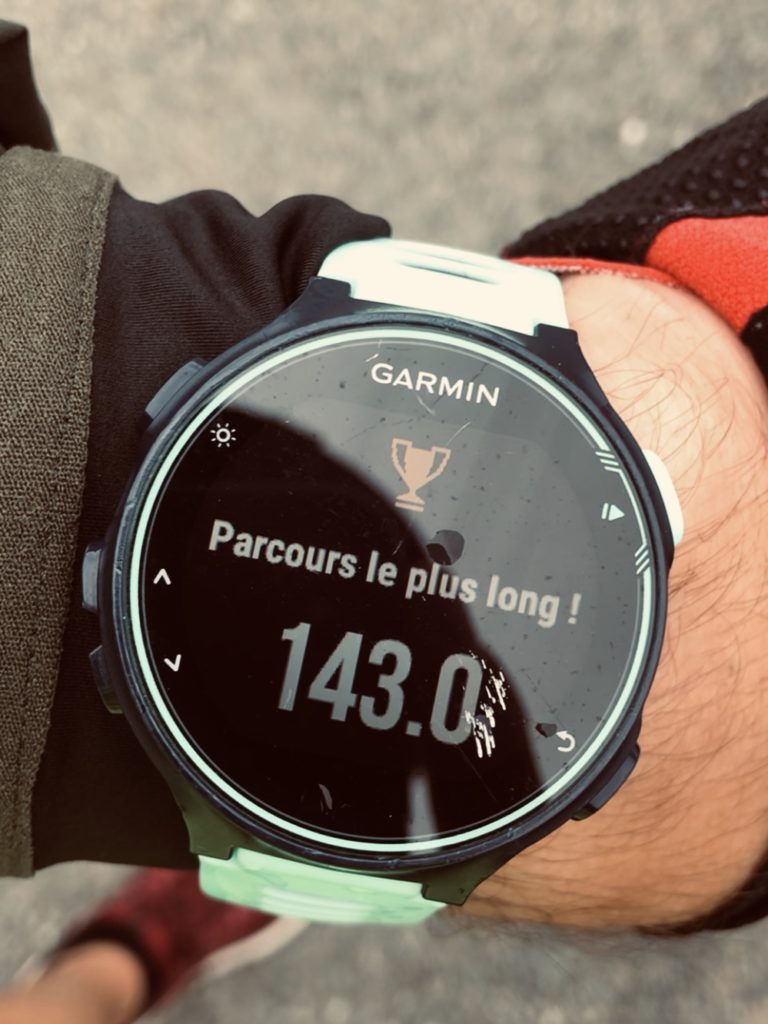 The hardest, physically and mentally, day of my life

143km and 8h49 later, I arrive at my destination. The hosts look at me with compassion and try to make me feel comfortable. I must have been struggling to speak, I just want to go in a hot shower. I've never experienced anything so physically and mentally harsh in my life.
I make myself a porridge and go to bed at 9:00 p.m. I will wake up almost 10h00 later….
---
What I learned

To begin, I would like to thank my close friends who support me on a daily basis with their messages. Thank you <3
it's been 2 days since this day passed. I had many hours (on the bike) to think about it. The first thing that comes to mind is "it could have been worse". Yes, it's easy to say now. I got out of it without injury, without incident and without having given up.
Only those who will risk going too far can possibly find out how far one can go

I didn't think I was physically and mentally able to endure this day. A few weeks ago, I would have set my own limit very far from it. I do not want to relive this day, but it has strengthened my confidence in my ability to find the necessary resources to get things done.
Our human body is an incredible and fascinating machine

Our body is able to react on his own when faced with situations of stress or danger. We have a real potential within us to overcome more important trials than we think.
"Water wets"

More seriously, when I think again about this day, I just see a tourist on his bike under the water and in the cold. I'm not in the middle of Antarctica or in the middle of the danger zone, I'm in New Zealand with many cars passing on the same road as me. Clearly, if you look at the situation objectively, there is a 0% chance that something serious will happen to me. All the phases of panic or fear were created by my mind alone. Our fears are our creation, they do not exist in the present moment.
Happiness is Only Real When Shared

It's adventure! I have been traveling the country with my bike for almost 2 weeks. Each day is an adventure, each moment is a memory engraved in my head. The "Maxim who travels only in hotels and big cities" is far away. All my next trips will of course not be by bike, but I really want to start the "Bike-Trip" experience again. On the other hand, I will be better prepared, better equipped and above all accompanied! As Chris McCandless (Into The Wild) writes so well in his journal: Happiness is Only Real When Shared.
---
---
End of the day : my activity on Strava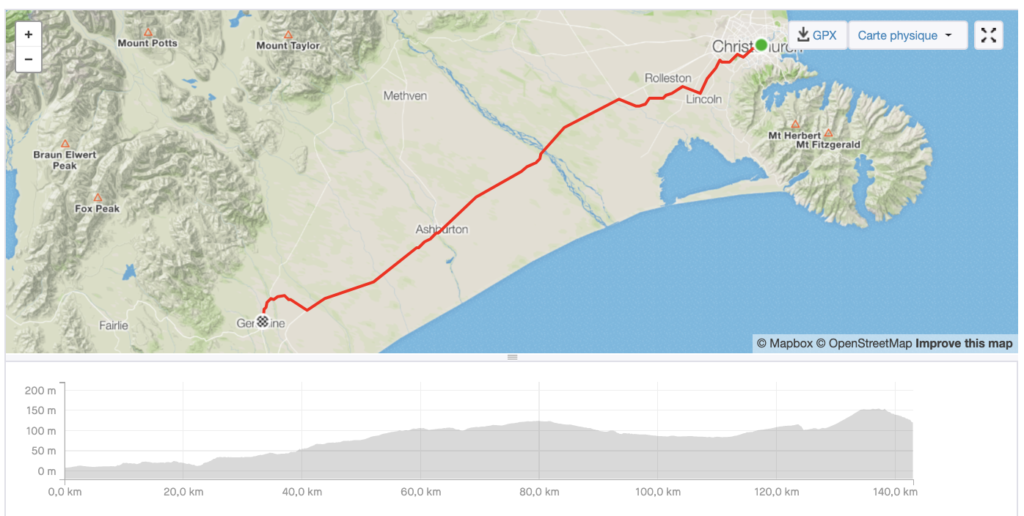 ---
My adventure continues here > day 9 and 10

> Why not start from the beginning? <