On the last day of my "10-day Vipassana experience", I met Nina, a girl from Berlin who had just arrived in New Zealand. We discuss our feelings over the 10 days, then quickly, we come to talk about "what's up after-vipassana".
She asks me if I plan to stay on the North Island or visit the South Island. I tell her I had to go to Queenstown, but it was canceled. So I have nothing planned for the next 7 days. She replied "I have nothing planned either, so why don't we go with the flow together".
WHY ?
Well quite simply: and why not? At the end of my Vipassana experience, I was fortunate enough to meet lots of people with incredible stories. They fascinated me with their freedom and their way of living. They were mainly backpakers, "one-year-travelers" or "working holiday visa", with an average age around 30 years.
I've seen a world so far from mine, unlike anything I've known so far. For many years, my holidays has consisted of booking a nice hotel (understand "trendy") in the best area of ​​the city and planning most of the things I was going to do there. Basically, check a todo-list and test all the good restaurants. Level "adventure" and "letting go", we were close to zero.
The opportunity was too good not to seize it. It comes right at the end of my vipassana experience, when I am still my head in the clouds and my mind in the stars. Nina's positive vibrations were a plus in my decision-making. You have surely already experienced this, there are people where you immediately feel if it will be okay or not.
---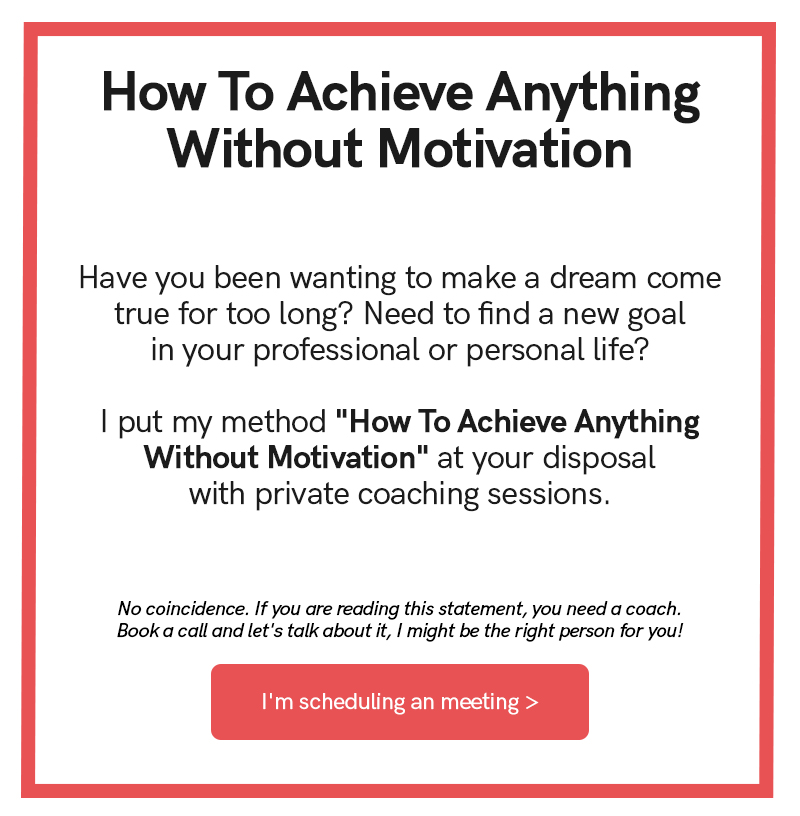 ---
THE EXPERIENCE
We meet for dinner on Sunday evening, the day of our mutual exit from Vipassana, in a Noodles restaurant halfway between her airbnb and mine.
As usual, I already took half an hour to find a 4-day route plan with things to do and airbnbs to book. Nina quickly makes me understand that we will have to relax : "I suggest that we take the car tomorrow, we are go to the north and we will see where the wind takes us. I'm sure there will always be a place to sleep. Deal? "
Ok to go north. Ok to be "free-flow". I say to myself, "maxime, you're here to learn how to travel differently, so stop being difficult. And frankly, what can happen to you ?! "
DAY 1 : AUCKLAND > WHANGAREI
We collect the car at noon. I thought I had booked a nice car and I end up with a Toyota Yaris at the end of its life (+250,000 km). The saleswoman said to me: "you can connect your phone with an usb cable. That's pretty good no?"
I realize that I am cranky for nothing. I observe the sensation and decide not to react to it. The important thing for a car is that it can drives, right?
First stop : Te Arai Beach Reserve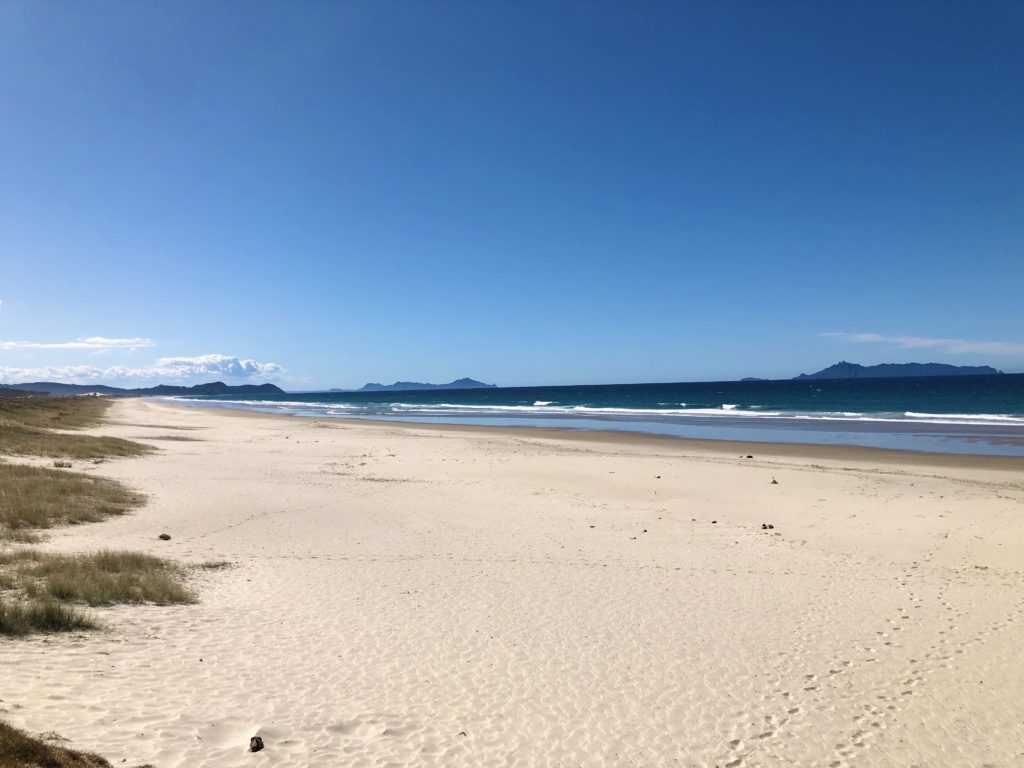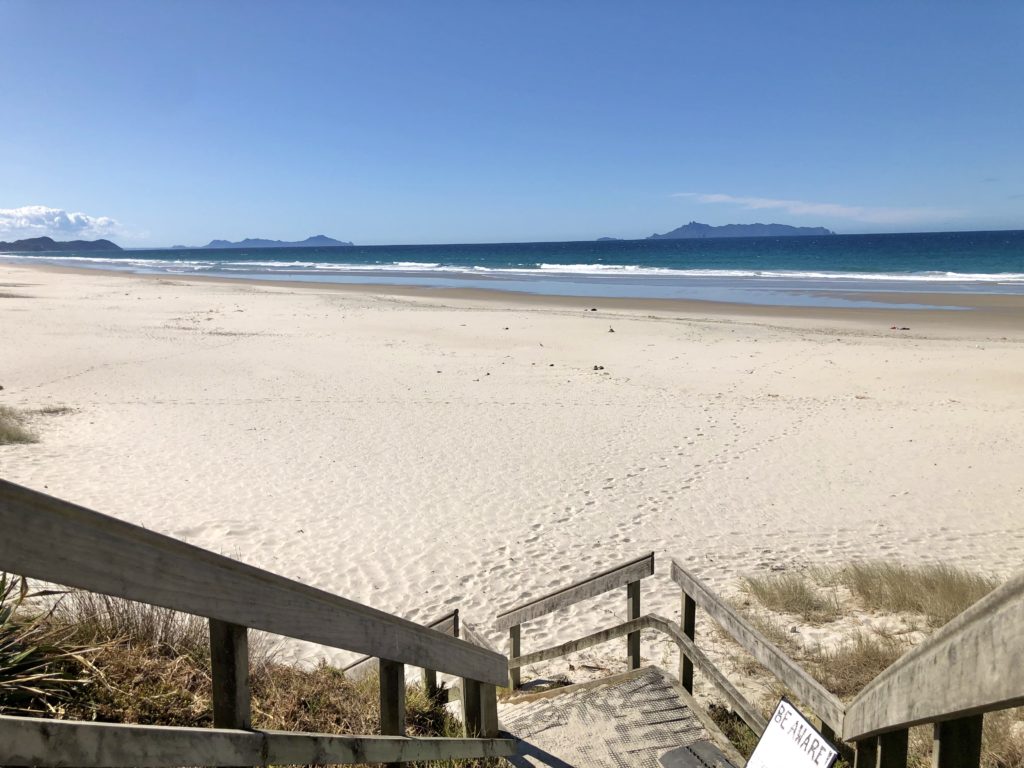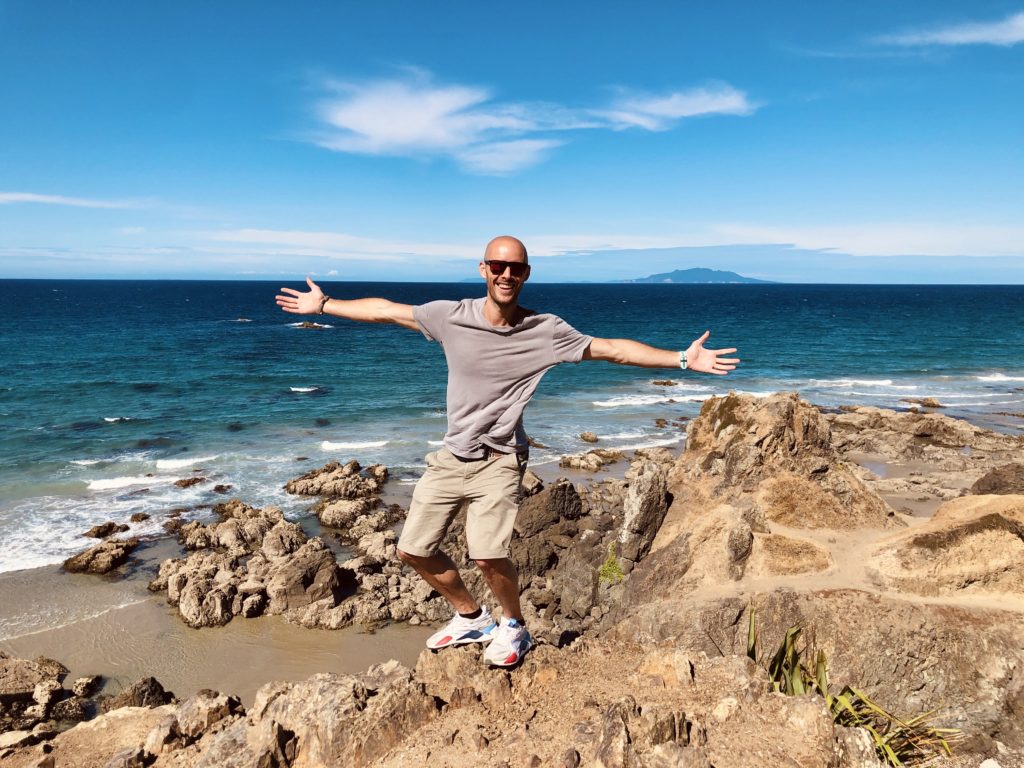 First night at Whangarei

We arrive around 6:30 p.m. in Whangarei in a super airbnb! It is a small "wood cabin" with everything you need for a good night's sleep. We have our own river passing in front of the cabin. A bit expensive ($ 146 a night) but it's a good way to start the roadtrip !
Nina takes the opportunity to meditate for an hour and I to go running for an hour (as best I can after 12 inactive days) along the canal.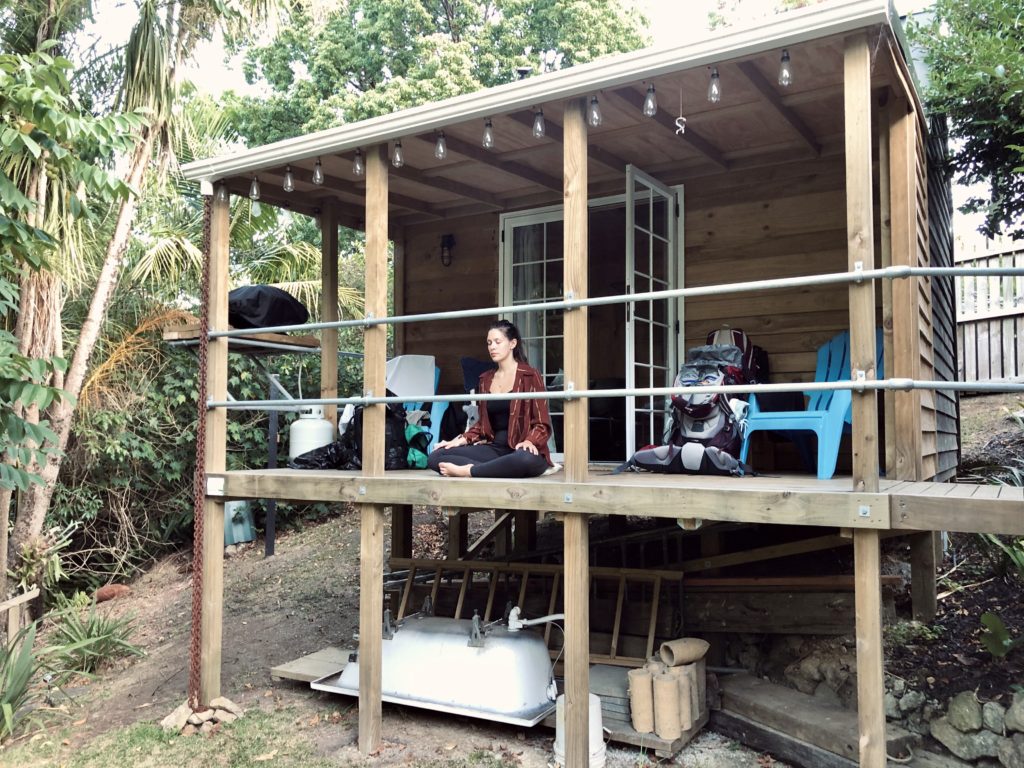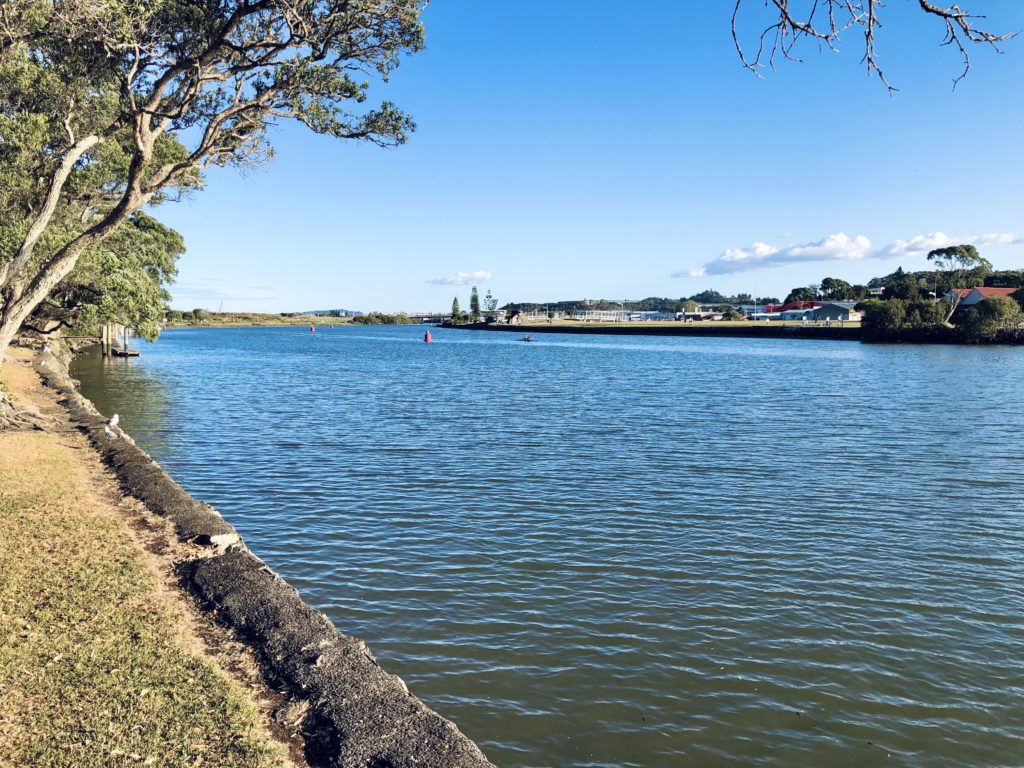 DAY 2 : WHANGAREI > PUKENUI
After reading "Atomic Habits" (I'm talking about it here), I discovered the power of "the chain reaction of habits". Basically, you establish an order of habits, each of which pull the next one. As soon as I get out of bed, I meditate 30 minutes. I know that at the end of my meditation, I have my morning pages waiting for me. The end of my morning pages announce my breakfast / coffee. Who announces the 4min-plank and the 100 pushups, who announces the shower, etc … So now I just need to start my mediation to see everything goes without needing to (too) use my willpower.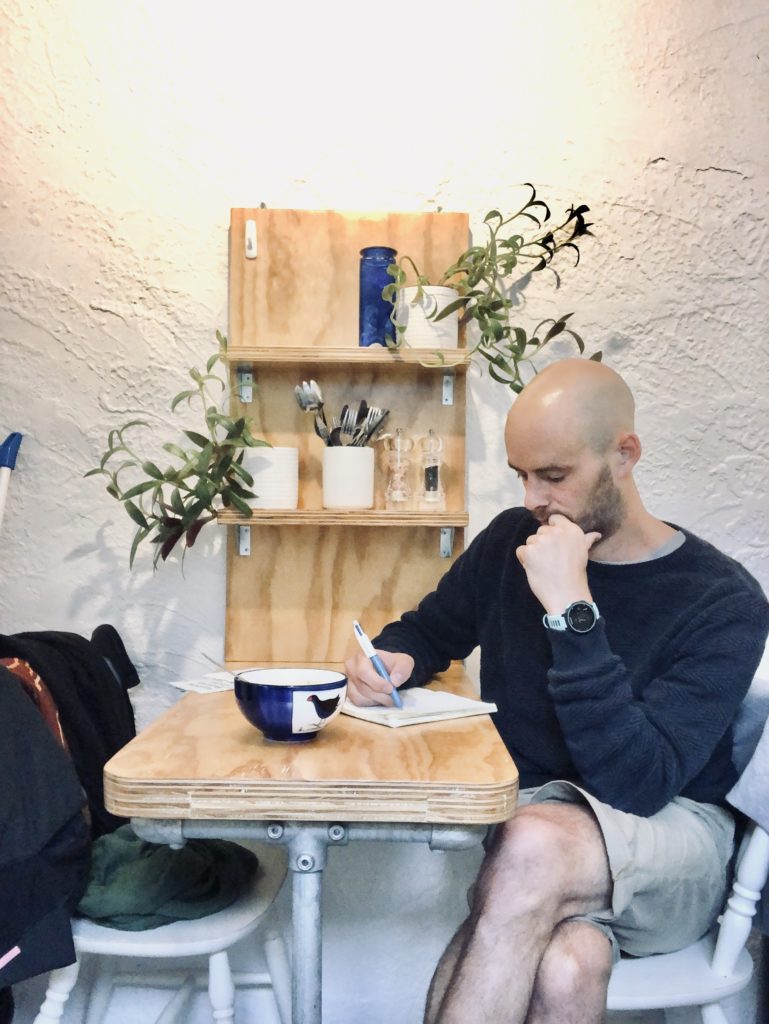 First stop : Charlotte's Kitchen

We want a lunch "with a view." A quick search of Google Map with sorting "+4 stars" and voila. We have lunch at Charlotte's Kitchen, a restaurant as good as it is well located.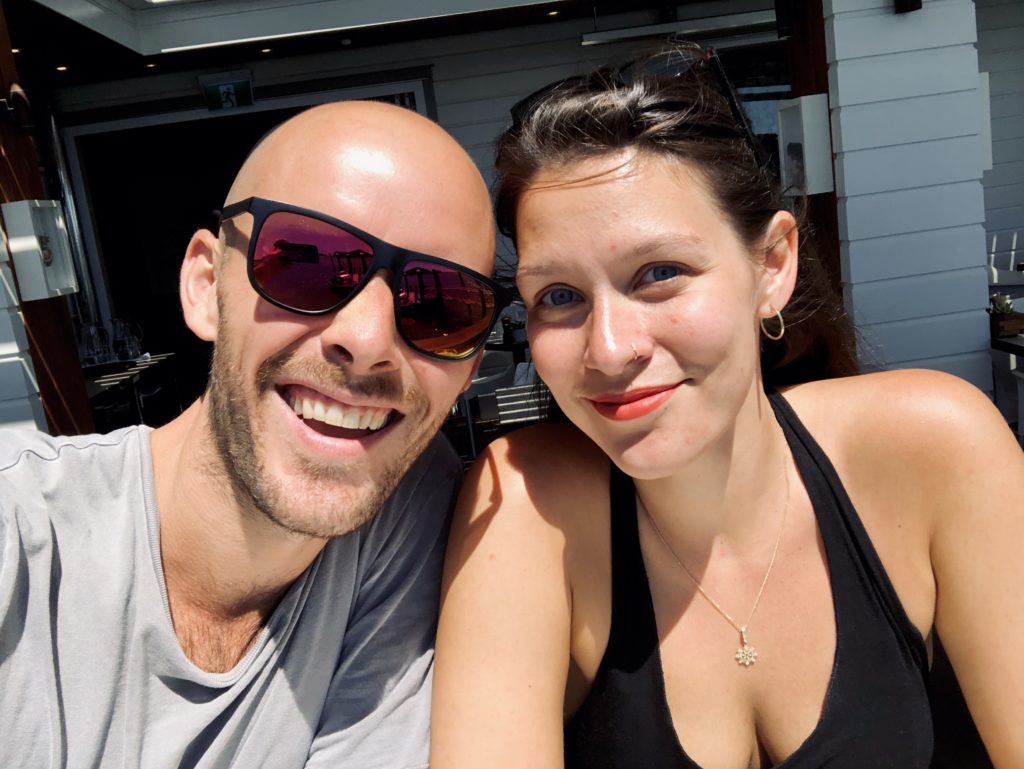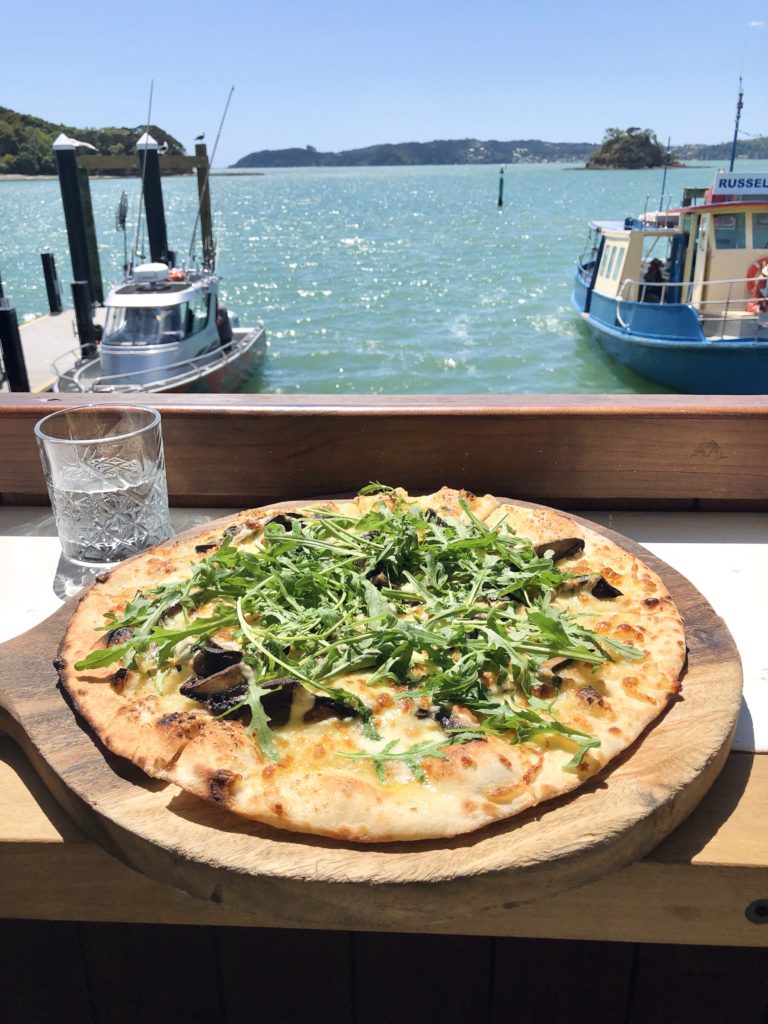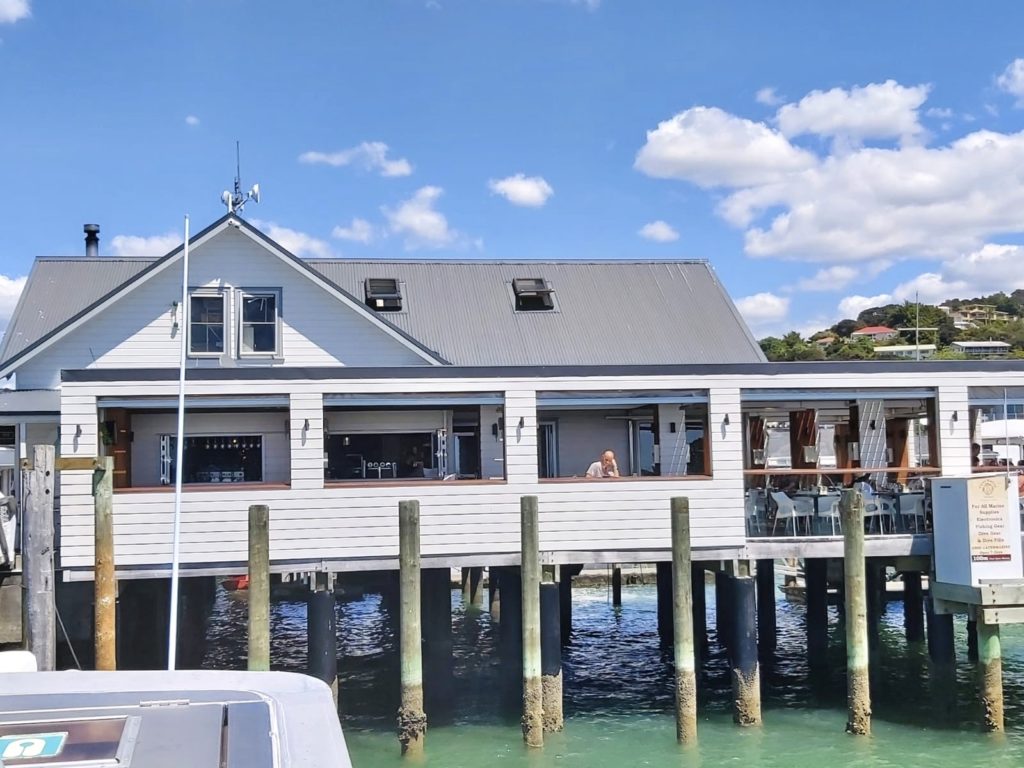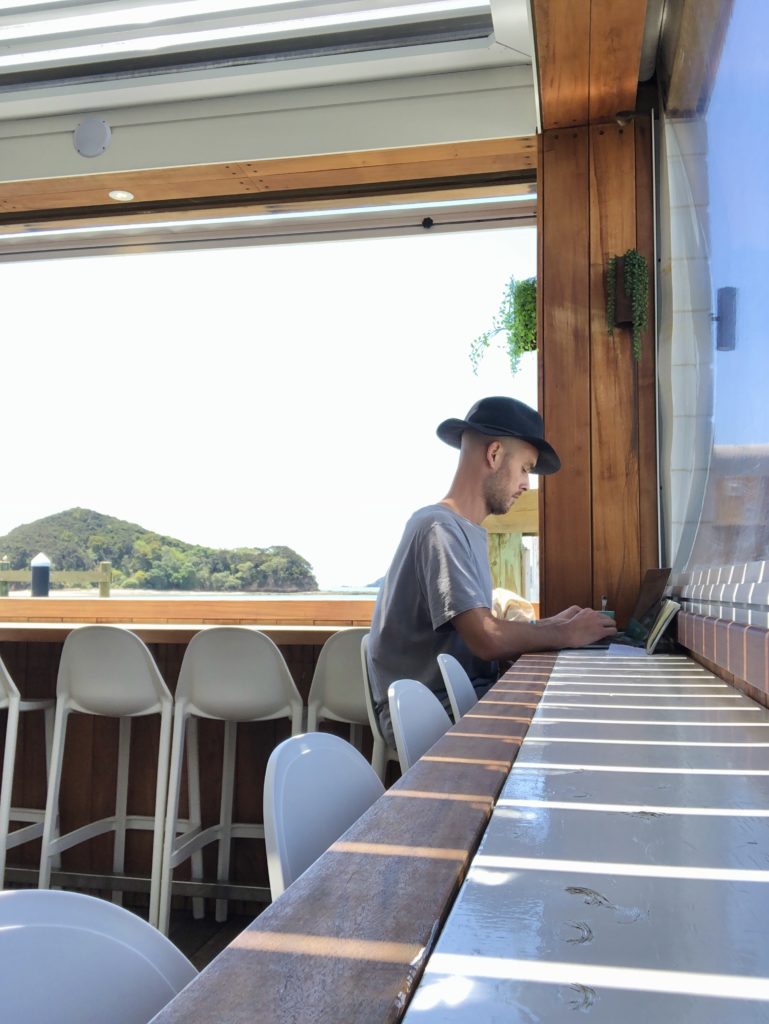 Second stop : Rainbow Falls (KeriKeri)

Nina absolutely wanted to see a waterfall. Perfect, it's on my bucket-list! When we get there, we see a person swimming under the waterfall. This is enough to motivate me. 5min later, I'm in boxer jumping in the water 🙂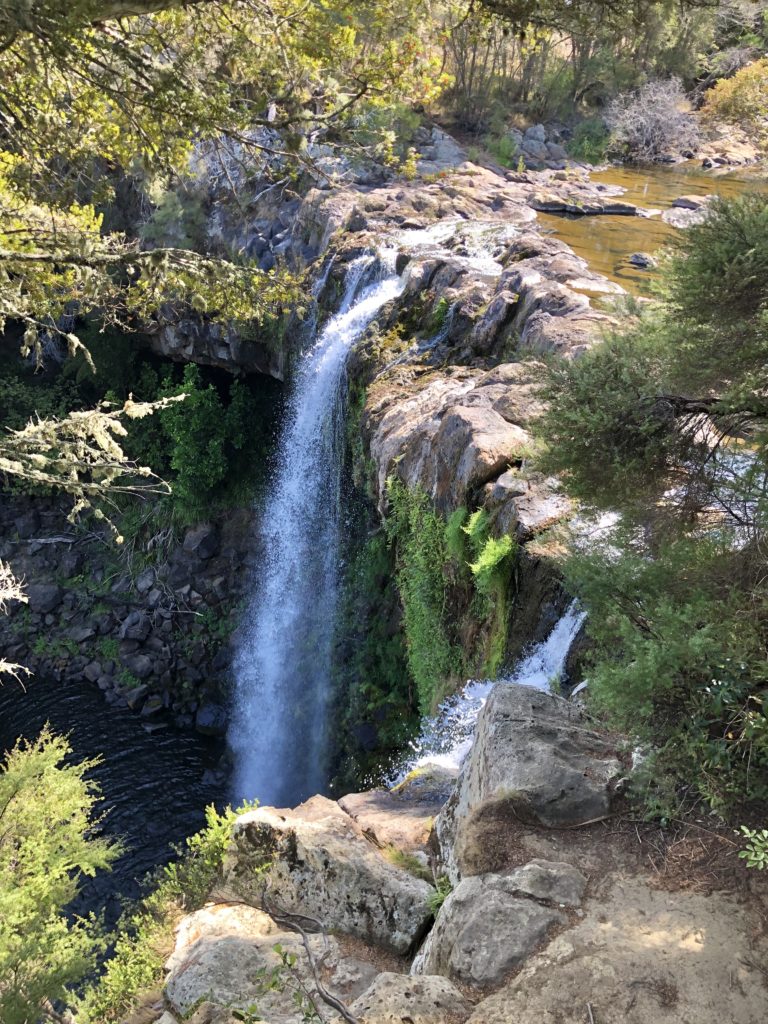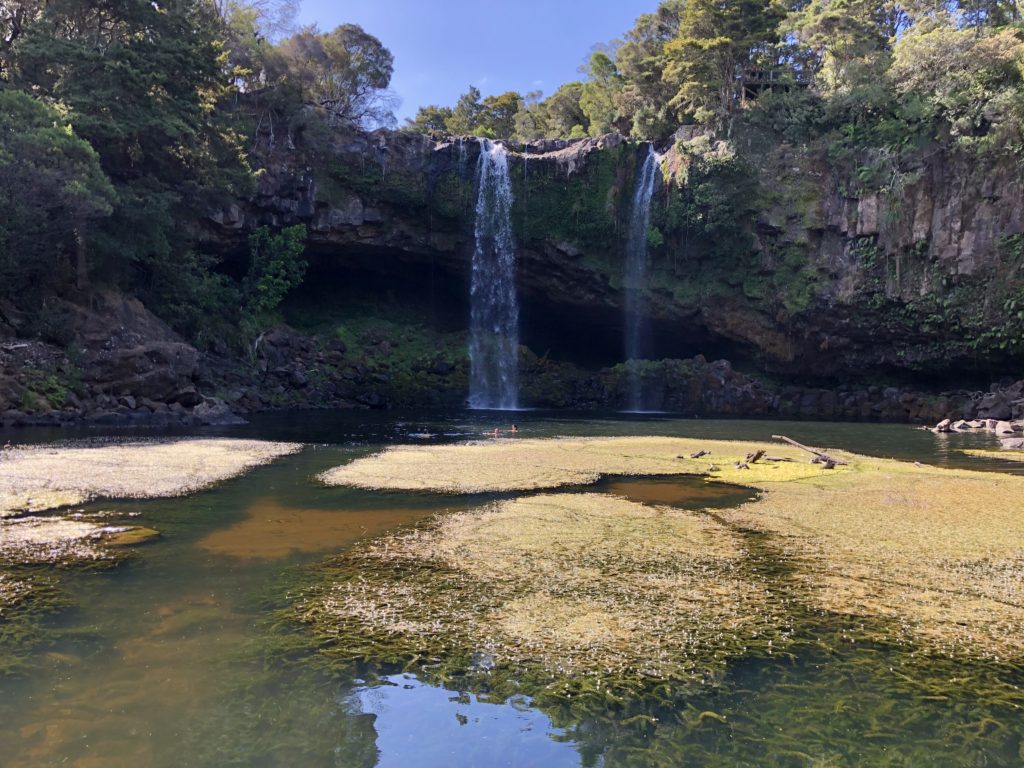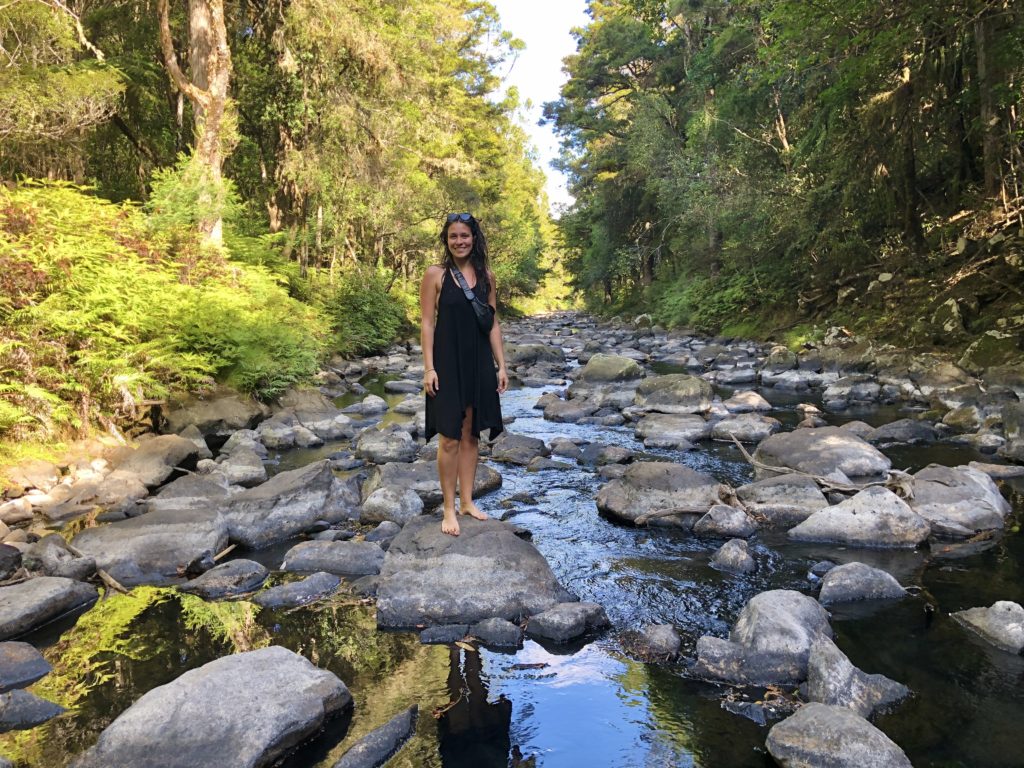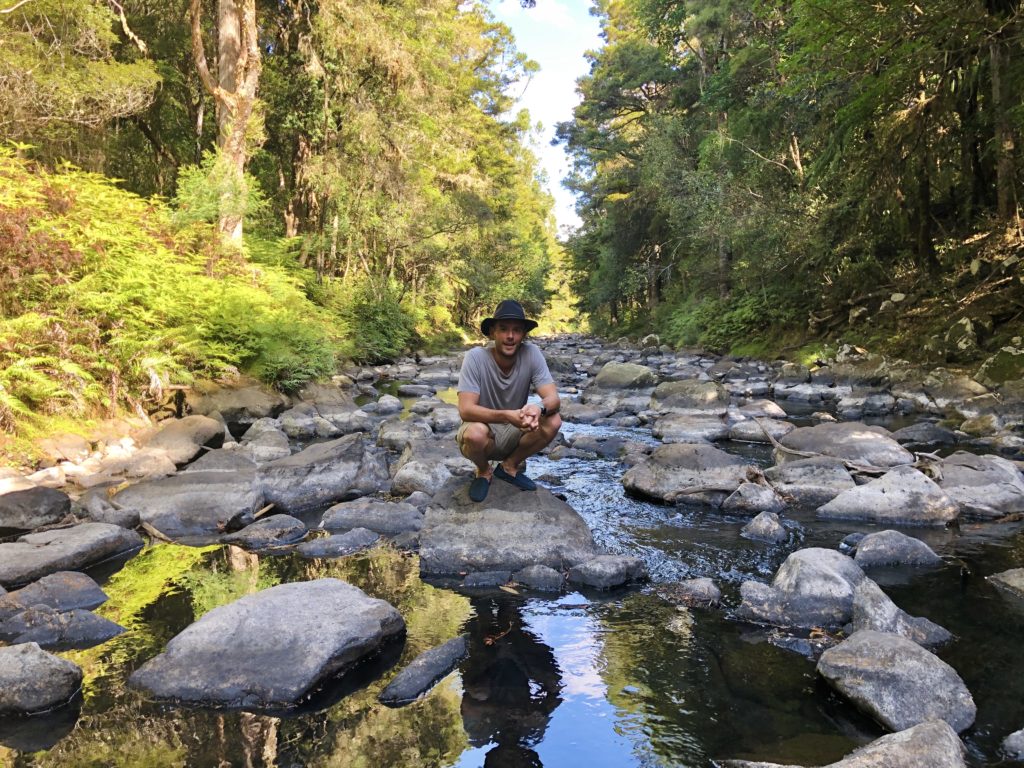 Third stop : 90 miles beach

Ninety Mile Beach is the largest beach in the country. Despite its name, the beach is actually 88 km long (55 miles). We decide to go to the supermarket to have an improvised picnic. Nina suggests that we watch the sunset and the sunrise. Deal!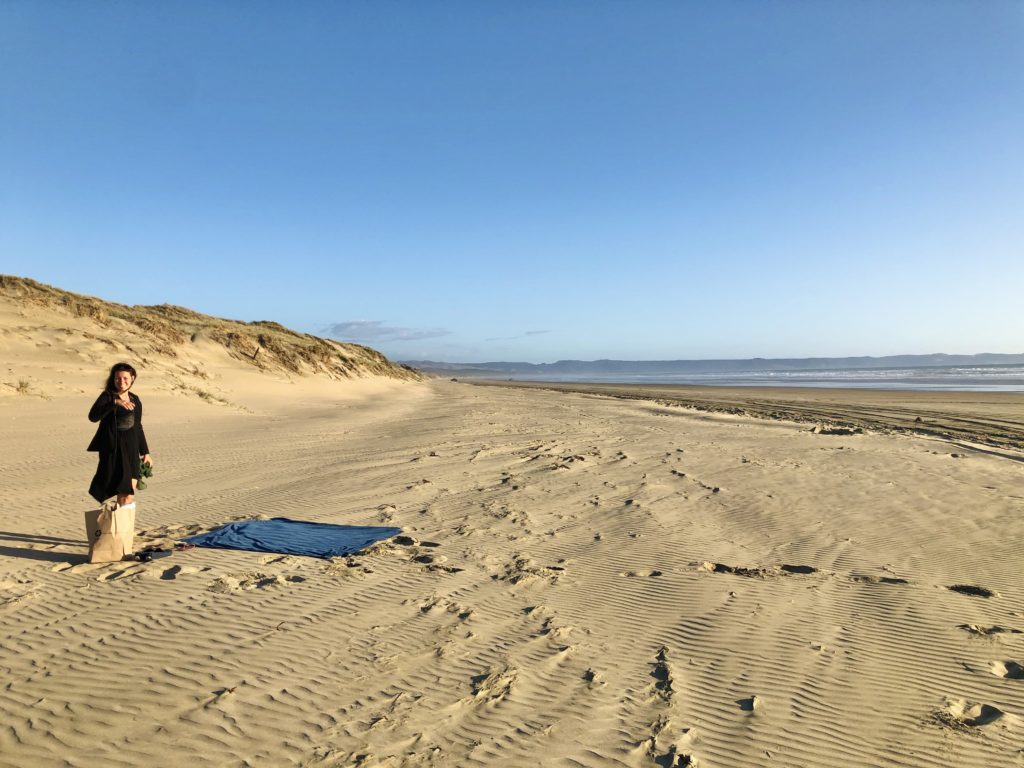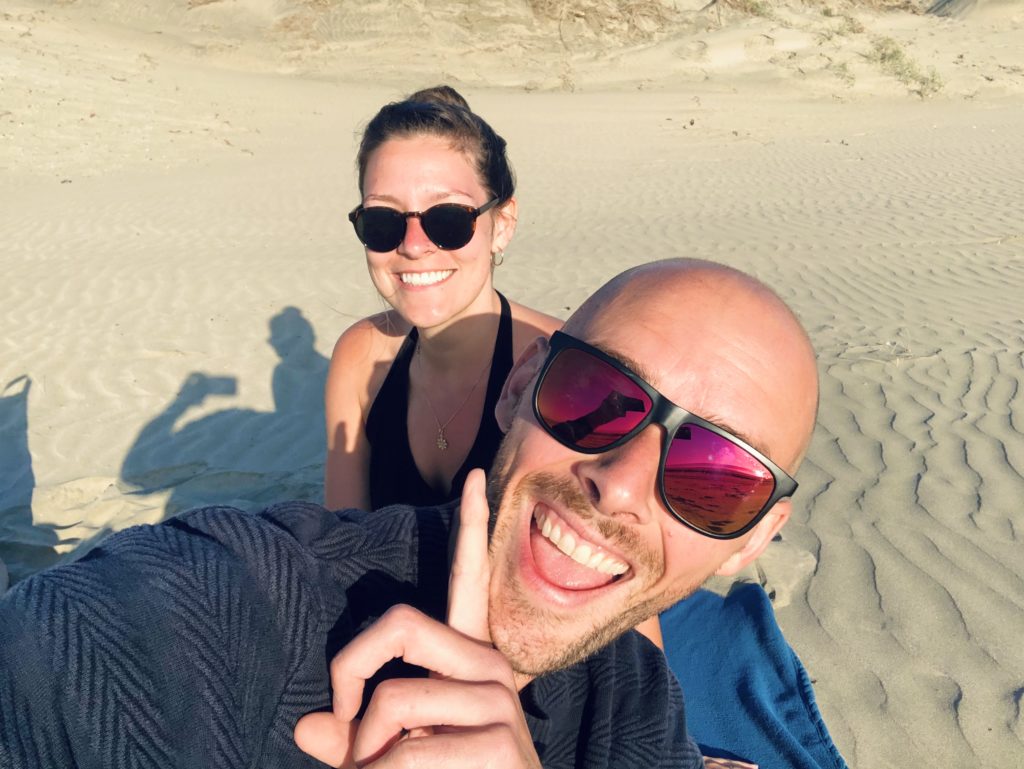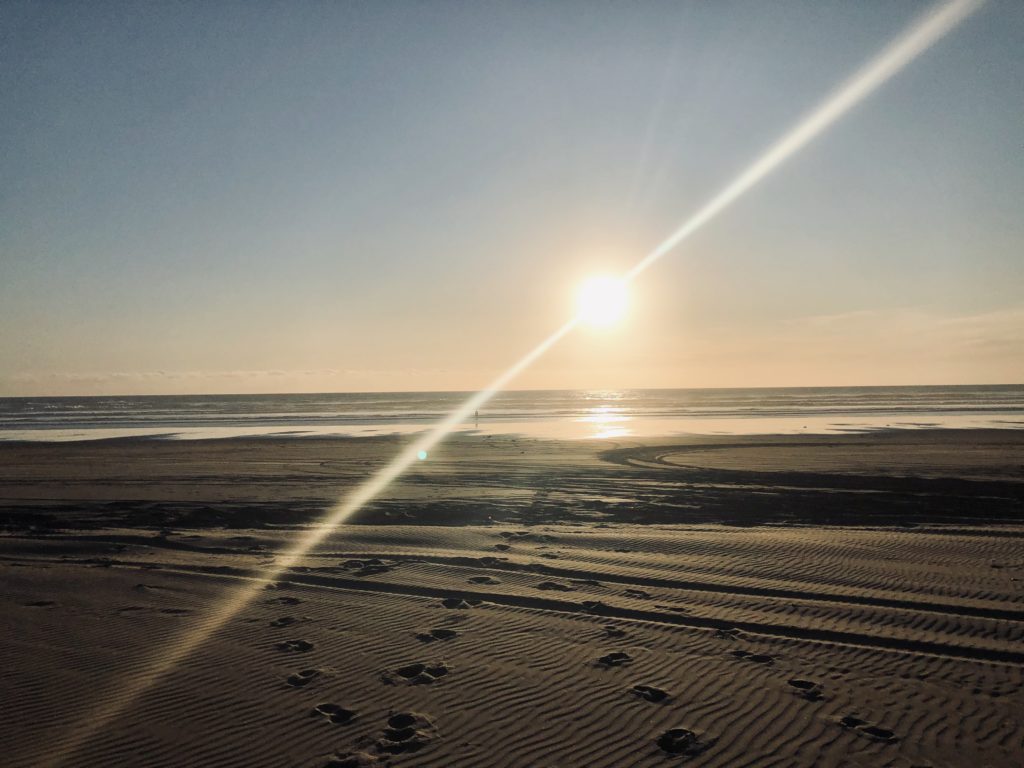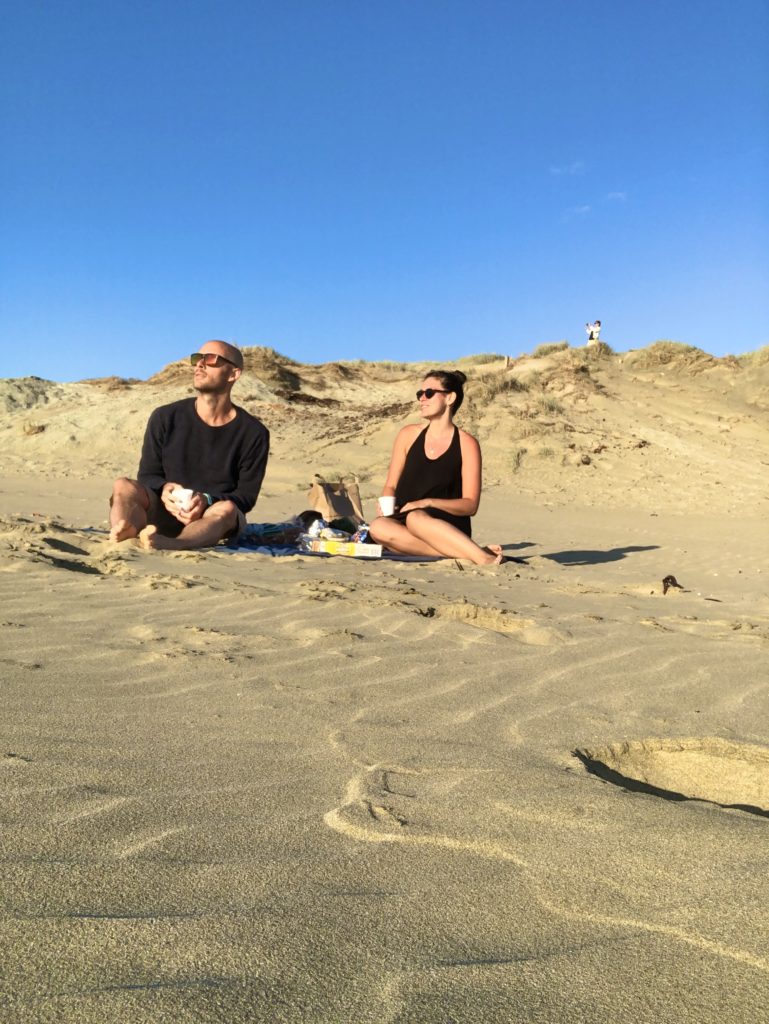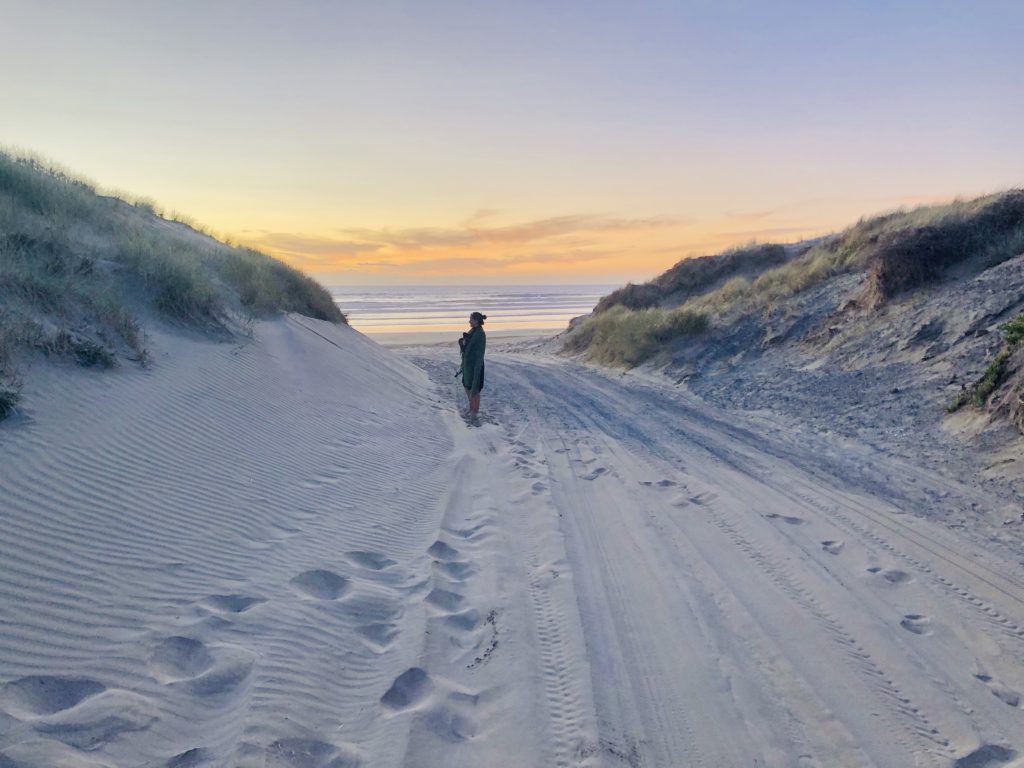 Before go back home, I had an idea! Isn't this the perfect time to experience your bucket-list: swimming naked in the ocean?
Fourth stop : Pukenui

We managed to find a airbnb at a more affordable price: $100 a night for two bedrooms. The Airbnb (link) is much more spacious than expected, with a huge lounge. I wonder how much space we would gain on earth if we removed all the useless space. Frankly, in a house, how many % of the space is really used?
DAY 3 : PUKENUI > WHANGAREI
A promise is a promise. We wake up at 6:15 am to go to the nearest beach. We arrive right in time to admire the sunrise. I like the idea of ​​seeing the sun go down and rise on the next morning.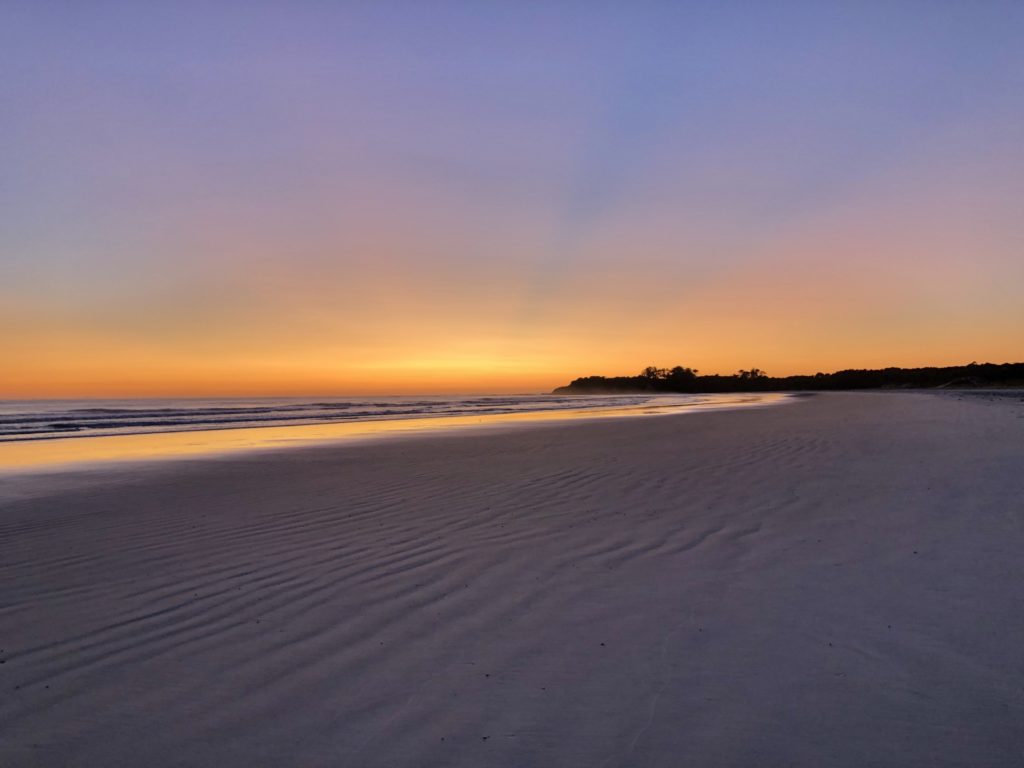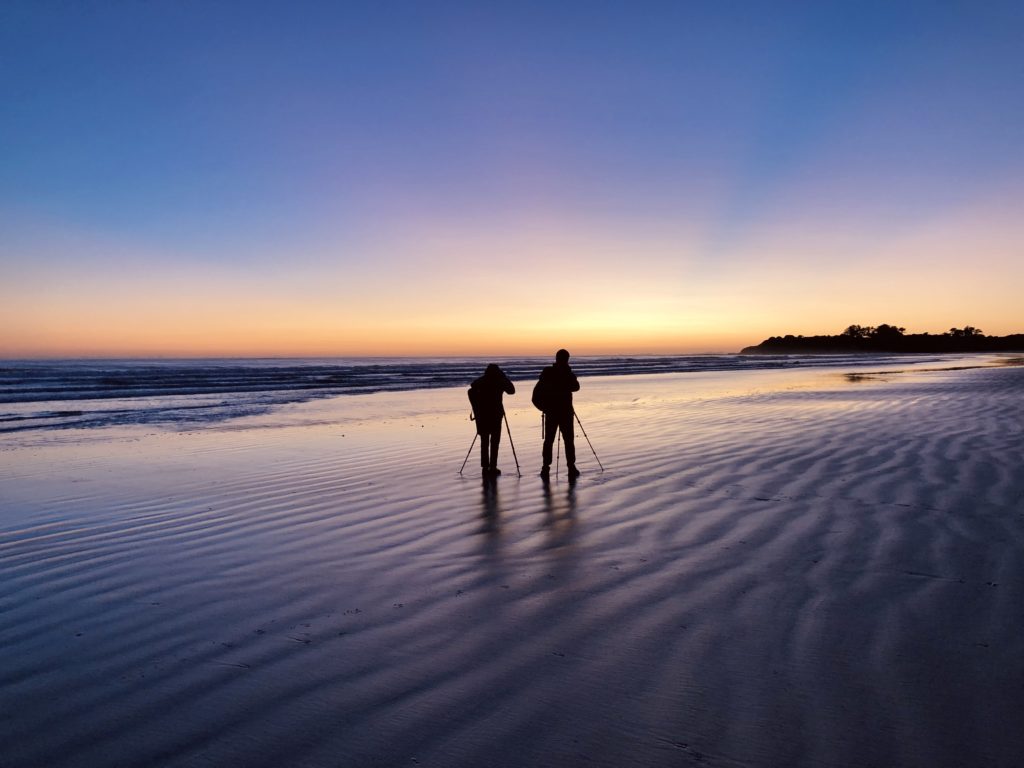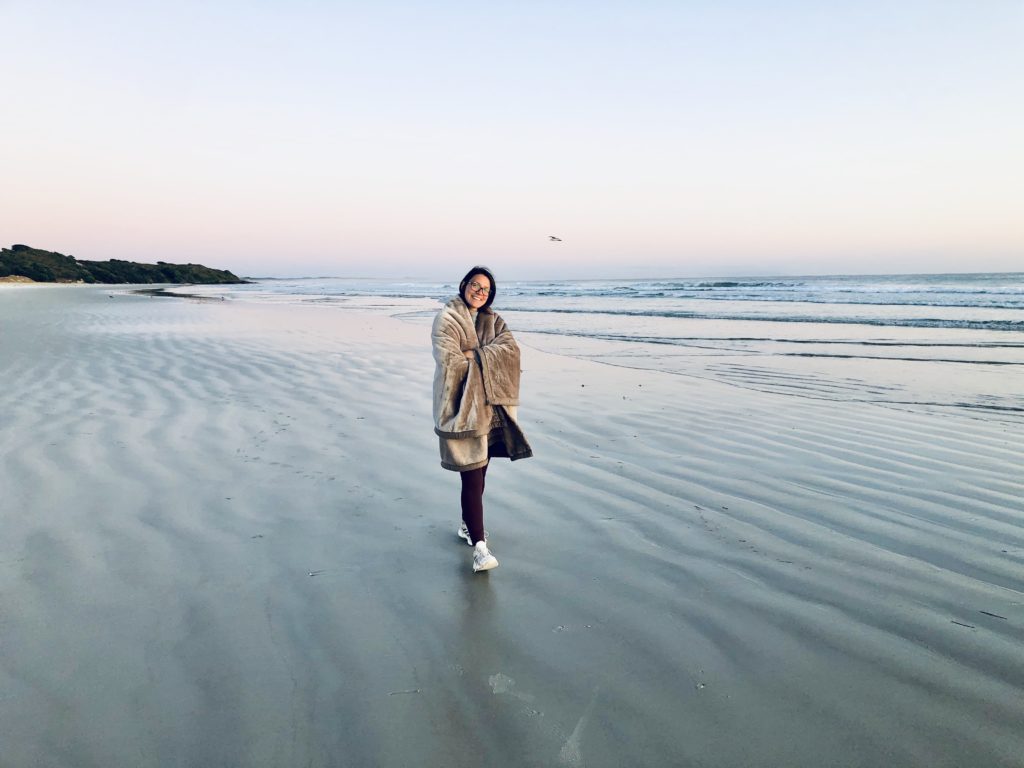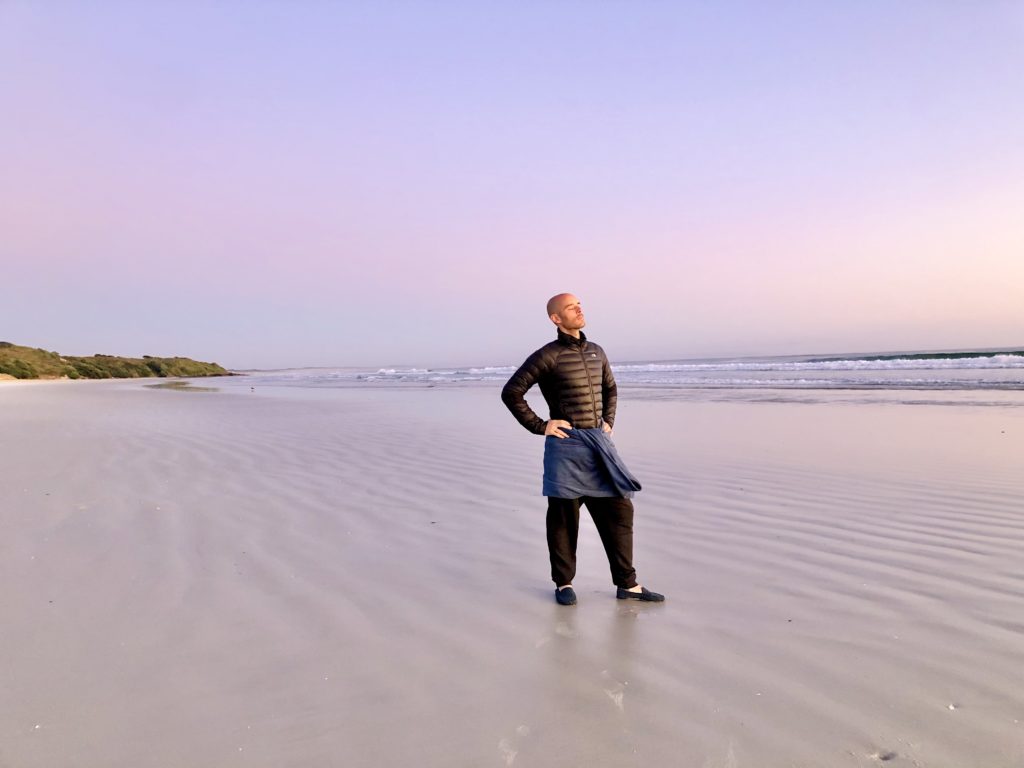 First stop : Cap Reinga
The main point of going north was to reach Cape Reinga, the northern tip of the island. It took almost 4 hours round trip to get there, but it was well worth it. What an incredible sight!
When I sent my location to my best friend, he replied "Bro, you're 18,223 km from me, we can't go any further! "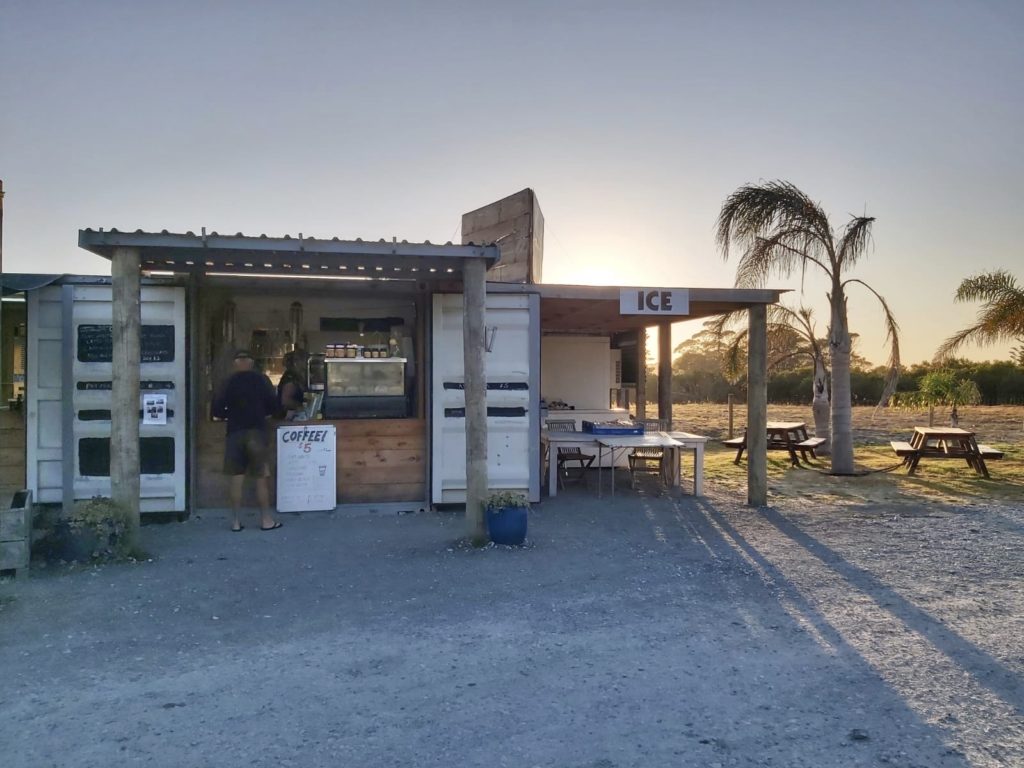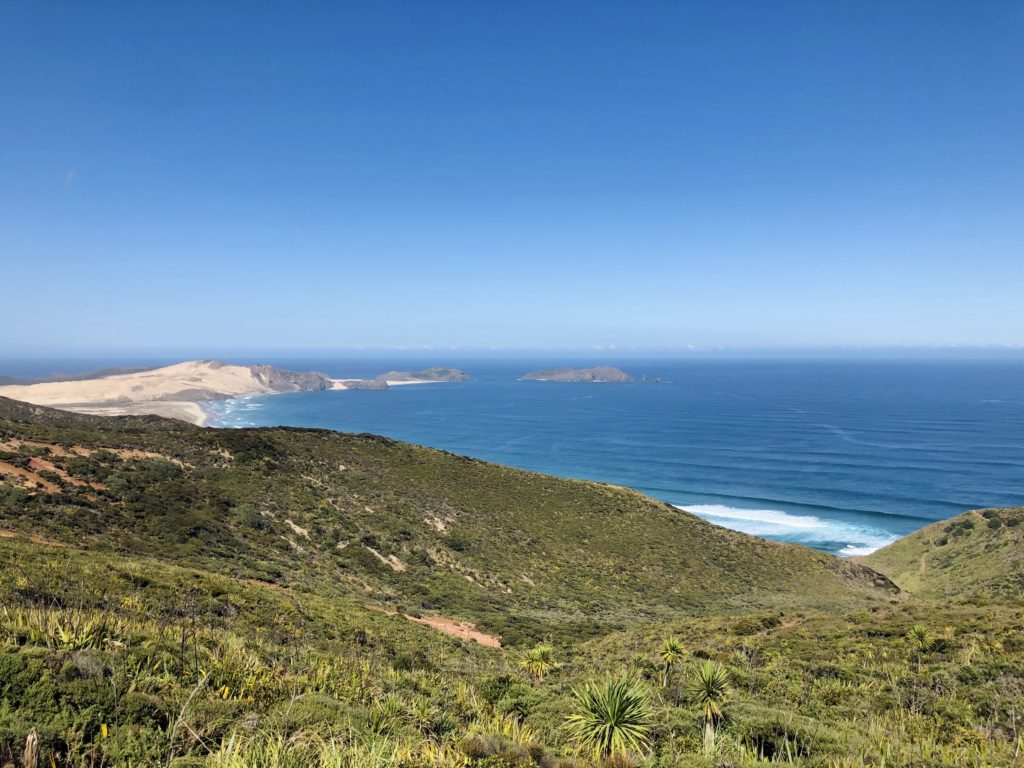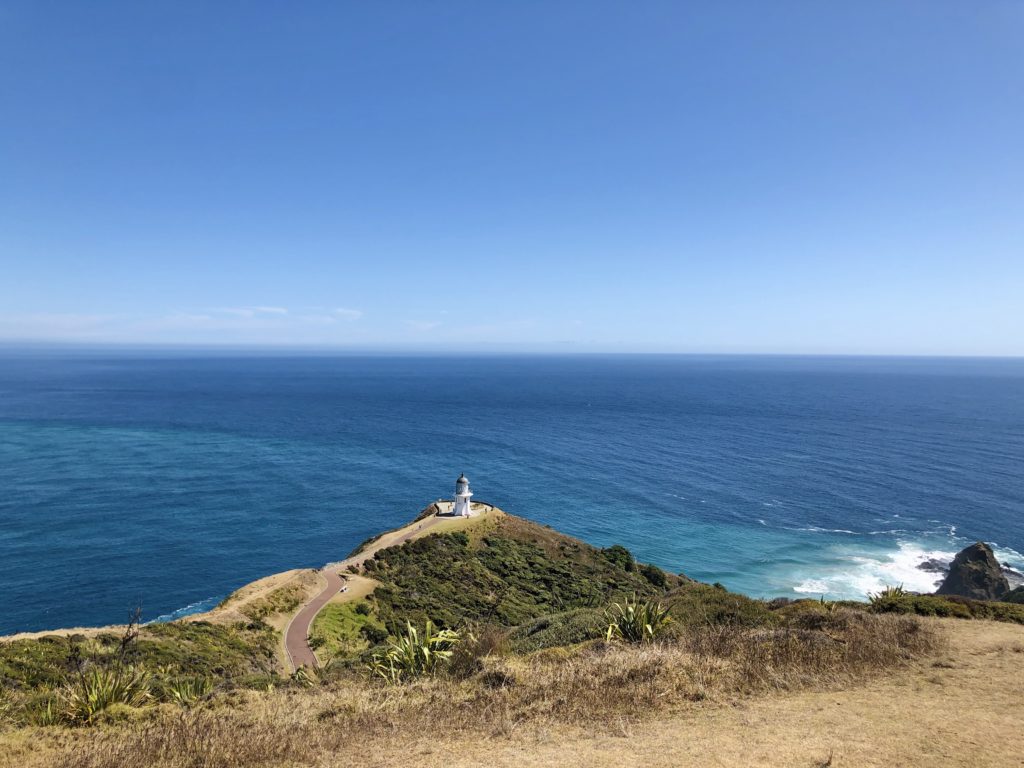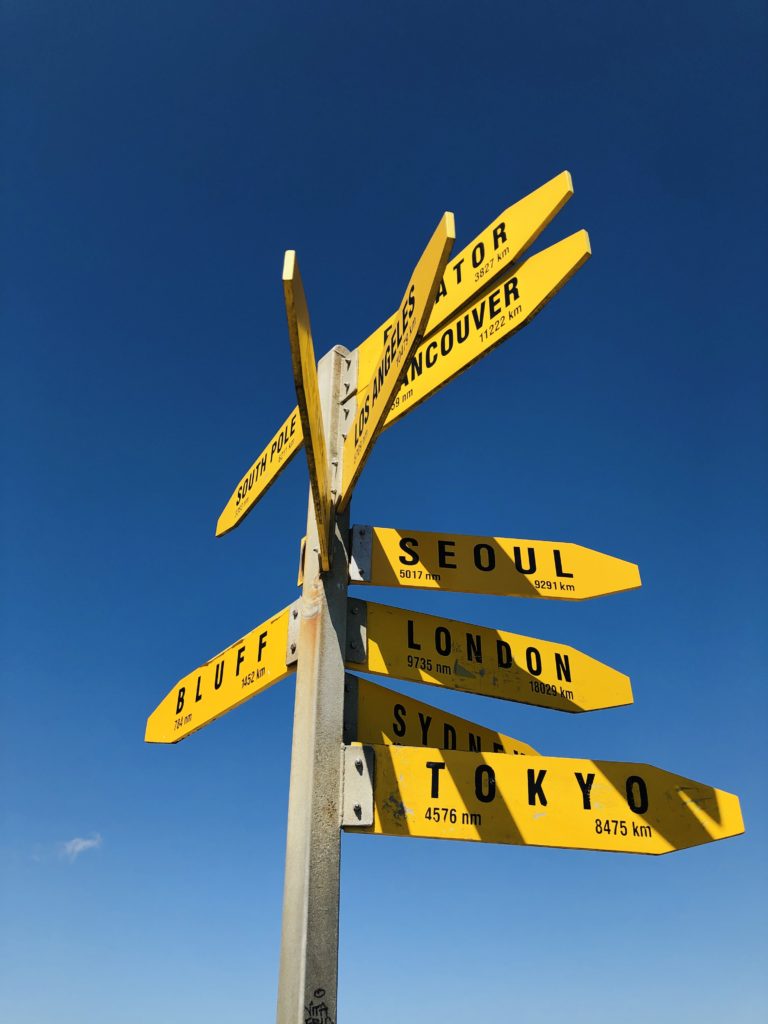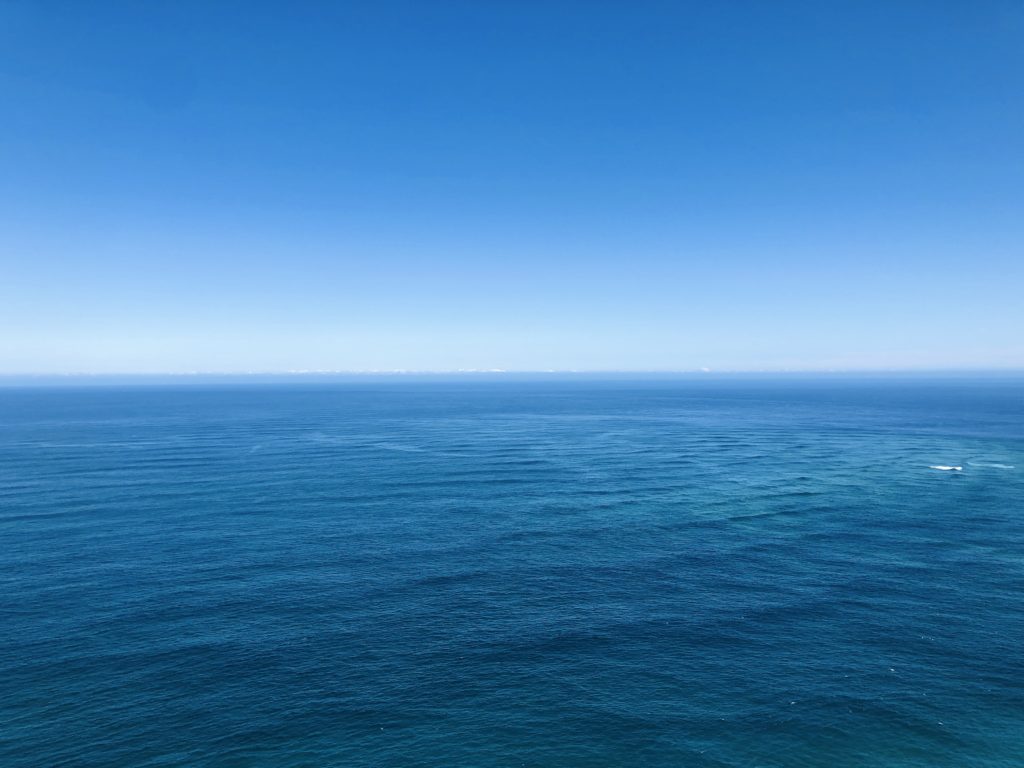 Second stop : back to Whangarei
We arrive a few minutes before sunset. Fortunately, because we found a 5 star airbnb! I found it weird that it was so highly rated (4.99 / 5 with 135 comments). I think this is the best Airbnb experience I have had since I signed up for service in 2015. The hosts are really kind, you have an outdoor jacuzzi with a view of the bay, you have home-made breakfast, two bedrooms, marble bath,… crazy!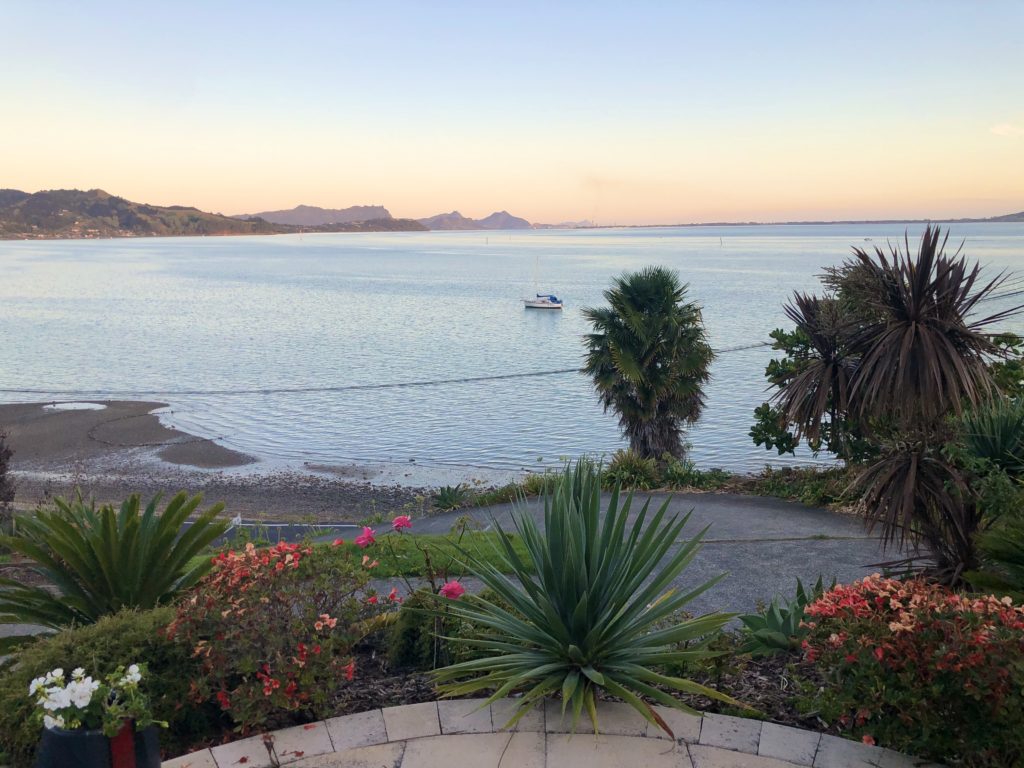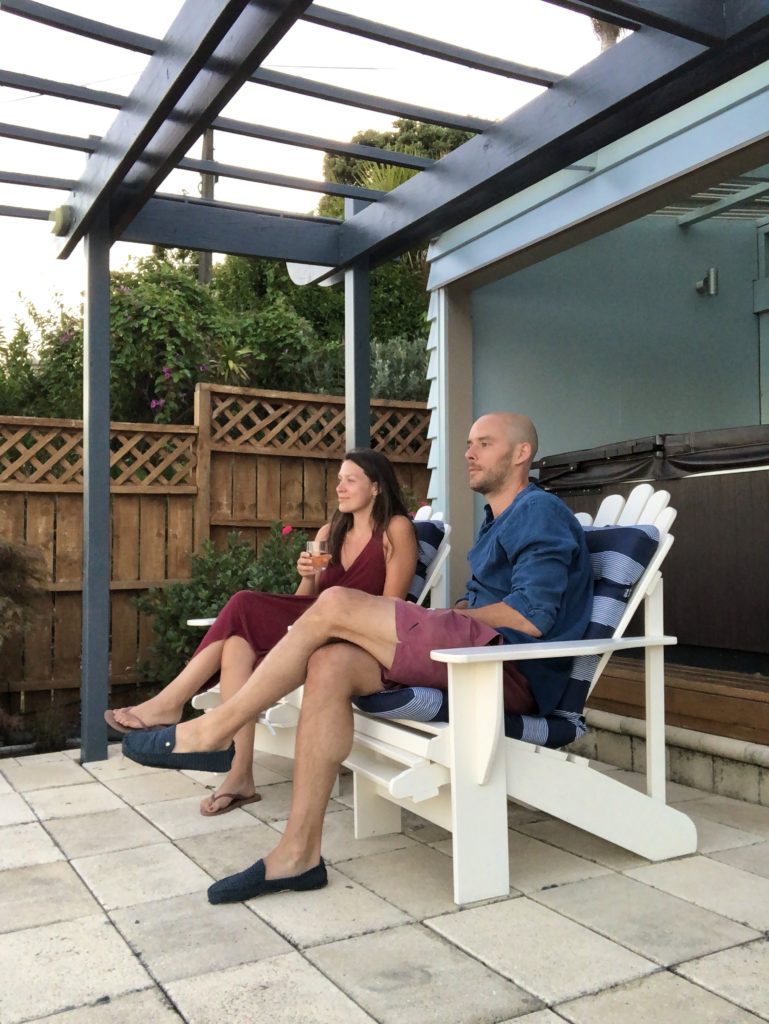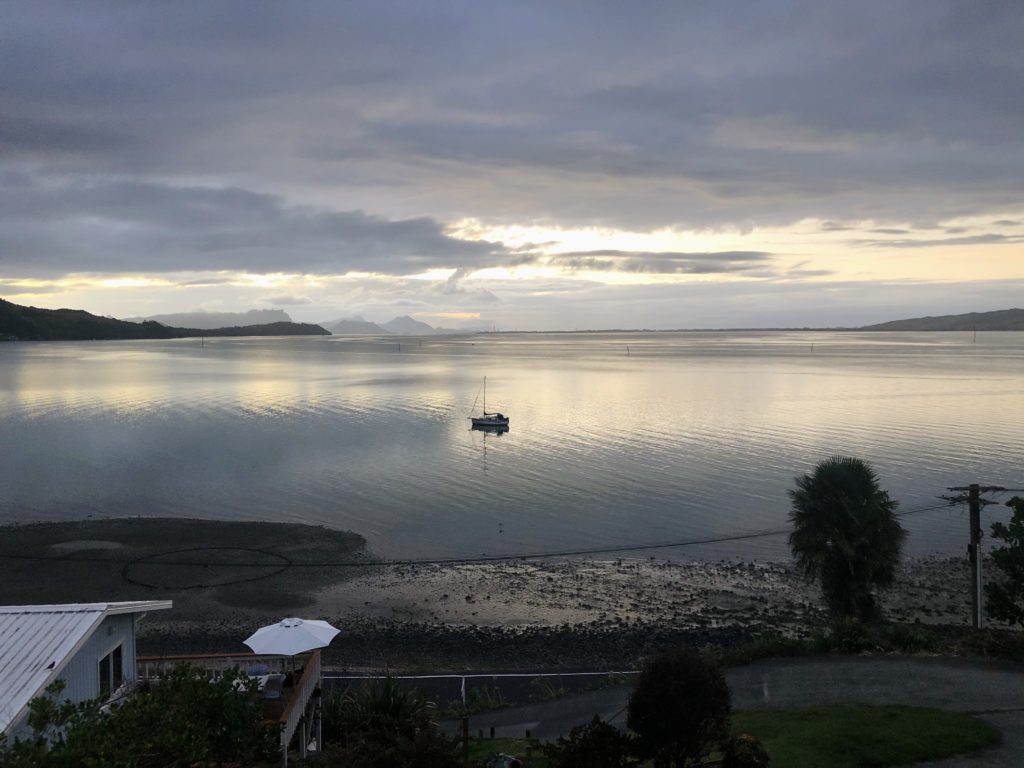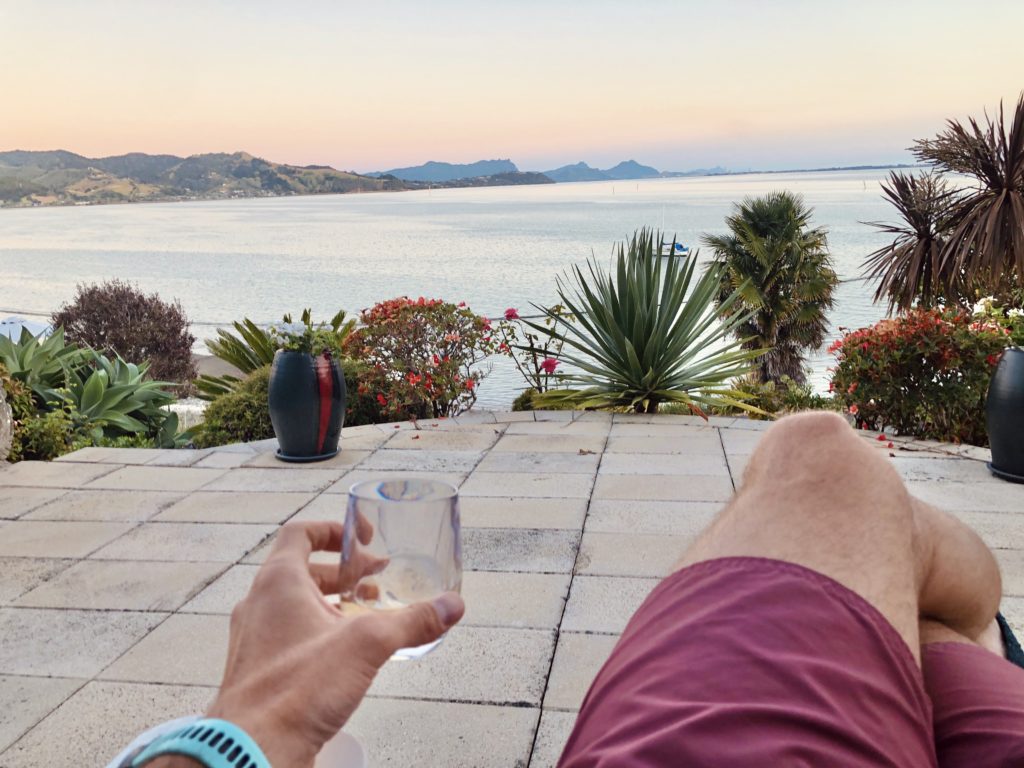 DAY 4 : WHANGAREI > AUCKLAND
Last day for our improvised roadtrip between "strangers". I must admit that after 3 days of traveling together, you feel like you know (a little more) the person.
Nina must join a friend on Auckland, I will take the opportunity to stay alone and finish my "Vipassana" article (yes, still on it!)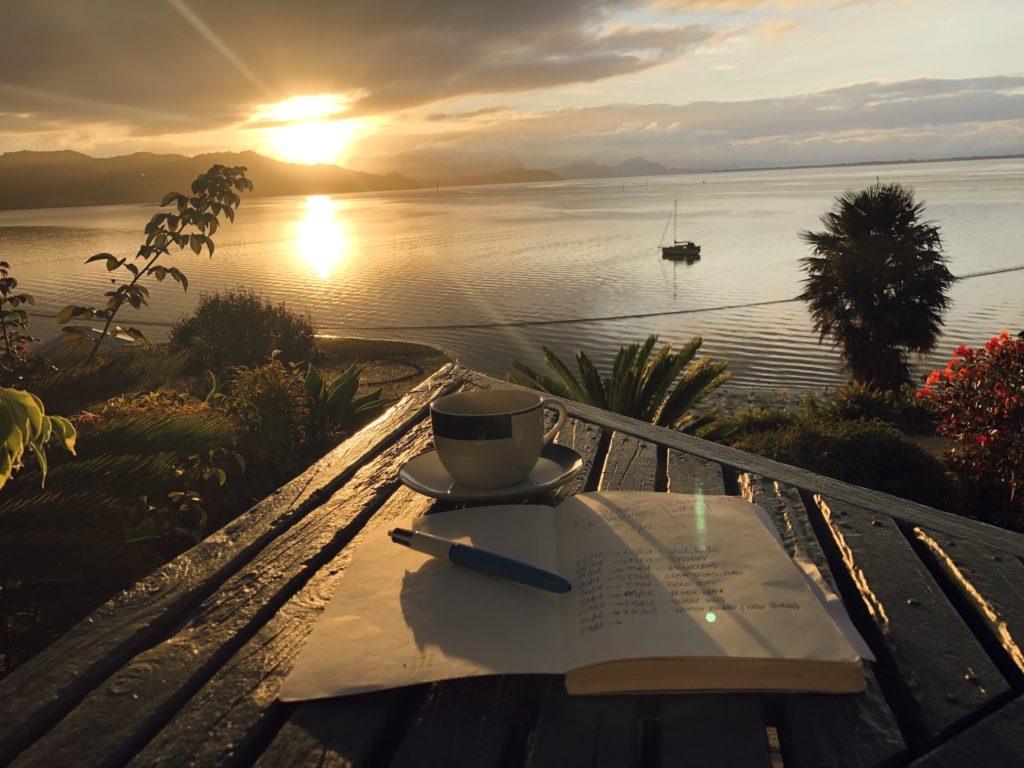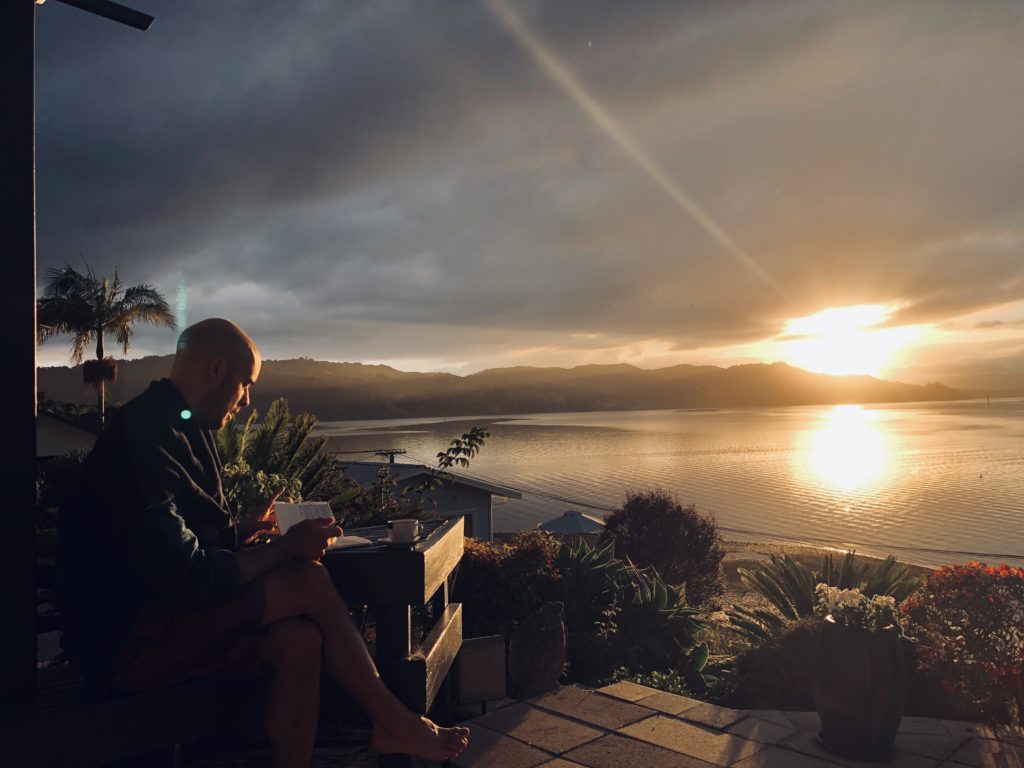 Conclusion
What happiness to be free-flow ! I learned to travel differently, without taking the lead and I met a really nice person.
As I write these lines, I am about to set off for a 1500km solo roadtrip by bike. Before Vipassana and this roadtrip, I thought of booking all Airbnb in advance, to be sure of having the best. I knew what time I had to leave, what time I had to arrive. Well, finally no! I'm going to leave tomorrow in free-flow mode. I will see where the wind (especially my bike) takes me!
Thank you again Nina for these 4 days by your side.
Don't forget, you're born to be successful (private joke)