Let's start this article with a projection exercise. Read the following sentences out loud (in your head if you are not alone):
I read a book a week, what a superpower to learn so much!
I finally know how to train, no matter what the situation. No more excuses!
I have a clear goal to lose weight and I know what I have to do!
I'm in Olympic shape since my better understanding of nutrition!
What a joy it is to have a stable and restful sleep every night!
To think I never realized what love language my girlfriend was speaking!
I knew it but now I believe it, it's never a motivation problem!
Feel free to read it a second time and see how it feels when you read it. I could have added an endless list of good things but I prefer to keep some suspense for what I am about to tell you
---
After having realized more than 350 dreams in the last 5 years and having helped hundreds of people to realize their dreams (www.allomax.fr), I have understood one essential thing: it is never a problem of motivation or time.
Many of us want to change (for the better), improve ourselves or get out of our comfort zone. We all dream of becoming the person we want to be. Unfortunately, we have never had the instructions to get there.
We think it's about motivation, but it's the first thing that goes out the window when it gets hard. We think it's about time, but we all have 24 hours in our day.
You are not the problem (your system is)
Your identity emerges from your habits. Every day, you perform hundreds of habits (conscious or unconscious) that, when repeated on a daily basis, reinforce your identity.
You've probably already tried to change things (without success), like joining a gym or trying the latest trendy diet. If you are having trouble changing your habits, the problem is not you, but the system you are using.
Creating new habits (that last) requires a change in identity and the establishment of an effective system. You may form a habit because you are motivated at the time, but you will only stick with it if the system maintains it long enough to make it part of your identity.
Anyone can convince themselves to go to the gym or eat healthy, but if you don't believe in it, you'll have trouble making those changes over time and the improvements will be temporary.
Likewise, if you continue to apply the same habits as in the past, you will get the same results you have always gotten. As Albert Einstein rightly said, "Insanity is always behaving the same way and expecting a different result."
---
How to easily create new habits?
Simply by re-designing your environment and the people you associate with. Your environment (home, workplace, car…) can work "against" or "for" you, as well as the people you hang out with the most. If your current system works against you, then it is normal that you are unable to change.
Don't worry, it's not a question of leaving your wife and children or denying your office colleagues. We offer you a solution to put (finally) in place your new good habits to finally become the person you want to become, all in the best possible conditions.
---
Welcome into "The Habit House" !
For 10 days (or 21 days depending on your budget), you will be immersed in a home that has been completely designed to help you create good habits, both in terms of the people who will make it up and in terms of the energy of the home itself.
We are the average person we hang out with the most. During your stay, you will be surrounded by people who, like you, have come with the best possible intentions to become better versions of themselves. 2 coaches (including myself) will also be present on a daily basis to set the pace and make sure your new good habits are in place.
The success of your time in the house is your ability to return to your environment with your new habit and know how to redesign your life so that it works for you. To do this, you will have, as in everyday life, 8 hours a day of free time available to you to work or enjoy life. We want to show you that everything is possible, even with a busy job or family life.
At the coaching level, we will show you the path of "high energy potential", a path that I have been following personally for 2 years. It is composed of a learning process around 6 energy levels:
TRAINING x NUTRITION x SLEEP x BREATHING x SEX x SPIRITUAL
At the end of the course, you will have all the cards in your hand to change things and take the direction of a new "better version of yourself". Of course, if you are convinced!
---
OFFER LIMITED TO 6 PLACES
DOORS OPEN AT THE BEGINNING OF AUGUST
---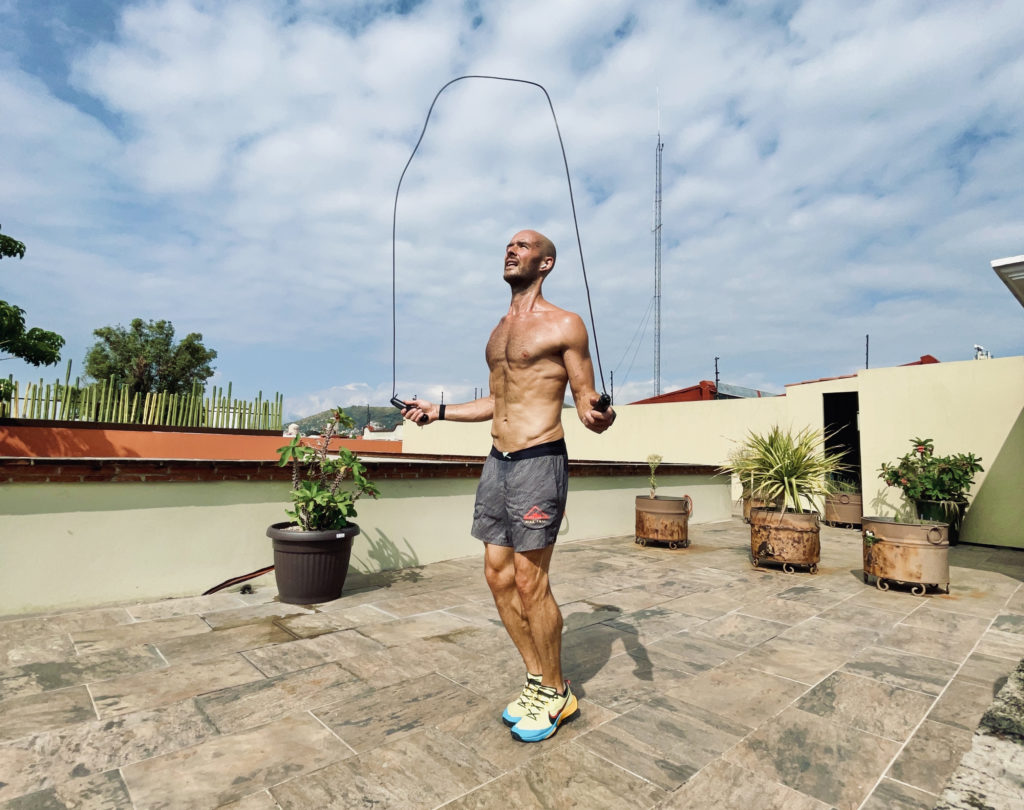 TRAINING
The first energy is related to our body and the way we move it. The benefits of a regular sport practice are not to be proven anymore. We also know that we only have one body for our whole life, so it is essential to take care of it and keep it in shape.
In The Habit House, everyone moves at least once a day. Every day, we'll work out together, either on the huge rooftop for yoga, bodybuilding, jump rope or animal flow, or outside to get some fresh air through runs or trails in the surrounding hills
What we aim to achieve:
Become independent to create your own sports routines according to your goals.
Test many ways of moving your body to discover what suits you best.
Realize that you can work out regularly, no matter where you are or how much time you have. No more excuses!
Ps: Don't worry, all levels of athletic ability are accepted. We are a team, we never leave anyone behind.
---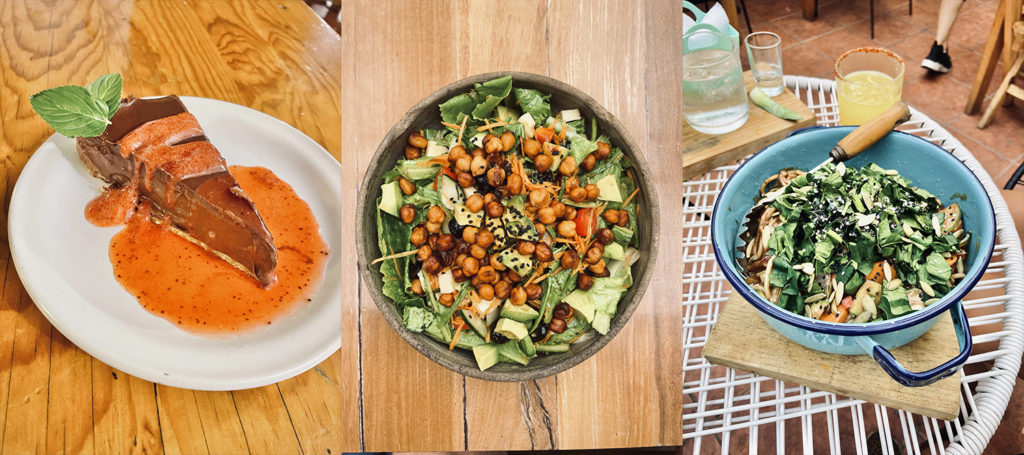 NUTRITION
You can be the most diligent in your sports program or the first to arrive/last to leave the office, you will always be physically limited if you don't put the right fuel in your body.
Nutrition is a very simple subject but (unfortunately) made complicated by a food industry that seeks only to sell its products at any cost, despite the many known negative impacts on our health. Moreover, it is estimated that in 2021, one out of ten people in the world is overweight. It is even a disaster in some countries like the United States where 42% of adults over 20 years old are obese against 30% in the 2000s.
As a reminder, according to the WHO, obesity is characterized by a BMI higher than 30 (calculate yours here). To top it all off, you can find everything and its opposite on the Internet and every month a new "fashionable diet" comes out.
In The Habit House, we learn how to eat properly with what's best for your body. We will have chef-prepared meals every lunchtime from Monday to Friday, for an introduction to plant-based nutrition. We will also talk about calorie counting, food supplements and proteins. And of course, we will cook together, from the supermarket to the plate, including "fridge designing" (how to organize your fridge so that it plays "for" you)
What we aim to achieve:
Discover the impact of good nutrition on your body and your energy level
Become autonomous in the creation of balanced meals
Know how to redesign your environment so that it works for you at every meal (and uncontrolled snacking)
---
SLEEP
When I tackled "nutrition" energy mid-2020, I was shocked at how little we know about it, despite the fact that we eat 2-3 times a day. It was a bigger slap in the face on "sleep" energy! After reading the book "Why do we sleep" by Matthew Walker, I had learned so much that I made a dedicated newsletter on the subject:
12 tips for a good sleep (in french)
In short, sleep is at the bottom of the energy pyramid, the base to consolidate before building the other floors. If you don't sleep properly and efficiently, then everything else goes out the window. A lack of sleep leads to a drop in concentration and your energy reserve (physical), promotes poor nutrition and increases stress.
Together, we will discuss the subject and the known ways to get 8 hours of restful sleep every day. Yes, your room will be a "no-zone phone"!
What we aim to achieve:
Discover the importance of sleep in your day
Have 100% energy every morning
Stabilize a bedtime and a wake-up time
Have "awake dreams"
---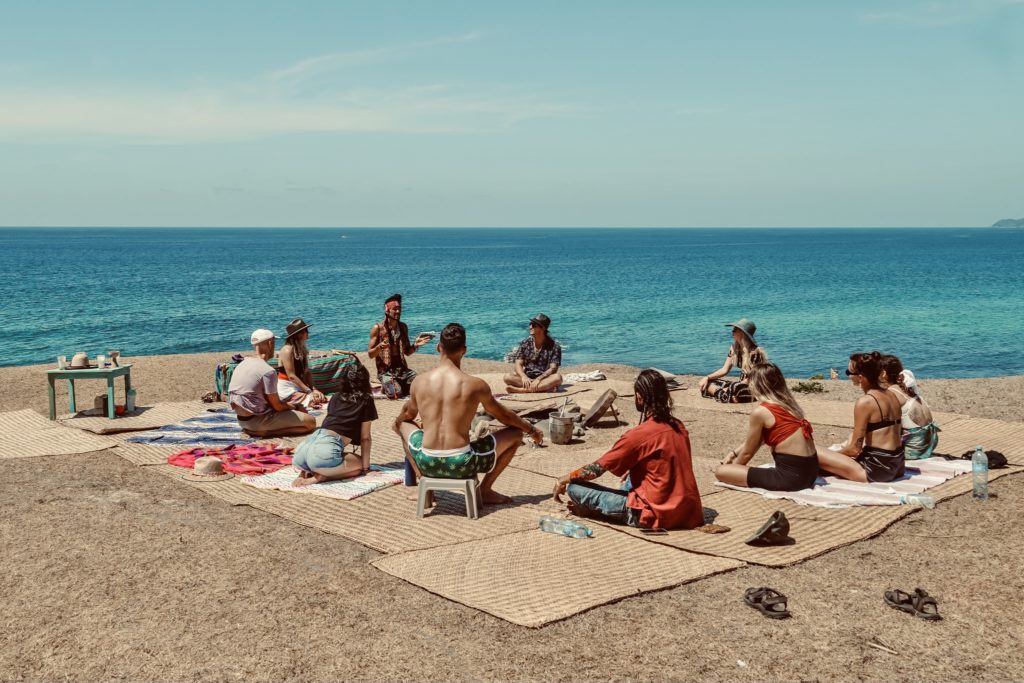 BREATHING x SEX x SPIRITUAL
Mexico is a highly spiritual country, and even more so the beautiful city of Oaxaca. Here it is common to have spiritual experiences like renting a bicycle in Paris. We will take advantage of this environment to discover the power of breathing and spiritual alignment.
These initiations will be done through workshops or ceremonies, such as "Static Meditation", "Meditation in Movement", "BreathWork", "Cacao Ceremony", "SoundBaths", "Reiki" or "Bufo" (subject to availability).
We will end the weekend with a "Nomad Shack's Circle" where everyone can freely express their emotions and feelings about the week. We will discuss unusual but important topics such as sex and love.
These different experiences will of course be optional. It is often said that we begin our spiritual path, not when we want to, but when we are ready.
What we aim to achieve:
Take a first step in your spiritual quest
Become aware of your breathing
Master the basics of mediation to keep the habit everywhere with you
Become aware of the energies that surround us and see the world differently
Realize the importance of being spiritually aligned to reach your full potential
---
OFFER LIMITED TO 6 PLACES
DOORS OPEN AT THE BEGINNING OF AUGUST
---
Example of a typical day
The idea is that you can go home and apply what you have learned. That's why a typical day has 8 hours "for you", to work or do whatever you want.
What we are trying to achieve here is to show you that it is possible to accomplish a lot while having obligations from 9am to 1pm and from 2pm to 6pm, that is to say 8 hours per day (on weekdays). We will respect this, from Monday to Friday.
The creation of new habits will be during the morning routine, at lunch time and after 6pm. And of course during the weekend, when the schedule will be more flexible.
PS: no obligation to participate or attend anything.
---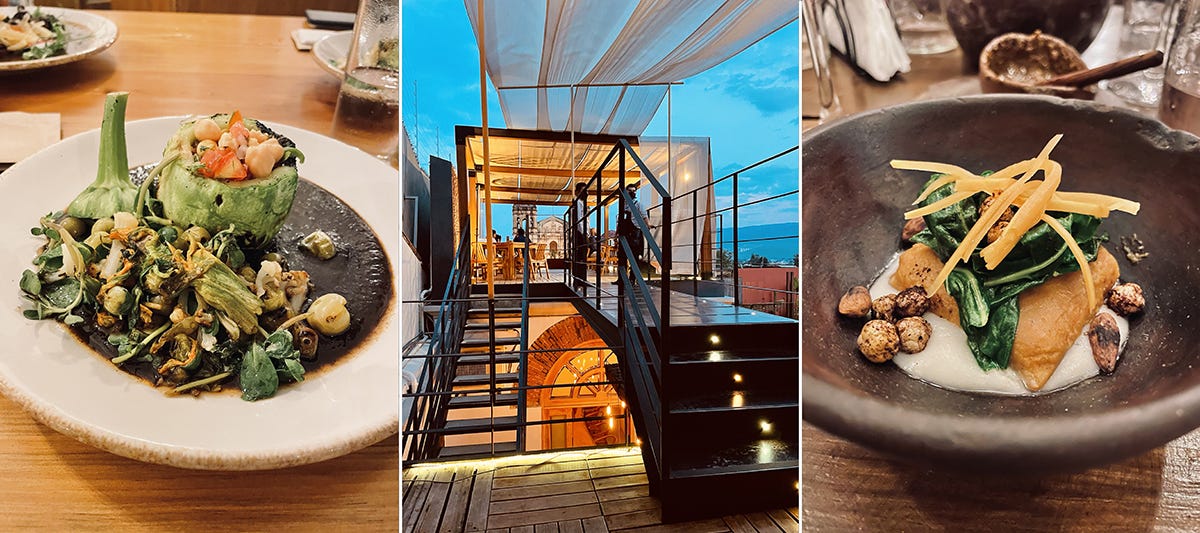 OAXACA DE JUÀREZ
And of course, your evenings and weekends to discover the incredible city of Oaxaca. Regularly named the coolest city in Mexico, Oaxaca has the richest food scene in the country and a strong spiritual energy.
Having lived there for the past two months, I wouldn't know where to begin to convince you that there are so many things to do, see and eat. Maybe I'll just tell you that, of all the things I've seen in Mexico, Oaxaca is literally the top of the list. I even fell in love with it to the point of taking this beautiful house (and my cafe racer bike!)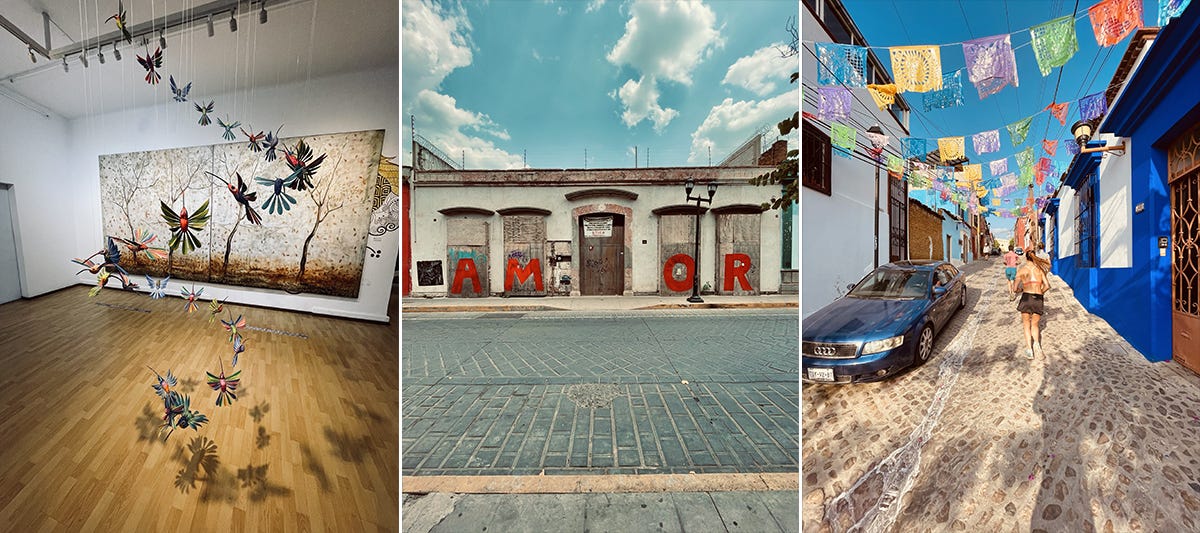 Life is in pesos here, so you do x4 on your buying power without changing anything. The best restaurants in town, like Sin Nombre or Teocintle, offer tasting menus worthy of a French "Michelin" restaurant for… $25USD.
In terms of cocktail bars, I think that Oaxaca can rival Paris or London without any problem, like the magnificent Selva Cocktail Bar. The only difference is that here the cocktails are less than 10 euros!
As far as art and culture are concerned, you will be served! The city is literally painted by street artists of all kinds (example here). Oaxaca has many art galleries and every weekend there are openings of local artists.
There is also the history of the country that stands out like the ruins of Monte Alban (see photos).
You also have the beaches of Puerto Escondido accessible in 1 hour by plane and San José De Pacifico, a small mountain village "out of the ordinary" at 3 hours by car.
---
OFFER LIMITED TO 6 PLACES
DOORS OPEN AT THE BEGINNING OF AUGUST
---
AlloMax, I need to change my habits!
After having tested my method myself on the accomplishment of +350 dreams in 5 years and generated dozens of new habits that completely changed my life, I now accompany those who have the desire to change.
Click on my calendar below, choose the time slot of your choice and let's take 30 minutes to get to know each other and discuss the method.
Session goal:
Answer your questions
Define what you want to achieve
Decide together if coaching is right for you
And above all have a good time!
---